Platformers Days set to be biggest yet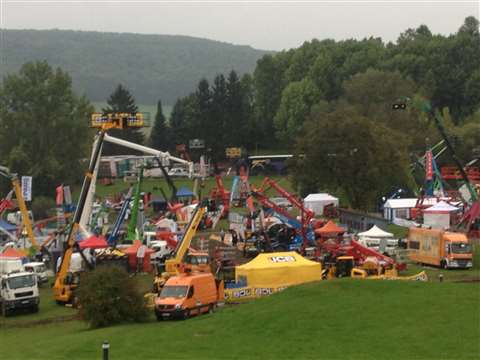 This year's edition of Platfomers' Days will be the biggest ever with more than 200 exhibitors and brands, a showground of around 15000 square metres and about 2000 visitors expected.
Taking place September 8-9 2017, visitors will benefit from new exhibitors and products on show for the first time.
For example: JCB will show its new access line for the first time in Germany; Genie will have its new SX 135 XC on site, while JLG is showing the 1500 AJP.
LeguanLift, Dieci and Comet are participating for the first time, while telehandlers will be well represented by Merlo, Manitou, Genie, Bobcat and Magni
Maeda, unic, Kato, Jekko, TGT, Hoeflon, Smartlift and Hüffermann are representing the fast-growing tyre and crawler mounted mini and midi crane business for the glass industry and Liebherr will have a MK 88 mobile tower cranes on display. Paus, Klaas and Böcker are all displaying lightweight aluminium cranes.
Manufacturers like Nooteboom, Veldhuizen, Meusburger, Junghanns, Zanner, TIMA, Heimann and HBV will represent the transport sector.
Apart from that almost all major manufacturer of access platforms will be exhibiting at Platformers' Days this year. Unfortunately, say the organisers, several enquiries from potential exhibitors were refused due to lack of space.
This means many Chinese manufacturers will not be there, except Dingli, which is represented by Collé and PB and will have some scissor lifts on display.