Point of Rental educates the next generation
By Thomas Allen23 September 2019
Rental software company Point of Rental has partnered with Askham Bryan College in York, UK, to offer better equipment rental education.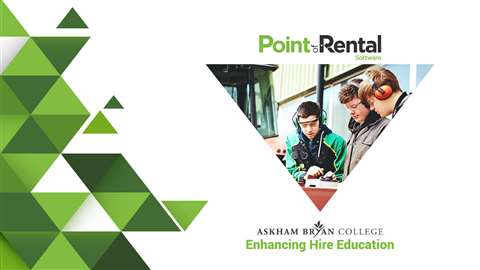 Point of Rental will provide software and a training database that can be used by apprentices at the college who are studying equipment rental. This will give students access to realistic training while familiarising them with software that is used by a large portion of the rental industry.
Peter Chapman, Course Manager and Lecturer in Construction Plant Management at the college, said, "The support provided by Point of Rental in donating their Syrinx software and their work in developing a fully-functioning plant hire database will enable us to simulate situations that apprentice Hire Controllers will encounter in the workplace."
Point of Rental will also be providing training to staff at Askham Bryan College to ensure they are fully conversant with the functions and capabilities of the system.