Poor weather hits Bam
By Sandy Guthrie10 March 2011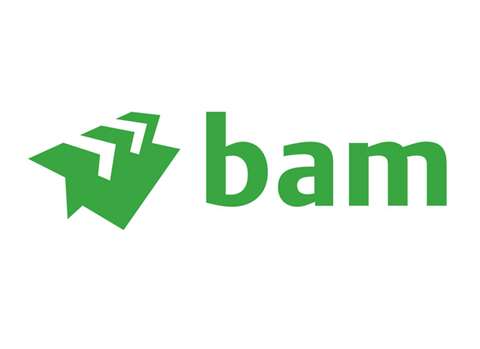 Royal Bam Group said it closed its financial year 2010 with good performances in the construction, civil engineering, and consultancy and engineering sectors, although it made a loss in the property sector.
The Dutch-based construction group reported revenue of € 7,6 billion in 2010, coming in under its November forecast of € 7,7 billion primarily, it claimed, as a result of poor weather conditions in December.
Revenue was approximately -9% less than 2009's € 8,3 billion, largely because of reduced revenue in the residential construction and property segments, at Bam International as well as on the Irish and German markets.
It said all sectors had made a profit in 2010, with the exception of the property sector which posted a total operational loss of €60 million. The result before tax and impairment was €153 million in 2010, reflecting an improvement on the €82 million achieved in 2009.
In November, the company said it was taking € 127 million impairment on its property portfolio. Consequently, the result for 2010 was a net profit of € 15 million compared to a 2009 figure of € 31 million that was partly due to fiscal income of € 80 million.
It reported that its Dutch operating companies in the construction sector posted good results in 2010. Revenue from non-residential construction in the Netherlands increased slightly, while revenue from Dutch residential construction fell by about -28%.
However, Bam said the Dutch companies were still able to achieve good margins because they had intervened and taken action in good time.
UK revenue, measured in sterling, fell by -7% in 2010 compared with 2009. The company said an improvement in margin had resulted in a profit contribution that had been similar to the performance in 2009. It warned, however, that the economic conditions in the UK construction market were starting to be hit by the consequences of the spending cuts announced by the British government in October 2010.
It said that major regional differences in UK construction activity were now very apparent. Bam Construct's order book remained stable, it said, and it claimed its UK firm's approach to offering customers a combination of in-house design and construction services had continued to provide new business opportunities.
In Belgium, Bam said a reduced but still good result compared with 2009 had been achieved from lower revenues (-13% compared to 2009). It said the order book contained a substantial amount of work because several sizeable contracts were won in 2010, including Résidence Palace - the principal seat of the European Council - and the NATO headquarters.
In spite of substantially reduced revenue at -16% compared to 2009, the German non-residential construction company Bam Deutschland achieved its best-ever result.
The company said that continuing its "successful selective contracting policy" did cause the order book to shrink slightly during 2010, but felt it still remained sufficiently large - 83% of forecast revenue for 2011 is already in the order book.
This month, Hochtaunus Kliniken in Bad Homburg, Germany, awarded a PPP (public private partnership) contract for the construction of two new hospitals to a joint venture comprising Yolande Verwaltungsgesellschaft & Co Vermietungs and Bam. This DBFM - design, build, finance and maintenance - contract for the two hospitals in Bad Homburg and Usingen, just north of Frankfurt, will run for a period of 25 years. The contract value for Bam is nearly € 200 million.
The building work will be carried out by Bam Deutschland, while the management and maintenance of both hospitals will be in the hands of Bam Immobilien-Dienstleistungen for 25 years, in collaboration with Dussmann Service Deutschland. Work is due to start mid 2011 and the two hospitals will open in late 2013.