Port giant orders XCMG booms
By Euan Youdale01 September 2020
Shanghai Zhenhua Port Machinery (ZPMC) has received 50 boom lifts from XCMG's new XG series.
The two Chinese companies celebrated the order during a ceremony at XCMG's access equipment production plant, in Xuzhou, China, on 26 August.
ZPMC is an established customer of XCMG and already uses previous generations of XCMG MEWPs in many of its port machinery manufacturing plants, scattered along the east coast of China. Commenting on the new XCMG booms, Jiayong Liu, general manager of ZPMC Ship and Infrastructure Equipment, said at the ceremony, "Once again we witness a progress like we've seen in the past 20 years, in regard to quality and range. It has proved to be a wise choice working with XCMG access equipment for safe working at height. We are confident that the new generation products will bring us a further safety enhancement."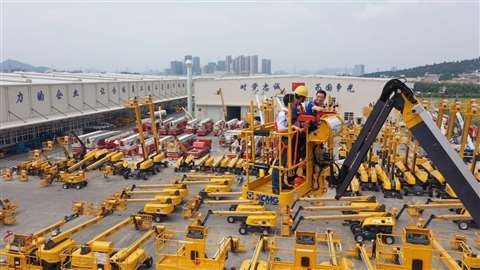 Qianjin Li, general manager of XCMG Fire-Fighting, said at the ceremony that XCMG cherishes the recognition from ZPMC, a giant in the global port equipment field, and will continue to improve its products, as well as its after sales service. He wished both companies greater success in their respective fields, through their long-term partnership.
Safety on the dozens of boom lifts delivered to ZPMC was strengthened with the addition of infrared light, face recognition and anti-collision system, to meet the special requirements of large port machinery manufacturing.