Portable power, light and on-site equipment: Extra power, extra uses
In the world of portable power, lighting and on-site equipment, two big changes are occurring simultaneously which have real consequences for the equipment and how it is used. Firstly, construction equipment and sites are more efficient and so require less power than previously and, secondly, the generators and lighting towers being produced are increasingly powerful and efficient.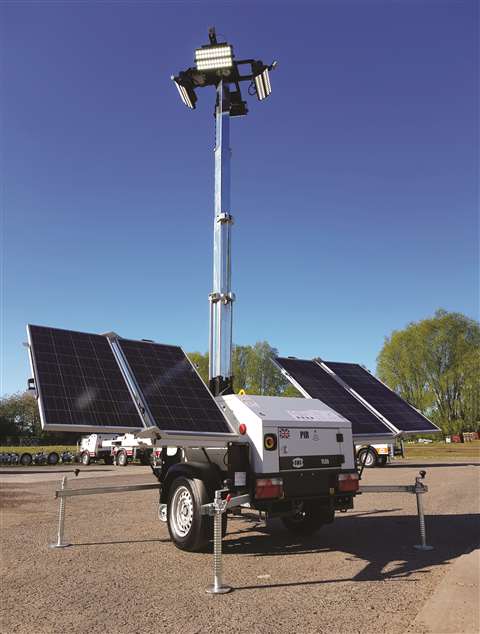 The coming together of these two factors means that the costs to the customers, such as contractors on infrastructure projects or the owners of a mine, are reducing. It is common – all too common – in construction for the focus to be on projects being over time and over budget but, in this sector at least, costs are frequently going down and productivity up.
The fact that generators and lighting towers are becoming more powerful as the power needs of many sites declines means that there is excess power. According to Matt Menzel, director of product and engineering, Briggs and Stratton, this is certainly not being wasted.
"What we're actually seeing is that people are taking advantage in a very positive way of the excess power that we have on site. As an example, we still make some very large light tower plants that may have an extra 20KVA of power, even though we're only using 1200Watts of it to power the lights. They're finding that they can use that excess power to change the thinking around how they're running their sites."
This ties into one of the biggest trends in the construction industry – electric and hybrid construction equipment. With increasing numbers of OEMs either working on prototype electric and hybrid equipment, or already having them available for commercial sale, the excess power available from, for example, a lighting tower now has an additional, and very valuable use.
"We're seeing a lot of companies starting to prototype electric battery or cabled battery electric machines. While you have those on site, you still need to charge them. Our light plants have excess power and can also serve as feeders for the charging stations without having to bring on an incremental generator," explains Menzel.
"This offers up this tremendous new realm of flexibility in terms of what equipment you're bringing on site to be able to complete the project."
Emissions regulations
One of the big drivers regarding the development of generators have been emissions regulations, such as Stage V in Europe. There is no doubt that legislation has been a key factor in the development of generators, however this is not the only factor.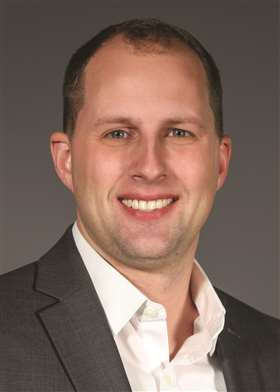 Jan Moravec, director, product management & engineering, Doosan Portable Power EMEA, comments that, "The pace of technological development has increased over the last decade – it is mainly driven by emission reduction requirements, environmental protection and product flexibility, optimising cost of ownership."
He also adds that, "Lower noise requirements will increase, especially for applications in cities and towns, special events, as part of environmental protection changes."
Sergio Salvador, product marketing manager, Small & Medium Power Generators, Atlas Copco Power and Flow, agrees that when it comes to generators, the need to meet Stage V requirements has been a main factor in this segments development. He also adds that the efficiency level of generators have increased rapidly in a short space of time.
"Over the last few years, it has been increasingly important for generators to be manufactured to comply with environmental and regulatory obligations such as the EU Stage V as well as meeting end-users' evolving needs for sustainable productivity and increased operational flexibility," says Salvado. "Generators have changed massively and are far more efficient than they were only a few years ago."
Some of the features that have enabled generators to become more efficient are VSD (variable speed drives), electric cooling fans and PMS (power management systems). Salvador describes VSD as being a 'game-changer', adding that, "This technology completely eliminates the inherent risks associated with low-load generator operation such as cylinder glazing, bore polishing, heavy carbon build-up, high oil consumption, low combustion temperatures and fuel waste."
Using the example of Atlas Copco's QAS 60/35 VSG, the generator is said to reduce fuel consumption levels by up to 40% against traditional fixed-speed generators and increase reliability in applications with an average load of less than 20%, such as construction projects. According to the company, the integrated energy storage system helps increase peak power capabilities by 70%, while reducing CO2 emission reductions by up to 40%.
Let there be light
Mobile lighting plays a key role on construction sites around the world, and manufacturer and distributor Morris Site Machinery recently announced that it has helped Australian equipment hire specialist Onsite Rental Group to widen its offer of sustainable rental solutions with solar powered lighting towers.
Following a recent order to expand their existing fleet, Onsite Rental Group now has 20 SMC TL55 Solar tower lights operating in Queensland, Australia, on a specific project that not only requires light, but light in a clean way, in response to environmental concerns.
The SMC TL55 Solar meets industry demand for a sustainable and low maintenance tower light. With both battery and mains supply, it has zero noise and emissions and offers flexible options for all site applications with little need to attend or maintain onsite. It can run indefinitely in the right light with up to 500 hours run time from the battery using auto dim LEDs and PIR sensors.
Phil Winnington, international business director, Morris Site Machinery, said, "We are proud to have been doing business in Australia for more than 15 years and we understand the need for equipment that can deliver in demanding terrain and climates.
"We also appreciate that hirers are looking to be more sustainable and environmentally aware and that is becoming increasingly important in making their choices."
As just illustrated, environmental concerns in this field don't just apply to generators. UK-based rental company Speedy recently announced that it has invested £2.8 million (US$3.5 million) in new zero and low-emission lighting towers to help contractors boost sustainability and cut fuel costs.
Using 25 zero-emission, solar-powered lights on site would see contractors cut their carbon output by 184 tonnes – approximately equivalent to 80 family cars – over a six-month period and save more than £50,000 (US$62,000) in fuel costs compared with diesel models.
Speedy has invested in 300 solar-powered products together with 800 VB9 LED+ units, which can reduce carbon emissions and fuel costs by 70%. The business now has a fleet of 3,500 lighting towers, which is supplemented by 16,500 general lights.
Julian Perrott from Speedy, said, "The hire industry has a vital role to play to ensure contractors can access the low-carbon equipment they need to reduce their footprints and support safe and compliant working. Solar lighting will become the norm on construction sites across the UK as more businesses pledge to meet the government's zero-carbon target. But it will also be key in
helping customers position themselves to meet increasingly stringent sustainability requirements of public and private sector tenders."
Ever evolving
As the manufacturers of wheeled loaders, excavators and bulldozers increasingly look to electric and hybrid power – and this subtly changes the use of some lighting towers and generators on sites – the companies producing mobile power, lighting and on-site equipment are also looking to the future and different innovations.
Doosan's Jan Moravec, comments that, "Emission reduction will lead to a higher utilisation of hybrid technology, according to the application, and an increased search for alternative power sources such as hydrogen cells."
Menzel from Briggs and Stratton, makes the point that battery technology is developing all the time, commenting that, "Battery is coming; it's a matter of how far it will reach and how fast it will get there." He also adds that, importantly, "Customers are getting a little bit more comfortable with the different performance parameters that come with battery operated equipment. It operates silently and emission free, which offers up a lot of different advantages."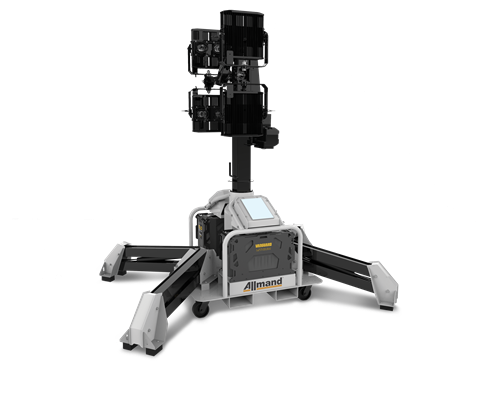 What isn't in doubt is that the products in this sector are more efficient than ever before and are lasting longer. Menzel says that it is not atypical that most of their products run for a thousand hours between oil changes, whereas only a few years ago the standard was around 700 hours. He says that this efficiency will continue to increase, but that one of the biggest changes to this sector will be in telematics and the Internet of Things (IoT).
In the construction industry there are a host of different providers of data and IoT solutions which can lead to issues – for example, not all of this data provided by one company is compatible with their competitors.
Menzel speculates that there will be a form of consolidation in the future and that when that happens, "it will be very interesting to see in what direction it takes the industry and how that influences design choices on the part of equipment manufacturers. As an example, most of our upcoming products now utilise a fully digital control set that has communications capabilities that run over an area network."
With the portable power and light generation equipment being made increasingly digitally connected and providing more data to owners and rental companies than ever before, some form of IoT consolidation would open interesting doors for even more development in this sector.
JCB targets North America
JCB Power Products launches towable generators for rental market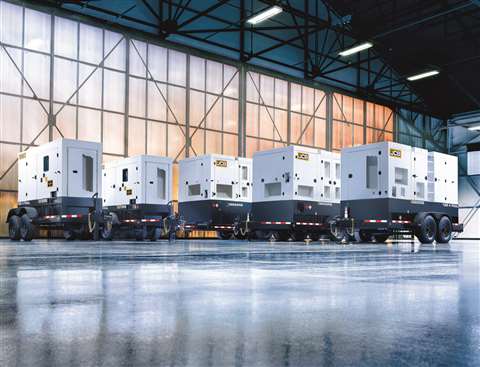 JCB Power Products has launched a range of RS Generators designed specifically for the North American rental market. The range includes five Tier 4 Final-compliant models, delivering prime power output of 56kW (70kVA) to 500 kW (625kVA).
The generators are designed to be towed, with operating weights from 3,283kg to 11,435kg and a simple Tier 4-Final aftertreatment requires selective catalytic reduction (SCR) and diesel exhaust fluid (DEF) only. No diesel particulate filter (DPF) or diesel oxidation catalyst (DOC) is required.
Each model in the range features 500-hour service intervals to ensure minimal downtime and maximum productivity. When maintenance or scheduled service is required, large service access doors, with integrated door stops, are said to make it easy to access the engine and alternator.
According to the company, all electrical and control connections, and the diesel and DEF fluid tanks, are easily accessed from ground level.
All JCB RS Generators are equipped with JCB LiveLink telematics, which provides real-time operating data – including fuel use and power provision – to equipment managers via a desktop or mobile device, to enable the easy remote monitoring and management of generators in the field.
Extreme climates
Ensuring optimal performance in extreme conditions
The harshness of the environment can seriously affect a generator's performance; adapting it to the environment and taking a series of extra measures allows for peak performance.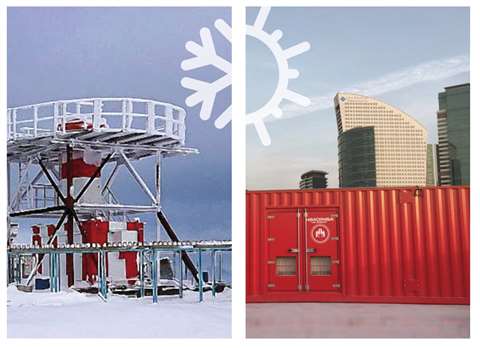 Therefore, before selecting the characteristics of the generator set, it is necessary to clearly identify the conditions of the environment in which it will be operating.
The team at Himoinsa says there are four main determining factors in a viability study of a generator set in the face of extreme climatic environments: Temperature; moisture; atmospheric pressure; air quality.
Climates with a -10°C or over 40°C ambient temperature, humidity above 70%, or a desert environment with a large amount of airborne dust are clear examples of extreme environmental conditions. All these factors can cause problems and shorten the service life of generator sets, both if they work on standby, since they have to remain stopped for long periods of time, or continuously, as the engine can easily heat up due to the long number of working hours.
There are a number of measures that can be taken to combat these environmental issues, such as in extreme cold an engine coolant heating resistance system or the use of a 'Snow-Hood' snow cover. In extreme heat special cooling of the fuel return circuit and moisture protections can make a big difference.
A correct configuration of a generator set and the carrying out of preliminary studies on the climatology of the equipment's location (temperature, humidity conditions, pressure and atmospheric pollutants) will help extend its useful life performance.
Award winner
Portable generator wins award at WOC
At the World of Concrete Show in Las Vegas, US, earlier on this year the Makinex 23kW 480V Portable Generator was named the 'Most Innovative Product of 2020' by Hanley Wood.
The 23kW Generator was chosen as the top product within the category of general construction tools & equipment.
Makinex's newest generator, the dual-phase 23kW, is said to bring the most power yet to the company's portable generator range.
The alternator configuration of the generator powers 120V and 480V simultaneously with no loss on either circuit. According to the company, it can take 23kW from the three phases and 3kW from the single-phase at the same time with no power or frequency dips.
The generator is only 36x25x36 inches in size, making it among the smallest dual-phase 23kw 480V generators on the market.