Portable power & lighting: Lights, gensets, action!
By Thomas Allen04 July 2018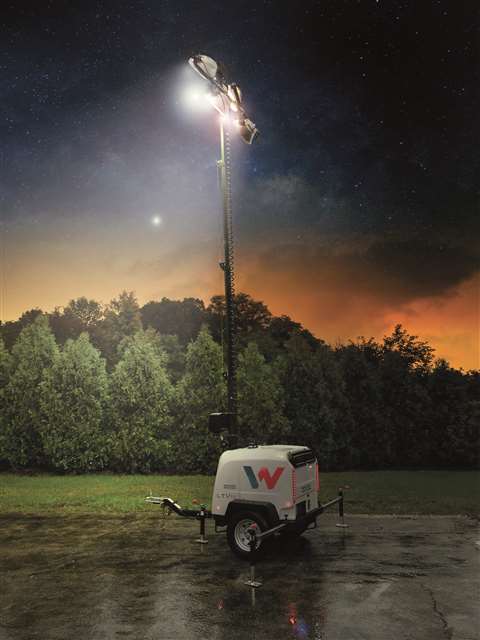 While generators are busy working backstage to keep a construction site in motion, lighting towers allow the show to go on even after darkness has long since descended on a site.
According to Wacker Neuson, the two main factors that determine demand for lighting towers are reliability and total cost of ownership. However, the characteristics a customer is looking for can vary from one region to another, as the Germany-based company knows well since it operates in a number of markets around the world.
For instance, while the emphasis in North America might be on extended service intervals that improve total cost of ownership because rental is so important, in Europe there is a greater interest in new technologies and hybridisation.
This diversity is reflected in Wacker Neuson's two most recent lighting tower launches.
Let there be light
The LTS lighting tower was designed to be an affordable offering aimed primarily at markets such as the Middle East, Russia, Turkey and South Africa. It features a vertical mast with a manual winch and metal halide lights. LED lights are available as an added option and it can be fitted with either a Kohler or a Kubota engine.
Meanwhile, the new LTE light tower was said to be more progressive. Aimed at countries in the EU, it has a vertical mast with hydraulic actuation for safety and a Kubota Z482 engine with six 150W LED lights. The lights can either be activated manually, by setting a timer, or by a photocell that recognises when daylight is waning. The company's Automatic Mast Operating Safety System is also available as an option, to prevent the lighting tower from being towed with the mast up.
Aside from these two new models, Wacker Neuson has also announced that its LTV lighting tower is now available in Latin America. With its compact body design and vertical mast, it was said that 18 units could be fitted onto a 14.6m flatbed truck. It also has a service interval of 750 hours.
Since Wacker Neuson has been developing battery and hybrid technologies for other types of equipment, the company said, "Our technical teams are sharing the lessons learned from these projects and it is only a matter of time before the technology is applied to further product groups."
A new lighting tower innovation from Doosan Portable Power is the BL600 LED balloon light, which was said to be a versatile, low-noise solution. Packaged in a small and portable bag, the balloon light weighs 12kg in total and was said to only take one person 45 seconds to install using the automatic inflation feature.
With a power rating of 600W, the BL600 requires a small 1kVA generator to operate, and it can be mounted on virtually any piece of equipment – though a tripod is available for stand-alone installation.
It provides a uniform white light that illuminates a surface area of 650m2. The light intensity under the balloon at 2.5m was said to be 500 luminous flux (lux), with the maximum lux being 60,000Lm.
The balloon's strong, woven fabric envelope has been designed for use in construction, offering resistance to the effects of adverse weather. It can withstand wind speeds of up to 100km/h.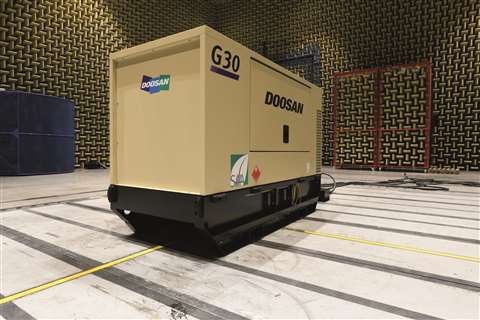 Generating power
Doosan Portable Power has also extended its range of generators with the introduction of the new G20IIIA and G30IIIA.
The G20IIIA has an output power of 19kVA and is driven by an 18kW Yanmar 4TNV88 diesel engine, which meets EU Stage IIIA engine emission regulations for generators. The G30IIIA, on the other hand, delivers 30kVA of power and is driven by a 31kW 4TNV98 diesel engine that also meets EU Stage IIIA.
During the design phase, it was a priority to offer safe and easy access for the operation and maintenance of the two generators. The electrical control and power compartment was said to be designed to meet high safety, reliability and flexibility requirements. All control functions are grouped together on the 4510 Deep Sea Electronics (DSE) control panel, which displays critical operator parameters at a glance.
Likewise, ease of operation and maintenance are enhanced on JCB's three new generator sets – the G166QS, G201QS and G221QS. Generators above 60kVA come with JCB's recently updated LiveLink for Power telematics as standard.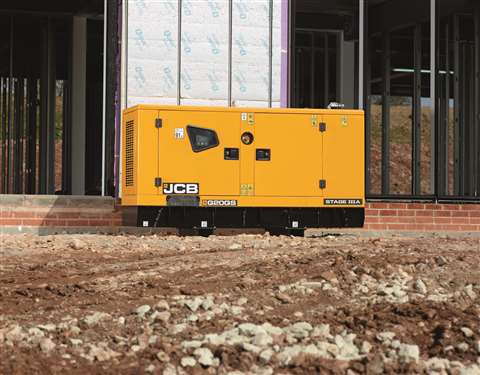 Powered by Stage IIIA JCB six-cylinder engines, they add an emissions-compliant option to the previous G165QS, G200QS and G220GS models. They will be available in Europe until the end of 2020, when Stage V emissions standards will come into effect.
With these additions, which are available with a standard 50Hz output, JCB's standard Stage IIIA-powered generator range now extends from 20 to 550kVA.
LiveLink for Power allows fleet managers, owners and operators to oversee their generators' operation and health, with real-time monitoring providing data on running hours and fuel consumption. Additional fuel data is now provided for the secondary tank levels, and CO2 and CO2E levels can be calculated for carbon accounting.
The generators come fitted with a compact, heavy-steel canopy that has a width of 110cm, allowing two generator sets to be carried side-by-side on a trailer.
Both the canopy and base structure are phosphate-dipped and powder-coated to maximise resistance to corrosion, and the heavy-duty tie-down points, optional side lift points, fork pockets and central lifting eye all make for easier delivery and collection to and from site.
With its 400-litre fuel tank, it was said by the company that the generators can be operated continuously for 12 hours when running at 75% load.
Servicing requirements
With a focus on making maintenance and operation easier, Atlas Copco has introduced a new QAC 1450 TwinPower generator, which is the latest addition to the company's QAC range of containerised generators.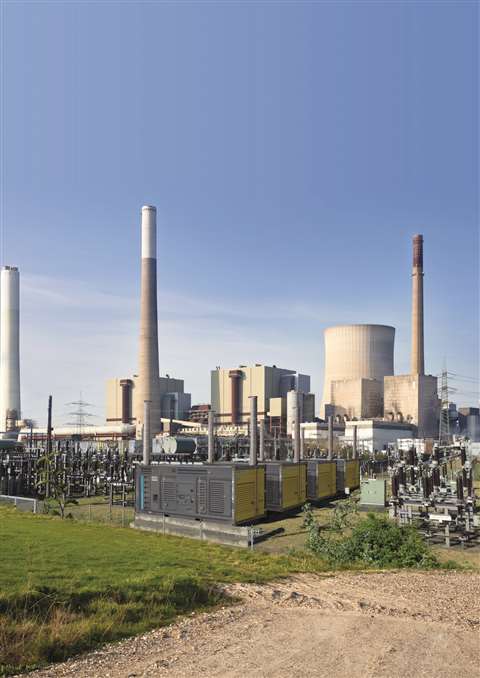 It is a 6m-long ISO containerised unit housing two compact 725kVA generators powered by V8 Scania engines with double bearing alternators.
The service requirement was said to be less than two hours of maintenance for every 500 hours of operation, and the unit has large access doors and custom service tools. Due to the twin power concept, a user can still get 50% of the unit's total capacity during maintenance operations.
The QAC 1450 has been equipped with a centralised control and monitoring system to make it easy to use and configure. This is facilitated by two Qc4003 digital controllers that have intuitive touchscreens, and a choice of island or Power Management System modes. For enhanced flexibility, and so that it can tackle larger jobs if that is required, the QAC 1450 has the capacity to run in parallel with other generators or with mains power.
Atlas Copco has also introduced what it describes as an ultra-quiet LED light tower, designed particularly for use in urban and residential areas.
The renewed version of the HiLight B5+ lighting tower was said to produce operating noise levels as low as 55dBA. The tower's floodlights were reported to be able to cover an area of 5,000m2 at an average luminosity of 20 lux.
During the equipment's design phase, maintenance and transport efficiency were said to have been a priority. The HiLight B5+ requires a service after every 600 hours of operation, and the maintenance procedure has been made easier by the introduction of wide access doors and the improved layout of key internal components. Also, the lighting tower's compact dimensions allow up to 22 units to be carried on a single 13m-long truck.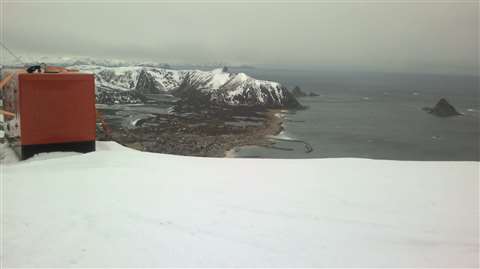 The HiLight B5+ can be equipped with Atlas Copco's SmartMast, which features in-built sensors that detect adverse environmental conditions and automatically lowers the vertical mast when the equipment's stability is compromised, for example by high winds. The system is also programmed to alert users to potential obstacles and impacts, and it can provide stability assistance during installation.
A more compact lighting tower has been introduced by Himoinsa. Weighing 600kg and measuring 2331x1381x2842mm, it was said that up to 22 Apolo AS4005 Eco units could be transported on a trailer or in a 12m container.
The new lighting tower has two 500W LED spotlights that provide a light output of 120,000 lumens while consuming 0.83 litres of fuel per hour.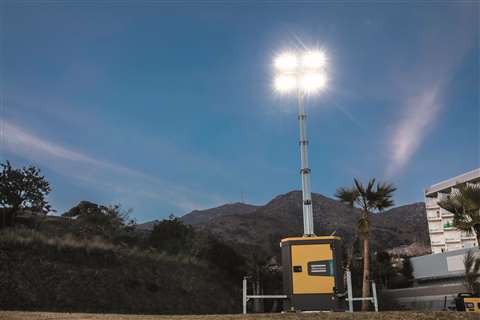 It is powered by a 4.5kVA Yanmar engine and a Meccalte alternator, and its 114-litre fuel tank allows the tower to run for 137 hours without the need to re-fuel.
When the generator is working at 100% load in addition to the lights being on, its fuel consumption is 1.7 litres per hour and it has a continuous running time of 67 hours.