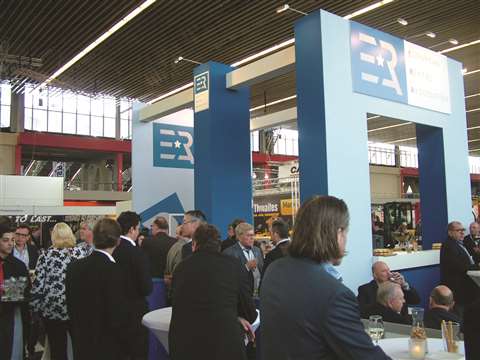 The International Rental Exhibition (IRE) attracted a record number of delegates at its latest show – 1600 – compared to 1035 three years ago, representing an increase of 54.5%.
The IRE show was held alongside the European Rental Association's (ERA) annual Convention, at the RAI Centre in Amsterdam, the Netherlands, from 2-4 May. The 1600 delegates includes all ERA's visitors and exhibitor staff.
The general consensus was one of positivity at the show, which saw 65 exhibitors showcase new and existing products, aimed at the construction rental market.
There were over 70 brands of equipment on show, from exhibitors such as JCB, Ammann, Case Construction, Hitachi Construction Machinery (Europe), Atlas Copco Portable Energy, Volvo Construction Equipment, Wacker Neuson, Ditch Witch, Vermeer, Thwaites and Yanmar Construction Equipment Europe, among many more.
Spanish manufacturer AEM's Rental SuperSilence 2.0 generator claims up to 45% less acoustic contamination compared to its other models from its rental range.
Speaking at ERA's Convention, ERA president Pierre Boels, said, "The show has overwhelmed our expectations, since the exhibition sold out much earlier than expected. We are very pleased to welcome over 60 exhibitors, including also first time exhibitors.
"Few events in Europe give the opportunity to the manufacturers and other suppliers of the rental business to meet with the European rental business experts, all at once."
The adjoining show APEX attracted 4650 delegates in total, including exhibitor staff, compared to 4400 in 2014. APEX delegates also had free access to IRE.
Quality over quantity
Meanwhile, exhibitors at IRE spoke of the quality of people at the show, insisting influential buyers and decision makers visited their stands throughout the three days.
Jesús Martínez, commercial manager, AEM, said, "The show has been good for us. We have not had a flood of people, but we've had good people come here. It is better to have one good person than 100 not so good. We have made some leads."
The Spanish manufacturer of lighting towers showcased its recently-launched Rental SuperSilence 2.0 generator at the show – a product which claims up to 45% less acoustic contamination, compared to its other models from its rental range.
JCB proved to be a major attraction at the show, following its launch into the access market. And, Phil Graysmark, sales director, JCB Access, said, "Obviously there's been an attraction at our stand because of our new access equipment.
"We've had a lot of people on the stand and a lot of potential customers. It's a shame we couldn't bring all of our new access equipment really, but what we have brought seems to have gained some attention."
He added that, overall, it had been a really good show for JCB, at the perfect time as far as its access launch was concerned.
On show for JCB was a range of its new access equipment, as well as its construction equipment. It showcased its S20-32E electric scissor lift, the smaller of its two new scissors launched in March.
From its construction equipment, it presented its 48Z-1 mini excavator, a product which is said to be targeted to the rental market.
Its maximum dig depth is 3.5m and has a maximum dump height of 4m. The machine is just short of 4.8 tonnes.
One company which sought to surprise exhibitors at the show, with the launch of a new product, was TSR-Lighting. The company showcased, for the first time on the opening day of the show, its new product – Worklite.
The new product is an upgrade on its Worklite range, and is the first motion-sensor light it has manufactured, claiming energy savings of up to 70%. You can read more about the product in the lighting towers feature (page 51).
Ritelite (Systems) Limited, from the UK, also launched a new product at the show – a new MK2 version of its K50 and K65 mobile lighting towers.
Tobroco-Giant said rental had become a "real push" for the company.
New to the models are forklift pockets which, in addition to the existing lifting eye, increase versatility and speed of loading and unloading operations, says the company.
Kevin Thompson, export business development manager, told IRN that its product was for a specific market, claiming it would not compete with players such as Generac and Trime. "We're going for a particular type of lighting tower, one that is more focused on a point, rather than spreading
light. We'll let the likes of Generac and Trime produce their sort of lighting towers, and we don't aim to compete with them – we're more interested in a particular client."
He added, "IRE is a show we wanted to be a part of to increase awareness of Ritelite and our products. We're very glad we participated and we hope we get success from it. Although, it's always hard to tell during the show, but time will tell."
More improvements
Elsewhere, Tobroco-Giant showed its Giant D263SW X-TRA wheeled loader at the show. Compared to a standard model an X-TRA model has a lower front frame and thus a lower centre of gravity of the load in comparison with the machine. This results in a significantly higher tipping load
varying between 460 and 1600kg of extra weight, the company said.
Evert van den Broek, marketing and communications manager at Tobroco-Giant said the IRE show was a good event and helped get the message out to customers that it is focused heavily on rental.
He added, "It's a real push for us now, the rental market. We've got a base in the UK which is targeting that market, too, and shows like IRE mean we can put ourselves on the market.
"It's been a good show for us, and we're hoping any leads we've made will materialise."
Thwaites was another company which showcased its rental presence, with a range of its site dumpers sold to Boels Rental. The company's export regional sales manager, Remi Tourtet, said IRE was positive for Thwaites and provided the company with an opportunity to meet all the right people.
"We've obviously got dumpers here which are branded up as Boels Rental, which makes a statement of intent to both Boels itself and other big rental companies. We've seen some good people at the show and even if we just get a few leads from it, it's been worthwhile for us."
Ritelite said its new MK2 version of its K50 and K65 mobile lighting towers was for the events industry.
Caterpillar were also present at the show, and focused its attention on its Power Systems division, showcasing its RP4400 and RP3100 portable generators. The more powerful of the two – the RP4400 – has a maximum output of 4400W and has two wheels for easy portability.
Rental importance
US-based Vermeer displayed its BC190XL brush chipper at the show, which is said to have features that are of special importance to the rental industry. Indeed, the automatic clutch system, which works with a single push of a button, increases ease of operation for rental customers.
The outstanding serviceability of the machine is enhanced by the fact that it's equipped with an automatic belt-tensioning system, says Vermeer.
Jasper de Smit, Vermeer's solutions specialist, told IRN that IRE was an interesting test for the company, to measure the interest it generated from rental customers serving the construction industry.
He said, "We're obviously more into agriculture, but we do serve the construction industry. It's not our main focus, but we think IRE is a good test for us to see whether rental companies for construction equipment are interested in our product.
"We obviously attended lots of shows over the last year, many related to agriculture, but this is a particularly interesting one for us."
Hitachi Construction Machinery (Europe) – HCME –displayed its ZW75-6 compact wheeled loader and ZX19-5 mini excavator at IRE. The company says that both machines are ideal for rental fleets, given their versatility.
The ZW75-6 is one of three compact wheeled loaders in the Hitachi line-up. It is easily transported between locations on a trailer and has an optional 30km/h travel speed.
APEX hailed 'best ever'. APEX closed its doors for another three years, following its three-day run in Amsterdam, the Netherlands last week. The show was hailed a resounding success by exhibitors, many of whom said it had been the best edition yet, with large numbers of high quality visitors on their stands. Well over 100 companies were on show, representing an APEX record, with 4650 industry professionals attending the exhibition, compared to 4400 last year. "We are very happy with the visitor numbers," said Michel Denis, president and chief executive officer of Manitou Group, reflecting on the first day, "We have had many customers on the stand." APEX 2017 was organised by Industrial Promotions International BV (IPI) and is officially supported by the International Powered Access Federation (IPAF) and by IRN's sister title Access International. APEX saw 4650 industry professionals attending the exhibition, compared to 4400 last year.
Italian manufacturer Messersi was a late-comer at IRE, following Perkins' decision to pull out of exhibiting a few weeks beforehand. It showcased its mini tracked dumper – the TCH-R800FED. The 800kg payload dumper has an all-electric undercarriage with two battery groups connected to three inverters.
New range
Meanwhile, Case Construction Equipment presented its new range of C Series mini excavators at the show. The line-up included three of the six recently launched models: the CASE CX18C, CX26C and CX60C.
The company says the C Series mini excavators have been designed to meet the specific needs of rental fleets, offering a wide range of advantages for this specific target group.
Germany's Wacker Neuson was out in force at IRE, showcasing a range of compaction equipment. It presented its two battery-powered rammers, a duel power excavator, an electric wheeled loader and an electrically-powered track dumper.
The company's electric track dumper – the DT10e – has a maximum payload of 1000kg and is designed for outdoor demolition work. Fully charged, the battery can run for up to eight hours.
Overall, the feedback was one of positivity from the IRE show, with many making their feelings clear about attending the show again in three years' time.