Potains on Hutong Yangtze Bridge
By Laura Hatton23 October 2015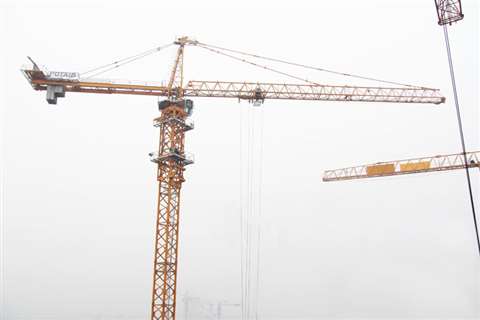 China Zhongtie Bridge Engineering is using two Potain MC 480 tower cranes to help build the Hutong Yangtze Bridge.
The main contractor for the project is Chinese contractor Second Harbor Engineering. The Hutong Yangtze Bridge is being constructed as both a highway/railway bridge and double-pylon cable-stayed bridge. Once complete, the 11 km long bridge will become a major connection for the Shanghai-Nantong Railway.
The Potain MC 480 has a 25 tonne capacity and a reach of up to 80 metres. Both models are fitted with 100 LVF 63 Optima winches that spool 726 m of wire rope and can lift 18 tonnes loads at up to 20 m/min when rigged in a four-fall configuration.
Both tower cranes are mounted on platforms that will climb alongside the bridge pylons as they are built, a spokesperson said. The cranes will be climbed 100 m and the platforms will reach a height of 235 m, bringing the final working height to more than 330 m. Both MC 480 cranes have been configured with 45 m jibs for the duration of the project.
Huang Hui, China Zhongtie Bridge Engineering mechanical engineering director of the crane division, said, "Potain cranes have proven themselves on many projects like this before... On site, the cranes are lifting equipment, structural steel, and rebar cages that weigh up to 18 tonnes, and they are working flawlessly."
The Hutong Yangtze Bridge will have a main span of 1,092 m. The cranes arrived on site in December of 2014 and are scheduled to work on the bridge until January 2016.