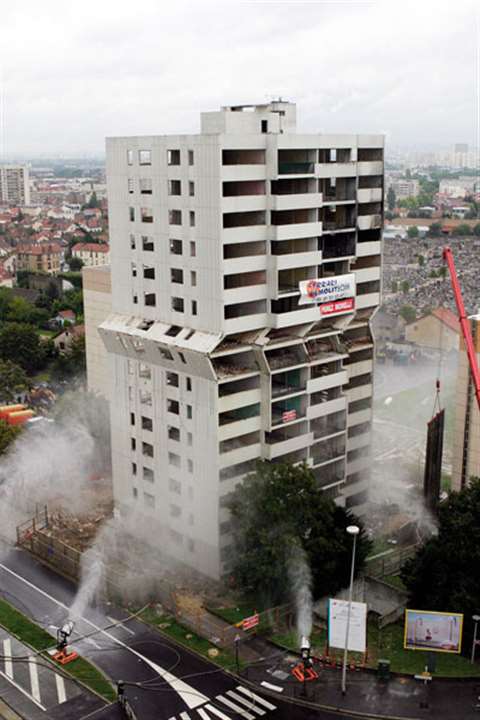 So you have a building that needs brought down in a congested urban environment, with the minimum of disruption to nearby residents and surrounding transport infrastructure. At first glance, explosive demolition might appear to be the best answer. But there is another way – a patented method whereby hydraulic jacks are strategically place in the building and are used to put a hydraulic pressure on to strategically located parts of the building structure that causes it to collapse 'like a pack of cards' onto a very small footprint.
French contractor Ferrari SA has successfully used the technique to bring down a number of 1960s multi-flower buildings around the country over recent years. The idea originated in 1997 in the mind of Dominique Ferrari, who is the second generation of Ferrari to run the company, which now employs 125 personnel in his demolition, asbestos remediation and recycling activities.
The concept is simple and straightforward. A number of hydraulic jacks (determined by the nature and size of the building) are place obliquely in the building while soft strip and weakening work is carried out. These are controlled remotely by a single operator standing at least 50 m (165 ft) away. The force of the rams is increased until critical structural elements of the building are effectively pushed out at a controlled rate, in much the same way that explosives sever key structural elements. This has the effect of causing the upper part of the structure to collapse down onto the lower portion again in very similar manner to that of an explosive demolition.
The method, however, offers some advantages over such an explosive demolition. The exclusion zone required is normally much smaller and the number of evacuations from the immediate vicinity is much lower.
As an example, Ferrari used its jacking method on two tower blocks in Belfort, France. Both were 19 storey structures. If explosives were used, approaching 1,500 people would have had to be evacuated from an exclusion zone extending 200 m (656 ft) from the demolition site. By contrast, the jacking of the buildings only required an exclusion zone of 70 m (230 ft), with only 60 people requiring evacuation for just four hours.
One of the company's most recent contracts was the demolition of a 85 m (279 ft) long, 45 m (148 ft) high apartment block in Vitry Sur Seine that contained 180 flats. In this case, only 190 people had to be evacuated. With an explosive demolition, 3,000 would have required evacuation, demanding considerable greater resources.
Once the buildings are brought down, Ferrari either transports the resulting debris off-site for processing and recycling, or carries out the processing on-site.