Power tool launches from Husqvarna
By Helen Wright14 April 2016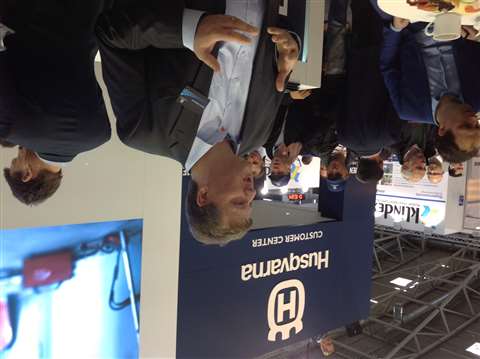 Manufacturer Husqvarna has introduced a range of new power tools at Bauma Munich, including a new power cutter, power pack, floor grinder, diamond tools for surface preparation and more.
The Husqvarna K 6500 power cutter has a magnesium blade guard, improved water system and a new blade bolt concept. The new model is equipped with high frequency Prime technology, making it the company's most powerful electric cutter ever. It can be used with the power packs Husqvarna PP 65, PP 220 or PP 490.
A new power pack was also introduced; the PP 490 - designed to be used with Husqvarna WS 482 HF, including the wire saw Husqvarna CS 10 and the Prime power cutters and drill motor.
And the PG 680 RC floor grinder saw its debut too – with unique oscillation function for greater productivity. In addition, two new carts for power cutters were on the stand in the form of the Husqvarna KV 760 and Husqvarna KV 970/1260. They both come with pressurised water tanks and a guard retainer.
The company also showcased its new Redi Lock G 1400 range of metal-bond diamond tools for the Redi Lock system, used for surface preparation. G 1400 is specially developed for very hard concrete surfaces.
Husqvarna also gave a sneak peek at two prototype products not yet available on the market – a diamond micro trencher DMT700 for fibre installation jobs, and the WSC40 wall saw chain attachment.
Henric Andersson, president of construction products, said, the rental market was core to the company's business. "Rental companies are very important to us, and depending on the geographical market, we see a large proportion of our tools go into the rental sector. We see this as a growth market."