Power up
By Kate Barker18 March 2008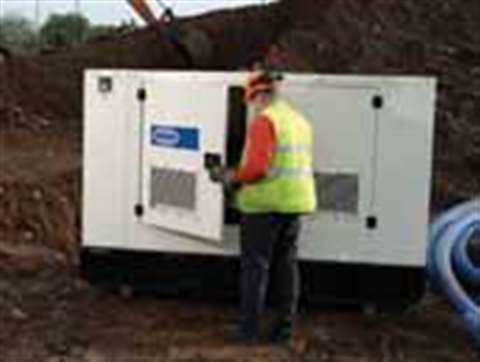 There is no shortage of new gensets on the market for rental companies. And no shortage, either, of manufacturers claiming that their sets are ideal for rental companies.
For example, Northern Ireland-based FG Wilson has added to its rental range with the introduction of three new models, the XD30P2, XD60P2 and XD150P2, rated, respectively, at 30 kVA, 6 kVA and 150 kVA. The two smaller models extend the range downwards and the 150 kVA unit fills a gap between the existing 100 and 200 kVA models.
According to the company - which manufactures 80000 gensets a year - the new designs provide greater power from a more compact genset package and improved noise levels. Ambient temperature tolerance has also been improved, which it says is particularly important for customers in its key markets in Spain, the Middle East and Australia, where very high temperatures can place additional demands on gensets.
The new rental sets are robust, easy to operate and fuel efficient. They have an extended fuel tank that is fully bunded to contain all spillages and an easily accessible control panel incorporating metering and shutdown protection.
In the UK, SMC has launched its Genpac Powermaster range to UK generator rental companies. Available with outputs from 20-500 kVA as standard, with higher output generators available to order, there are 17 models in the range in total. The company says the units have been designed with a high-end specification to satisfy the tough demands made by rental companies in this sector.
The units are housed in soundproofed canopies with forklift and crane lifting points. Each features a Perkins water-cooled diesel engine and 4-pole Newage alternator designed to provide uninterrupted power for long periods. The GSS-40 is also available with an optional Yanmar engine and the GSS-100 and GSS-350 with optional Iveco engines.
Other standard features on the Powermaster include 24-hour run fuel tanks, external fuel connections, oil extraction pump, bunding against spills, hard wire connections and socket outlets, battery isolator, full engine protection package, fault history log and an electronic control panel providing engine and generator operational information. An optional Genpac skid pack is also available.
According to SMC the Powermaster generators can be fitted into a series of containers developed by the company to provide site security, and can be supplied with a choice of 950, 2000 and 3000 l, fully bunded, industrial, metal fuel tanks.
Welsh company GenSet has also extended its range range of generators for the rental industry. According to the company its typical customer profile has included large UK rental companies needing powerful, super-quiet sets for construction sites and outside events. However, it says it is now also focusing on equipment suited for markets not needing such sophistication, which includes the general rental industry.
"Our HireMan range includes 13 models from 13-500kVA and is manufactured principally for the more technically-adept user," says Power Generation product champion John Parker. "They have significantly lower level of noise and emissions and prolonged run times, meaning that they are frequently used in outside event applications, and on major constructions sites. However, not everyone wants high-specification products and our new ranges address this requirement."
The new HirePro range offers output from 30-110 kVA, and are available in single-and three-phase configurations, while the new GenPower line comprises 8 models with outputs from 22-175 kVA and are fitted with Deutz diesel engines coupled to electronically controlled alternators.
Genset says the HirePro and GenPower ranges are designed to appeal to renters seeking simple, basic and reliable temporary power generation equipment.
"Demand for products like these can only increase," says Mr Parker. "We expect the generators in the 30-50 kVA segment to prove particularly popular. With the greater demands being placed on the National Grid and a contractor's frequent need to have reliable electricity in locations away from a mains connection, this will continue to be a strong market. These types of users want the ability to just turn a key for dependable, safe power where they are working.
"We are striving to develop options and accessories to give our sets environmentally beneficial attributes".
These include micro-particle oil filters, which enhance engine life and reduce oil usage, fully bunded bases to guard against fuel and oil spillage, meaning there is no need for drip trays and no risk of ground contamination, and fuel tanks fitted with a fuel float system, using only clean fuel, leading to fewer site breakdowns and fewer service engineers on the road. Enhanced soundproofing and noise reduction also help to lower site noise pollution.
Ingersoll Rand has launched its new PowerSource range of 50-cycle generators for the European, Middle East and Africa markets. The range is a line of 12 mobile and portable generator models with prime outputs at rated speed from 10 to 500 kVA. The generators are equipped with advanced Stage II engines, for an optimum mix of performance, fuel economy and low emissions, and can run for at least 24 hours without refuelling. All the units feature Leroy Somer alternators, and, says Ingersoll Rand, are ideal for powering pumps, cranes and other devices with high start-up current loads.
All control functions are grouped together on a common operator control panel, and system faults are indicated on an LED diagnostic panel, to simplify troubleshooting. Remote auto start/stop control is fitted as standard on all models above the G10.
The generator enclosures are finished with a 13-stage paint process, including zinc phosphate pre-treatment, e-coat primer and a textured powder-paint coating offering corrosion resistance against the demands of construction sites. This also provides long life and excellent resale values, important features for equipment rental and construction companies.
The PowerSource line is fitted with a number of environmentally protective features, including 110% containment to prevent spillage of fuel, oil or coolant. Sound reducing insulation of the enclosure on the generators, combined with features such as optimised fan speeds, allow the units to work at low noise levels, ideal for events, nighttime construction and on noise-sensitive sites.
Pierre Payard, European product manager for Ingersoll Rand, describes market growth in Europe as `pretty high' with rental interest growing fast in southern Europe and to a lesser extent in central and Eastern Europe.
"There are differences between north and western Europe where customers are demanding high specification machines, whereas elsewhere there is a strong demand for lower specifications. "
He identifies Spain and Russia as specific areas for rental growth. "Spain is a big potential market, although customers are not always prepared to pay the price for higher specification equipment," he says. "I also see Russia as being a strong player in the future, with potential for high specification machinery.
"In the future I believe rental companies are going to be wanting more powerful units, and I also predict a trend towards remote power supply to minimise fuel consumption."