Powered trailer system collaboration
By Christian Shelton29 August 2018
Heavy lift and transportation specialist Mammoet has partnered with SPMT and trailer manufacturer Scheuerle to produce a powered trailer system designed to make heavy transport projects quicker, safer and more sustainable.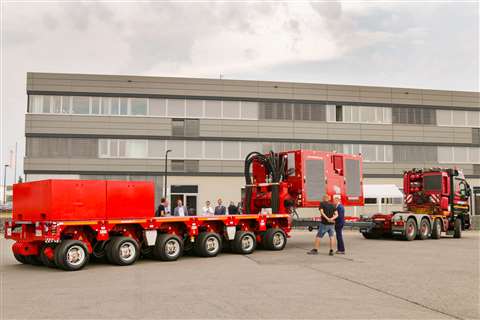 The new trailer system is called Trailer Power Assist (TPA) and has been manufactured by Scheuerle to Mammoet's specifications. Each trailer has a 1,000 hp diesel engine that powers a hydraulic drive system. The TPA has a traction force of 400 kN which Mammoet says is more traction than any other solution in the powered trailer category. In addition, the TPA has no ballast requirements.
Mammoet said these factors mean that, compared to using alternative systems, the length and weight of transport solutions using the TPA can be reduced, thus lowering emissions and eliminating the need for multi-truck configurations. In so doing Mammoet said risks arising from the complexity of steering and breaking on heavy transport jobs are minimised.
The TPA transport solution is based on the self-propelled K25 modular platform and has four powered axle lines per six-axle trailer. Mammoet said the TPA's modular design means it can also be coupled together to form a multiple vehicle network for even greater power.
The TPA has an assisted road speed up to 28km/h, which Mammoet said is 20 times faster than a self-propelled modular transporter (SPMT) solution. Above 28km/h the TPA will switch to freewheel mode, leaving the prime movers to haul the load at up to highway speeds. The TPA is designed for international transportation and, with the correct permissions in place, it can be used on public roads across Europe, said Mammoet.
The TPA's hydraulic hub motors can be re-engaged to slow the load down hydrostatically, said Mammoet, reducing wear and tear on its brakes and providing the precision and control required to navigate narrow or winding sections of a route.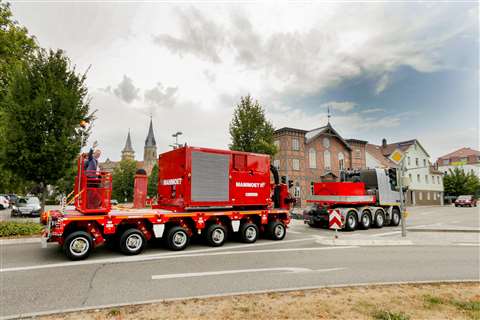 The TPA operates between -40C and +50°C. Once a load has been delivered, TPA units can be towed back to base in freewheel mode with their engines off, to further improve efficiency.
Jan Kleijn, COO at Mammoet, commented, "Trailer Power Assist is the most efficient, sustainable and cost-effective answer for the complex transport demands of large scale construction projects."
A YouTube video of the system can be see at: https://bit.ly/2Pf2h8m