Precision demolition
By Lindsay Gale20 March 2008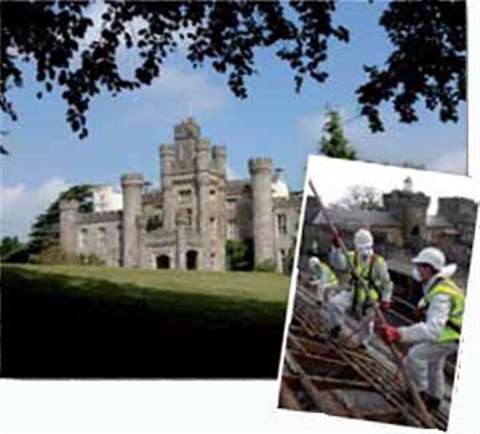 UK contractor Cuddy Group used a mix of demolition techniques during the demolition of Hensol Castle in the Vale of Glamorgan, which is being transformed into a five star luxury hotel and spa by owner Gerald Leeke. The former hospital wards and concert hall are being converted into 60 luxury residential apartments and a Welsh village of two, three and four–bedroom holiday houses is to be built in the grounds, with other wards being converted into staff accommodation.
Cuddy used high reach excavators from its fleet to demolish a number of buildings on the site, including a kitchen block and redundant physiotherapy unit. However, much of the remainder of the demolition work had to be carried out by hand so that 17th century building materials and features could be salvaged and reused. The use of hand tools ensured that these features remained undamaged o undisturbed. Once removed from the building, this material was directly placed onto pallets ready for reuse.
In total, 2,000 tonnes of stone, 12,000 slates and 2,000 timber floor and roof joists were rescued for re–use, and an additional 6,000 tonnes of C&D waste was crushed on site and will be reused as backfill on the development.
Valued at £400,000 (US$ 790,000), the demolition job was carried out in the full public scrutiny of visitors to the adjacent Vale Hotel and Leisure Development. In addition, the Castle was also being used as a set for the BBC's science fiction series Torchwood.
Cuddy did encounter one unexpected problem. After the company had thought it had arranged the demolition schedule to all parties' satisfaction, a colony of nesting bats was discovered. This required Cuddy to return to the drawing board, delaying some of the demolition work and redeploying parts of the team to other areas of the site to allow time fo the young bats to be born bat licences issued and th colony safely removed–bat are a protected species unde UK legislation.
The overall development due for completion in 2008.