Press move for Laso
By Alex Dahm19 October 2020
Heavy lift and transport specialist Laso Transportes from Portugal used an Enerpac telescopic hydraulic lifting gantry with a side shift system to position two presses weighing up to 160 tonnes. Using the Enerpac SBL500 with the side shift allowed the automotive presses to be lifted and positioned in three dimensions to fit reinforced concrete platforms.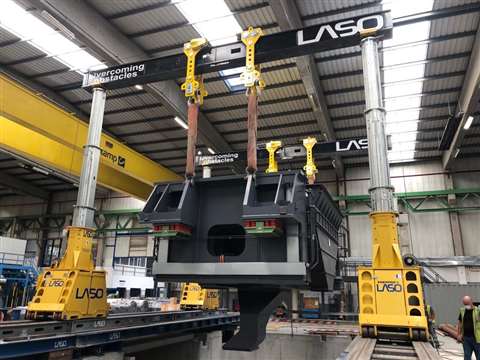 Enerpac said industrial moves are getting more complicated as manufacturers work to optimise production. Factories are kept as small as possible to reduce handling times. At this automotive component factory job, two presses had to be moved from one location to a new one.
Laso used the SBL500 gantry to lift the 70 tonne and 160 tonne presses. They were 10.0 x 5.5 x 3.1 metres and had to be skidded onto a trailer for removal.
At the new factory, each press was skidded into position and rotated on a turntable to correctly orientate it for lifting. The presses had to be positioned on a reinforced concrete platform that both supported and provided a level surface for each press. The gantry with side shift units was then used to lift and align the presses with the platform.
"Using the Enerpac side shifts gave us the ability to manipulate the press in three dimensions, without this the accuracy of press positioning would have been very difficult," said Jorge Costa, Laso Transportes maintenance manager. "The presses were successfully positioned with a tolerance of just a few millimetres – another efficient lift by the Laso team."