Production record for Potain China
By Laura Hatton26 August 2014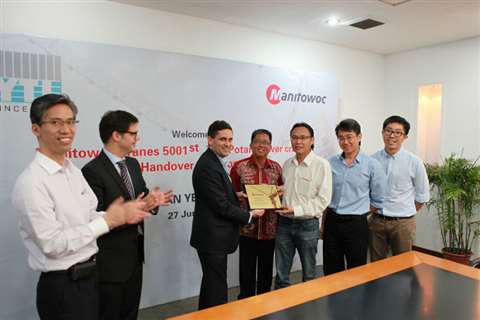 Manitowoc's manufacturing plant in Zhangjiagang, China, has built more than 5,000 Potain tower cranes since it opened in 2006.
The 5,001st crane was purchased by Malaysia-based construction company YTL. The MCR 225 A Potain tower crane was brought from Potain's Malaysian dealer, Inflextec Engineering.
Yow Chee Keong, YTL plant and machinery manager, said, "We've had a Potain tower crane in our fleet since 1984, but we recently invested in seven new units because of the significant improvements that Potain has made.
"They are extremely high performing cranes that are easy to use and simple to erect. We can also interchange masts and maintenance is easy. I am certain we will buy more Potain tower cranes in the future."
Seven of YTL's Potain MCR 225 A tower cranes are working on the Fennel Sentul project in Kuala Lumpur, Malaysia. The cranes will work 16 hours a day, lifting pre-cast planking and steel walls measuring up to 40 metres in length, a company spokesperson said.