Project report: Vintage refurb
By Alex Dahm08 November 2016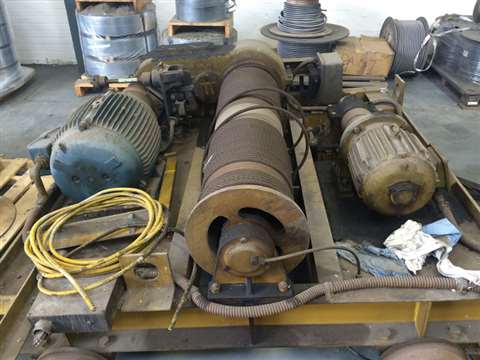 Industrial lifting specialist Linian took on the challenge of economically refurbishing an old electric overhead travelling crane so it could become useful to a new owner.
International electrical cable manufacturer Tratos approached UK-based Linian Crane and Hoist Company to assess whether or not an old crane in a building the company had taken over could be recommissioned.
It was a 10 tonne Wharton double girder electric overhead travelling (EOT) crane thought to date back to the 1950s. Tratos wanted to know whether the crane could be made fit for use for lifting and handling large reels of heavy cable.
While carrying out a thorough survey of the Wharton EOT crane, Linian hired in a large generator and installed some temporary controls to power up the crane so that they could determine what parts did and didn't work satisfactorily. As expected, there had been much deterioration of all of the component parts over the years of lying idle, so it was decided that a complete refurbishment would be needed. The bridge beam and supporting gantry rails, however, were still in good order.
Tratos had a preference for Street hoists and so it purchased and supplied a completely new hoist unit after Linian provided a specification for Street to work to. Linian designed and manufactured a new hoist crab unit to fit the existing non-standard rail gauge and to accommodate the new hoist unit within the tight headroom restrictions.
Linian also manufactured replacement end carriages to a specification that would ideally suit the refurbished crane, its loadings and its duty.
The old hoist crab unit was taken down using a large hired-in fork lift truck and then the crane bridge itself was taken down and placed on suitable bearers at floor level to make it easier to work on. The old end carriages were removed from the bridge beams, Linian's new carriages were fitted and then the crane bridge was lifted back up and set down on the crane rails. The new Linian hoist crab unit, complete with the new hoist, was then lifted up and placed on to the crane bridge beam rails.
Linian manufactured and fitted a complete new control panel using Telemechanique (Schneider Electric) component parts and replaced all old cables with new. Linian also fitted a new cross crane cable festoon power feed system and a new downshop protected conductor bar power feed system. Both of these power feed systems and control pendant were supplied by Hamilton Powersafe Ltd. A new electrical power supply was installed into the building and up to the crane.
When Linian's engineers were totally satisfied that all of the crane refurbishment work had been completed properly and to the required industry and safety standards, the crane was fully tested and certified safe to use in full accordance with the Lifting Operations and Lifting Equipment Regulations (LOLER) 1998, Linian said.
Linian also provided training for Tratos staff in overhead crane operation, lifting and slinging and supplied them with suitable slings for lifting and handling the reels of cable.
Ian Watson, Linian Crane managing director, says, "Tratos now have a completely refurbished, high quality crane that in every respect is as good as a brand new crane and yet it has cost them a full 25 percent less."
John Light, director at Tratos UK, comments, "Linian were professional to work with and stuck to their scheduling, which was refreshing and necessary at the time due to all of the other works going on in the factory."