Prolectric expands solar light factory
UK solar powered lighting tower manufacturer Prolectric officially opened its expanded manufacturing facility in Clevedon, near Bristol, on 30 November.
The company, which produces both temporary and permanent solar-powered lighting products, has doubled its production facility to 24,000m2 and tripled its workforce in response to increased demand for its solar powered mobile towers.
Prolectric has so far focused on the UK market but is now looking at exporting to countries including France and Spain.
The business developed its first solar lighting products in 2011 and more recently launched mobile towers, including the ProLight Solar lighting tower. The number of its towers in UK rental fleets has grown ten-fold to 2,500 units since Spring 2017, said the company, which operates its own fleet of towers.
Managing director Chris Williams, speaking at the official opening, said; "During the past 12 months alone, Prolectric's solar lighting fleet has save one million litres of diesel, resulting in a £800,000 operational saving and a 3,000 tonne reduction in CO2 emissions for the industry.
"Many UK contracting firms have set challenging carbon reduction targets as part of the Government's strategy to halve construction industry carbon emissions by 2025. Based on our current growth predictions, in three years we expect to save the UK industry more than 15,000 tonnes of CO2".
The expanded facility was opened by the local Member of Parliament, the Rt Hon Dr Liam Fox, who is the UK's International Trade Secretary.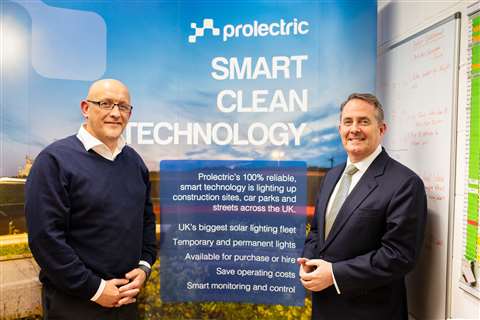 Dr Fox said: "The phenomenal growth in popularity of Prolectric's mobile solar lighting has been extremely impressive and is based on the company's shrewd decision to ensure their technology is attractive to contractors for its fuel and operational savings, as well as being able to operate completely reliably throughout the night even when the winter days are shortest.
"Now, the Department for International Trade is supporting Prolectric's plans to expand its operations into European markets, particularly Spain and France, where there is already significant interest in their clean and smart technologies. I wish them every success for the future."
In addition to having its own rental fleet, Prolectric has been selling towers to major contractors and plant hirers in the UK, including Speedy Hire, which last year awarded the company its annual innovation award.
The ProLight is a trailer-mounted unit with heavy-duty deep-cycle batteries, an array of four 330W solar panels, a 7.5m telescopic mast and four LED lights which are capable of 550m2 coverage at a minimum Lux level of 20, and 10,000 to 40,000 lumens.