Prototype presented by Bronto Skylift
By Euan Youdale17 April 2013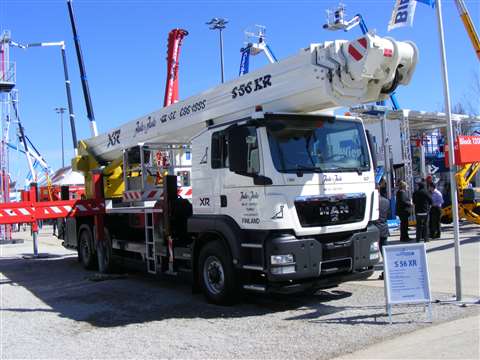 Bronto Skylift has two new prototype truck mounts on it's stand.

The S 56 XR and S 65 XR have a maximum working height of 56 m and 65 m, respectively.

The XR models are the start of a new generation of the existing XDT range. Both ranges will run parallel to each other until the new XR range is full, then it will supersede the XDTs.

Both machines will be available on a 3- and 4-axle chassis and will provide 30% more outreach volume than previous models, says the company. For example the S 56 XR has an outreach of 37 m and an up and over capacity of 15 m. Safe working load is 700 kg.

Finnish rental company Jalo & Jalo has bought one of each model, while fellow Finland-based renter Janneniska has acquired one S 75 XR.