Pump it up
By Andy Brown25 July 2018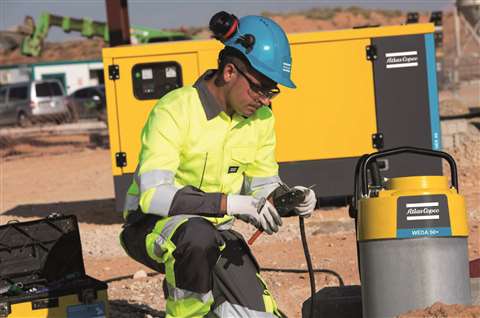 Pumps may not be the most eye-catching equipment on construction sites, but they are absolutely key; they need to be hardy enough to deal with the wide range of different materials contained in water and other elements, such as trash, and keep on working. A pump which fails can hold up work on a job site. Pump customers are looking for pumps that are highly efficient, easy to maintain, have good spare parts availability and for which the company offers good service.
Regarding dewatwering pumps, there are several key issues to be considered including efficiency, size, versatility, durability and how easy they are when it comes to maintenance.
Atlas Copco Portable Energy has added to its family of medium and large submersible dewatering pumps with the launch of the WEDA+ plug-and-play range. The new range has undergone a design overhaul, the result of which was said to be new pumps that offer up to a 20% overall reduction in power consumption compared to previous models, greater efficiency and increased capacity.
Rotation control
The WEDA+ range comprises five models: the WEDA 50, with normal- and high-head variants, and the WEDA 60+, available in normal-head, high-head and super high-head configuration. The top-of-the-range super high-head WEDA 60+ was said to be 15% smaller and 20% lighter than other pumps in its class. The latest pumps offer flow rate capabilities of 61 to 146m3/h, and a maximum head of up to 69m.
Rotation control and phase failure protection has been introduced across all WEDA+ models to prevent the risk of the impeller rotating in the wrong direction. In addition, the entry system can accommodate a wider range of cable configurations, with the motor design offering higher efficiency and reduced start current. The models are constructed with an aluminium alloy to provide high corrosion resistance.
"The new WEDA+ pumps are easy to move and install in a wide range of dewatering applications," explained Wim Moors, vice-president of pumps, Atlas Copco Portable Energy. "We have taken our portable and powerful electric submersible offering to the next level by focusing on efficiency and new features that will simplify the customer experience and enhance their productivity."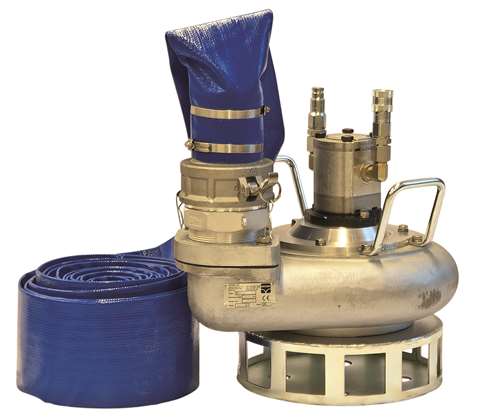 Pumps often need to be able to handle large solids such as those found in flooded exactions on a jobsite or in flooded roads and tunnels. It is for this reason that Hycon supplies a range of hydraulic submersible trash pump available in a two-, three- and four-inch discharge size. These pumps working on the vortex system can handle large solids or flooded surfaces.
The two- and three- inch pumps are said by the company to be suited for use on construction job sites and for any mobile general pumping purpose where it is easy to dump it into the water or slurry. Requiring only 30 to 40litres per minute of hydraulic flow, it can be operated by petrol, diesel or by electric power packs.
Used by various utility contractors for pumping jobs with services on water systems, de-central heating, wastewater, drainage line or when just flooded from rain, it can be operated by compact portable powerpacks that can be used for breakers, cut-off saws or core drills. According to information supplied by the company, a contractor often has a package consisting of a powerpack, breaker, cut-off saw, core drill and then a two- or three-inch pump. All pumps can run dry as being a hydraulic motor/pump, it is cooled and lubricated from the hydraulic power supply.
Isolated areas
Pumps often have to work in the toughest of conditions in isolated areas, such as an oil and gas project Australian Pump Industries (Aussie Pumps) worked on in Northern Kenya. For the project, the firm supplied a number of their heavy-duty Mine Boss four-inch trash pumps for duties in the Tullows project.
The Tullows team needed pumps that would cope in a range of conditions, from flooding rains to sandstorms. Aussie Pumps developed the trash pump range for the Australian Outback.
The big four inch trash pumps are powered by Yanmar 7.3kW electric-start air-cooled diesel engines, and produce flows of up to 1,800 liters per minute. They are designed to handle solids in suspension of up to 1.5 inches without clogging or stalling.
The pumps are fitted with an e-stop and battery isolation as a standard safety feature demanded by Australian Mining safety requirements. The pumps are designed to be easy to prime and will suck water through a vertical lift of 7.6m – important when drawing water from wells or semi dried-out river beds.
The company supplies Tullows with Yanmar spare parts kits that allow easy service of the engines. "We developed Yanmar engine service kits in Australia because of the vast distances involved and the simple logistics of keeping equipment working", said Aussie Pumps' chief engineer John Hales. "The service kits provide sufficient parts and oil for regular services to be carried out. That prolongs the life of these hard-working single-cylinder engines."
Specialist equipment
A challenging environment of a different kind is a mine, and there are specialist pumps used to dewater these environments. Netzsch Pumps produces mine dewatering pumps and pump skids that require a small and compact movable unit to address their dewatering challenges. Also available for mining applications are Nemo progressive cavity pumps and the self-priming, valve-less Tornado T2 positive displacement pump.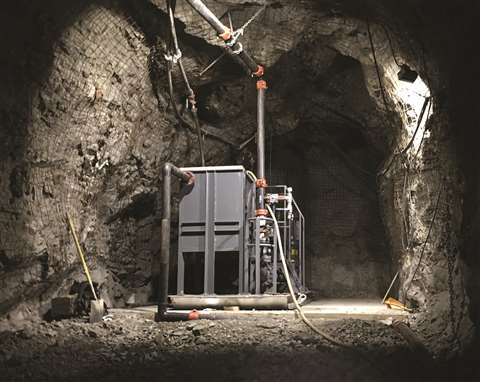 The base mine dewatering pump skid unit includes a tank, progressing cavity pump with right-angle gearmotor, inspection ladder, valves, and piping – mounted on a common galvanized steel skid. Also available are optional units with a control panel and instrumentation, including high/low level switches for the tank or dry-run protection for the pump. Individual pumps are available to retrofit existing skids.
The tank includes baffle/divider screens to filter out any solids too big to fit through the pump. The pump is located to the side of the tank, enabling easier access and maintenance. The right-angle gearmotor saves space and eliminates the need for a belt drive, but belt and pulley designs are also available. With operator safety key on all construction sites, the pump includes a removable inspection ladder with hand rails and a removable safety screen for the tank.
Available in a wide range of flow and pressure capabilities, the pump and tank can be constructed from different materials, such as carbon steel, stainless steel, galvanized steel, and Halar/rubber-lined steel, depending on the specific application.
Making the right choice
The Atlas Copco team on the main benefits of electric or diesel
Critical factors in this decision are: required volume, flow/head specifications, and the constitution of water and materials to be pumped. Pump capability has to encompass the variables of operational conditions, site access, project duration, environmental issues, equipment autonomy and more.
Built for endurance and reliability, diesel-powered centrifugal pumps are designed for handling high volumes of water discharge. The operating flow range is typically between 50 to 830m3 per hour with a head of up to 51m.
Capable of coping with a wide range of applications, fully-automatic self-priming centrifugal pumps are considered the ideal solution for transporting or raising water with abrasive solids in suspension, such as in construction and mine site dewatering. They can work with water that is clean or dirty, as well as handle trash and fibrous materials. Their solids handling capacity can reach up to 76mm in size thanks to features such as semi open impellers and abrasion-resistant pump casings.
They are the choice for delivering fast dewatering solutions to sites where an alternative power source, such as a mains feed or generator output, is not available. In addition, these pumps are able to operate in a high-variable speed range, enabling them to cover different applications and flow/head combinations.
Electric submersible dewatering pumps offer portability, easy handling and are generally available in a power rating and capacity range that make them well suited to mining, construction and ground water control. They are also useful for applications where diesel pumps cannot be used, such as underground where emissions are not allowed.
Providing hours, and even days, of unattended dewatering pump operation, submersible pumps can meet the demanding requirements of raising water from great depths or lowering water tables even in the toughest environments; some models are capable of running for up to 2,000 hours without attendance. Electric pumps can offer environmental compatibility, for instance when quiet running is an essential feature of their performance.
Extreme durability is also guaranteed as electric submersible pumps offer
high-wear resistance. Meanwhile, the modular construction of these types of pump provides for simplified maintenance procedures.
Current manufacturers' medium to large capacity ranges offer maximum power ratings in the region of 54kW and can typically manage flows from 225 to 16,500 litres per minute with a maximum head of 85m.