Pump up the power
By Lindsey Anderson03 May 2017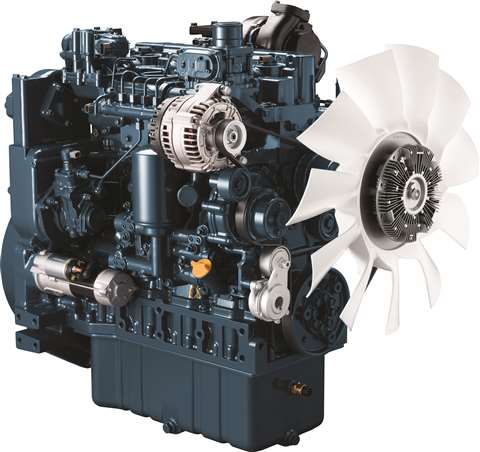 There's been quite a bit of news out of the engine world over the past year. As engine companies work with manufacturers to provide power that meets requirements, the best efficiency for the product and create a unit that meets emissions regulations, engine manufacturers have also introduced new services, opened new facilities and debuted new products.
ConExpo was a particular hotbed of activity, with companies showcasing new lines and services - from apps to training.
Perkins used the show to announce three new investments in its aftermarket offerings which will give end users access to genuine Perkins parts, information on their engine and service and support from their local Perkins distributor.
"This is the start of an exciting journey for Perkins and our aftermarket business," says Chris Snodgrass, vice president global sales, marketing, service and parts. "The new initiatives we're promoting will enhance the service and support millions of Perkins end users already receive from our global network of trained Perkins distributors."
Initially targeted at U.S. customers, Perkins also announced a new online platform called perkins.com/shop. The online shop will allow U.S. customers of Perkins engines to buy genuine Perkins parts online. If a part isn't currently available to buy through perkins.com/shop then end users will be able to register their request for the product. This request will be passed on to the local Perkins distributor, who will follow up with the customer on their purchase and other service needs.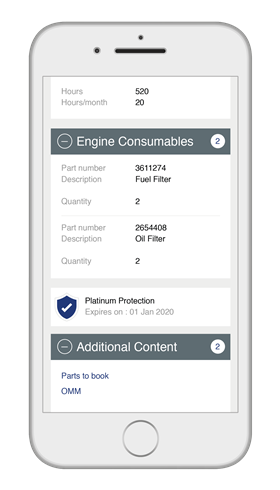 To support the online shop, Perkins has opened a new regional distribution center in Kentucky.
"[Our] perkins.com/shop and the establishment of a new parts distribution center in the U.S. represents a significant investment in our commitment to our customers, who want to be able to easily order competitively priced genuine Perkins parts online," says Snodgrass. "I'm personally excited by the forthcoming launch of the online shop and know our end users will instantly experience the benefits of obtaining their genuine Perkins parts direct from the manufacturer."
Perkins announced a new online platform called perkins.com/shop. The online shop will allow U.S. customers of Perkins engines to buy genuine Perkins parts online.
Perkins also debuted a new My Engine app that will allow the end user to register their Perkins engine and access their operating maintenance manual and parts book. The app also enables the user to keep a service record and make contact with their local Perkins distributor, through the distributor locator feature that uses GPS for location.
Lastly, the company debuted a new Perkins cap. Designed to replace the oil filler cap, this connectivity solution will allow end users to connect their mobile device to their engine via the Perkins My Engine app, which will then give them engine data such as engine running hours and much more.
"The Perkins app, in conjunction with the Perkins cap, will, for the first time, enable Perkins customers to easily track use of their engine and servicing requirements, locate their local Perkins distributor, see parts information and receive service updates, all in one place," says Michael Wright, general manager – aftermarket.
Engine debuts
Also at ConExpo, six new Deutz engines made their U.S. debut, along with two gas versions.
These include the four-cylinder TCD 5.0 and TCD 9.0 diesel engines and six-cylinder TCD 12.0, TCD 13.5 and TCD 18.0 engines. The new TCD 2.2 has been made available in both gas and diesel, and they have also developed a gas version of their old TCD 2.9.
The TCD 9.0 through to TCD 18.0 were the result of a collaboration between Deutz and Liebherr Group, but Deutz plans to market them under its own brand name when they are made available worldwide in 2019. All four engines comply with EU Stage V, U.S. Tier 4 Final, China IV and EU Stage IIIA emissions standards.
Also due to be introduced worldwide in 2019, the TCD 5.0 includes less pipework and fewer components in its design in order to reduce complexity and the need for maintenance work.
Liquefied petroleum gas (LPG) versions of the TCD 2.2 and TCD 2.9 engines lend themselves well to use in industrial, stationary and compact construction equipment and forklift trucks.
"Expanding our engine portfolio allows us to pursue new markets and grow our customer base," says Robert T. Mann, president and CEO of Deutz Corp.
Training centers
Kubota Engine America Corp. has expanded its educational opportunities for its distribution network, by unveiling a brand-new technical training center at its Lincolnshire headquarters outside of Chicago.
Construction on the facility with 3,400 square-feet of classrooms and a 1,500 square-foot lab area was recently finished. Distributor technicians went to the center for a hands-on, common rail system SCR course taught by Kubota's training team.
"At Kubota, we saw a need to design a dedicated team and advanced space to make sure we are able to focus on training without fail," says Tom Amundsen, senior technical training engineer at Kubota. "The industry is evolving. Upgrades in technology require service technicians to place training and adapting as top priority, in order to meet these challenges. Now the new facility and improved curriculum allow us to create a rich learning experience with real-life application for our students."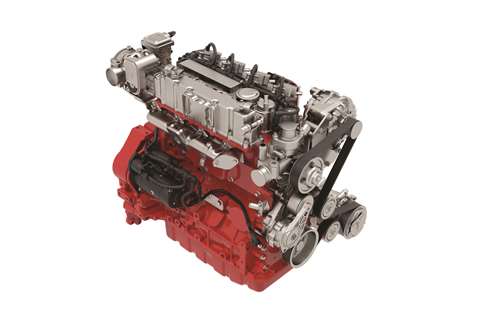 Six new Deutz engines made their U.S. debut, along with two gas versions, during ConExpo.
The added resources will allow Kubota to provide a consistent level of training all the way down through its network, both via e-learning training (ELT) courses and instructor led training (ILT) opportunities, the company says.
Course topics range from compression ignited engines equipped with common rail, DPF after treatments and SCR systems, to spark ignited engines and legacy mechanically controlled engines. Each course is designed to help students understand Kubota products and engines in order to use them more effectively and efficiently.
"It's our responsibility to provide superior training for our customers and distributors. The more we train and the more feedback we receive, the more we can continually improve," says Amundsen.
Kubota will be placing additional training center information on its website in the coming months, the company says.
Kubota also recently debuted its first diesel engine above 200 hp during ConExpo. The five-liter V5009 is Kubota's first model in its new 09 Series with mass production beginning in 2020, consistent with impending EU Stage V emission regulations.
"This EU Stage V ready diesel engine has been years in the making, designed by a proactive team of engineers in Japan dedicated to researching and complying with exhaust emissions regulations around the world," says Kevin Keyes, vice president of sales and marketing for Kubota Engine America. "Before they developed the V5009, our customers with larger application needs had to turn to another manufacturer. We received several requests for larger, more powerful engines, and are pleased to now be able to further position Kubota as one source, multiple solutions. With the new 09 Series, our customers will have a complete lineup of industrial, reliable diesel engines both below 100HP and above 200HP."
The V5009 has an output of 157.3 KW (210.9HP) and after treatment devices including a diesel particulate filter (DPF) and selective catalytic reduction (SCR). It breaks through conventional technologies by creating a new platform and improving its core technologies. The four cylinder engine offers outputs only available previously with six cylinders.
To achieve high output with low fuel consumption, Kubota's team secured the air intake amount through high-pressure supercharging, then used combustion matching to create high in-cylinder pressure. They also designed a ladder frame structure to ensure engine durability, improved the water cooling channel, and added a side power take off option and three ports for accessories such as hydraulic pumps for ease of use.
"The V5009 will not require any major modifications to our customers' current machines because it is compact enough for easy installation," says Keyes. "It should also significantly reduce running and operating costs, saving time, money and energy for our end users."
The 09 Series will also include a 4.3-liter diesel engine using the same next-generation platform, also available in 2020.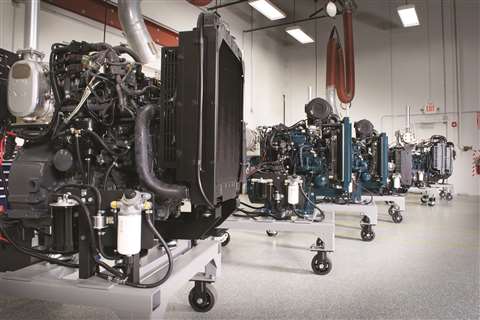 "At Kubota, we have dedicated the last 95 years to producing more than 29 million engines," Keyes says. "We have built our reputation on reliability, improving the lives of customers living all over the world. We are confident the 09 Series will only help us do that more and we look forward to better serving them in the years to come."
Engine partnerships
Recently, Manitou Americas, Inc. announced it partnered with Yanmar to offer remanufactured Gehl and Mustang engines under the XPRT Genuine Parts brand name.
Remanufactured engines are specifically designed to fit any Gehl or Mustang branded machines operating in North America.
Yanmar Americas remanufactures engines in the U.S. According to the company, lead-times are less than 15 days on most engines (versus 120 days with new engines), and carry a one-year OEM factory warranty, backed by the Gehl and Mustang dealer network.
"We are launching this offer, in partnership with Yanmar Americas, as another example of our efforts to reduce the total cost of ownership (TCO) for our end-customers," says David Harrison, director of aftersales, Manitou Americas, Inc. "Remanufactured engines are more cost-effective than new engines and offer significantly reduced lead-times, saving customers time and money, exhibiting our confidence that these engines will meet or exceed our customers' expectations in terms of quality and reliability."
The remanufactured engines are currently stocked at the Manitou Americas, Inc. distribution center in Belvidere, IL and can be purchased through any Gehl or Mustang dealer within North America.