Pumps: Innovation overflow
By Thomas Allen12 August 2019
The market for industrial pumps is full of innovation, with solutions being devised for a wide range of changing needs. But one of the most important changes at the moment – at least in the European market – is the introduction of Stage V emissions standards, which started to be phased in earlier this year.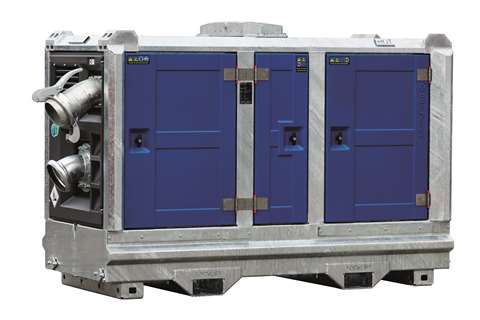 In response to increasingly stringent emissions regulations, BBA Pumps has introduced an updated version of its BA150E rental pump, which was said to offer a 79% efficiency improvement compared to its predecessor. The original 150mm diesel driven pump has proven to be the most popular rental model in the company's BA series of dry prime pumps.
Pump performance improvements
Strict emissions legislation is not only driving a reduction in emissions but is also positively directing improvements in pump performance and ease of use. For instance, the Stage V electronically controlled diesel engine that powers the new BA150E has a greater maximum speed of 1,900rpm, which increases operational efficiency and delivers more pump pressure.
The engine is also capable, now, of informing the user of its status in real time via a display on the pump's dashboard. The speed can be adjusted at the push of a button so that fuel consumption can easily be kept to a minimum.
The canopy has also been redesigned, not only to create more space for the aftertreatment system and engine cooling, but also to make maintenance access easier.
The pump has a maximum capacity of 477m3/hr and delivery head of up to 38m. The weight of each unit remains unchanged at 1,600kg, and its ability to be handled and stacked is also identical to the previous model.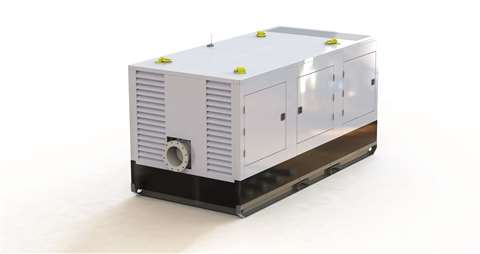 UK-based pump manufacturer DXB Pump & Power has also launched a new Stage V-compliant high-flow pump for the European rental market, following an order from its rental partner Svensk Forbipumpning in Sweden.
The new 300kW DXB s1400/50SAP is powered by Scania's DC13 Stage V engine and offers flow rates of more than 1,600m3/hr with heads of up to 60m. The portable 300mm pump is sound attenuated, with the company claiming that it is the quietest pump with the lowest CO2 and particulate emissions on the European market.
Svensk Forbpumpning and DXB
Svensk Forbpumpning has already had DXB's 200mm pump in its fleet for the past year but needed some larger pumps for upcoming projects in Sweden. Kurt Bjørn Nielsen, Managing Director and owner of the company, said, "We have been pleased with the service and products that DXB Pump have designed for us with the 200mm pumpsets but our customers required more flow and better emission compliance, especially in the cities like Stockholm and Goteborg. We sat down with the team at DXB Pumps and agreed a plan of design that required Stage V engines and high flows but no louder than 75dB(A) at 7m, which would make them the quietest in Scandinavia."
Designed and manufactured in 14 weeks, the s1400/50SAP features satellite telemetry and an engine management system that allows owners and renters to precisely locate the unit and access details about flow rates, fuel consumption and the timing of oil changes, as well as other parameters for preventative maintenance.
Highlighting the features enabled by the DC13 engine and the benefits they have for the European and US markets, Robert Garnham, Chief Engineer at DXB Pump & Power and lead engineer on the design of the company's high-flow range of pumps, said, "These include the fact that the pumpset comes as standard with four-point integral lifting capability, in-line suction and discharge, and it is still able to fit inside a standard ISO container allowing for inexpensive international shipment – something no other pump manufacturer has done."
Atlas Copco submersible dewatering pumps
Atlas Copco Power Technique has completed its portfolio of WEDA submersible dewatering pumps, with the range now comprising three families. The WEDA D family for dewatering has been expanded with the new D80; the S30 and S60 are new additions to the WEDA S family for sludge; and the entirely new WEDA L family has been created for the toughest slurry applications.
Aside from optimising their performance, a lot of focus has been put on making the pumps lighter, enhancing electrical safety, improving the seal design and making installation easier.
All pumps in the D and S families are available with WEDA+ features, which include phase failure protection, rotation control, thermal switches and a 20m cable with a phase shifter plug for all three-phase pumps. The WEDA+ features are also available as an option on the L range.
Handling capabilities
Overall, the WEDA D pumps, which use top-discharge, can handle water of specific gravity to 1100kg/m3, and, depending on model, solids of between 4 and 12mm diameter. The bottom side discharging WEDA S pumps' capabilities extend to water with specific gravity to 1400kg/m3, and solids of between 25 and 50mm, depending on model. Meanwhile, the WEDA L pumps, which also use bottom side discharge, handle water of specific gravity up to 1700kg/m3, and, again depending on model, solids of between 20 and 60mm diameter.
All models feature a built-in starter and motor protection system along with optional automatic level control. Adjustable wear-resistant rubber diffusors and hardened high-chrome impellers ensure durability in tough environments.
Handling and transportation are eased by the pumps' weight, which was said to be 20% lower than competitor products – an advantage which makes them especially attractive for rental use.
Xylem says it has been redefining toughness for the mining and construction industries, "allowing customers across Europe to dig deeper and build bigger". This comes as part of a strategy that started three years ago to revitalise the company's product line.
Earlier this year, Xylem launched a number of new and improved products, including the latest smart dewatering pump from its Godwin brand's Smart Series. The new Godwin CD150S Dri-Prime pump was designed to combat the toughest mining and construction applications, claiming improved efficiency, increased flexibility and greater sustainability.
A key feature of the CD150S is that it has an interchangeable impeller – something that Xylem said it was the first to introduce.
The dewatering pump can also be equipped with a new generation of Xylem Field Smart Technology (FST), Xylem's cloud-based telematics platform that enables customers to monitor and control the pump from anywhere in the world.
Kevin Snow, Godwin Global Product Manager, said, "The new pump has been designed for performance, delivering a 15% improvement in fuel economy due to the enhanced hydraulics and 20% more uptime due to the better monitoring and control capability."
Xylem has also upgraded its Flygt 2201 series, specifically designed for challenging dewatering applications. The patented DuraSpin hydraulics of the Flygt 2201 is claimed to have been proved to be three times more wear-resistant than traditional hydraulic designs, leading to improved serviceability and reduced maintenance costs.
The latest addition to the series, the Flygt Super High Head Cast Iron 2201, has the capacity to pump up to 140m.
Pumps for great depths

Tsurumi also recognises the increasingly relevant challenge of working at great depths, as resources are mined from further underground and infrastructure projects are becoming increasingly ambitious.
It is often the case that vertical distances simply cannot be bridged with conventional submersible pumps because most pumps can only pump up to heights of between 10 and 40m.
Some operators work around this problem by using a series of pumps – two pumps that are operated sequentially in one section. This can almost double the achievable distance, but the pumping capacity remains the same. The problem with this approach is that many components are involved, increasing the risk of the whole system failing.
The process can be enhanced by using an adaptor manufactured by Tsurumi, which allows two identical pumps to be directly coupled to create a kind of 'super pump'. Nevertheless, the speed of the impeller remains a limiting factor, which is why the pump programmes of many manufacturers end at this point.
High-pressure pumps then become the optimum choice. For instance, Tsurumi's LH series provides pumping heights of between 42 and 100m, at which point classic pump designs reach their physical limits.
If you want to go any higher, you need multi-level pumps. From a technological point of view, this means that several impellers are mounted inside the casing. Whilst the pumping capacity remains the same, the pumping height increases with the number of these levels because the pump supplies greater pressure and is therefore able to reach a higher head. As simple as the idea sounds, it is very difficult to realise if the pumped water contains solid matter.
The LH4110W is the premium model in Tsurumi's line-up of such pumps, and it uses a 110kW motor to pump waste water vertically to a height of 216m.
At the other end of the spectrum is Enerpac's XC1302S Cordless Dump and Hold Pump, which offers a flow capacity of 245cm3/min and has an interactive pendant for crimping, lifting, pressing, clamping and bending applications. This pump is an addition to the XC-Series offering, which includes single-acting, double-acting and torque wrench functionality.
The XC1302S pump features a solenoid-operated valve that enables pendant control, allowing the operator to work up to 3m away from the pump, making for more convenient and productive use compared to models with a manually operated valve located directly on the pump.
In addition, the XC1302S includes an interactive two-button pendant to run the pump and dump system pressure. It has LED indicators that give visual and vibratory feedback to the operator, ensuring safe operation, and a bladder reservoir allows the pump to be used in any position. The unit is powered by 28V lithium-ion batteries that can be charged with a one-hour charger.
Rapid dewatering
Another new pump comes from Paclite, which recently released its WP80 centrifugal wastewater pump, suited for construction sites that require rapid dewatering.
It has a capacity of 70m3/hr and offers a head of up to 8m. The self-priming WP80 is suitable for sandy and muddy water, capable of handling particles up to 8mm in diameter, and its silicone carbide mechanical seal is more durable than standard carbon ceramic mechanical seals. Also, the pump's long bolt assembly makes for easy maintenance.
Another recently introduced model from Paclite is the PFP80 submersible flexible shaft pump, which can handle aggregates as large as 15mm in diameter. It has a capacity of 72m3/h and its heavy-duty design includes a cast steel impeller.
The versatility of the PFP80 is enhanced by the fact that it has two-dog coupling that is identical to FP poker vibrators, enabling it to be used for concrete work too.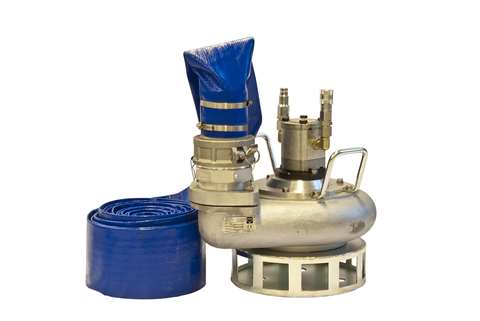 Danish manufacturer Hycon has designed its pumps – the HWP2, HWP3 and HWP4 – so that wear on the impeller is greatly reduced compared to other designs. On the company's hydraulic submersible pumps, the impeller at the top sets the water in a circular motion so that the centrifugal force creates a cone of air, thereby minimising contact between the water and the impeller. In this way, it cuts down on the amount of servicing required.
Hycon's pumps have capacities of up to 120m3/hr and can be connected to Hycon power packs, or to excavators, trucks, tractors and other machines.
What's more, they can run dry all day without breaking down.
How to choose a submersible pump

Given the range of variables to consider in any given dewatering job, Atlas Copco Power Technique offers some pointers about how to decide on the type of pump to use.
When to use a submersible pump
If the suction lift required for dewatering with a surface pump is more than about 7m, a submersible pump is usually the better option. Designed to be totally submerged, it uses the proximity and pressure of the surrounding water to aid fluid movement through the hose, so less energy is needed.
There are three main categories of submersible dewatering pumps: electric, pneumatic and hydraulic. The key considerations for choosing the right one are:
Why choose an electric pump?
If mains electricity is available, electric pumps are often a good choice because they are simple, energy-efficient and economical. They provide high power in a light, compact package, making them easy to transport, handle, install and operate. Another benefit – to rental companies in particular – is their low maintenance requirements and simple servicing procedures. The main limitation is their reliance on a mains electricity supply – although small models can be run economically from a portable generator.
Why choose a pneumatic pump?
This option is appropriate when an air compressor is already present on site for other applications. Pneumatic pumps can be good in potentially flammable situations, where sparks must be avoided, because they have no electrical components. Since they are not dependent on mains electricity, pneumatic pumps can be used in remote locations.
Why choose a hydraulic pump?
Since it is not cost-effective to invest in an air compressor solely to power a pump, a portable generator in combination with a hydraulic pump might be more sensible – where there isn't mains electricity. A hydraulic power pack can be set up at a distance from the pump to minimise atmospheric pollution and avoid fuel or oil leaks in the working area, and there are models with spark-proof hydraulic motors for flammable situations.
What's in the water?
This is a key consideration. Submersible dewatering pumps can be divided into three main groups:
dewatering/drainage pumps for clean or dirty water, possibly containing small solids such as sand or clay;
sludge pumps for viscous mixtures of liquids and solids;
slurry pumps, for semi-liquid mixtures.
The concentration and size of suspended particles also needs to be taken into consideration, as well as the pH, temperature and chemical content of the liquid.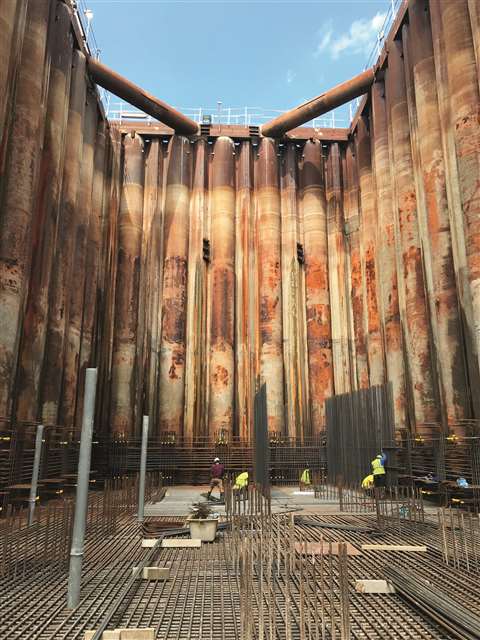 Kept at bay
As part of a major dam project on the Flemish coast of Belgium, a Proril Tank submersible pump is being used to pump away seepage water from the North Sea.
When the project is finished, a large rotating steel barrier between two abutments will keep the predicted storm surges at bay. The dam rotates 90°, having the potential to protect the coastline by quickly closing the entire channel. For maintenance work, the barrier can also be turned to a 180° position.
The 3.7kW Tank 337 pump, provided by Proril's distributor Rental Pumps Belgium, delivers up to 50m3/hr and pumps water up to a height of 28m, over the edge of a 22m deep cofferdam, which sits on the left-hand side of the Yser river.
The concrete foundation has now been poured and, at 60m long and 16m high, the steel walls of the dam contain the surrounding water.
According to Proril, the primary reasons the contractor opted for its construction pump were its dry-running resistance and the ease with which the machine pumps a mixture of air and water.