Pumping solutions need to be specially tailored to a given construction project, and rental companies sometimes lack a broad enough spectrum of pumps in their portfolio to provide the full answer.
For this reason, UK-based pump manufacturer DXB Pumps and Power has launched a new specialist pump re-rental company called DXB Integrate, with the intention of supplying its new range of Stage V compliant pumps to re-rental partners.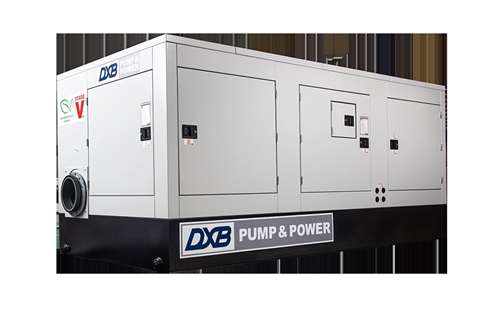 The depot is located in the Midlands, some 200km from the DXB manufacturing plant in Suffolk, England.
According to Simon Ruffles, Managing Director of DXB Integrate, there is significant demand from rental companies across Europe to supplement their fleets with specialist high-pressure and high-flow pumps on a re-rental basis.
He said, "Our business strategy is not to work with end users but with pump and plant hire companies that already operate in the market, such as petrochemicals, oil and mining, but need to have access occasionally to more specialist equipment without the fear of their supplier going direct.
Working with exclusive partners
"With only one location and a small team, we do not have the capability to serve the UK end-user market, never mind the whole of the EU. So we will work with exclusive partners in each country to supply them with the specialist pumps they need, whether it is a low-head 300mm Stage V Warrior sewage bypass pump for a city in Sweden, or a 500kw high-pressure 10X8 unit for a refinery in Rouen, France."
Kieran Gagg, who has been appointed as General Manager of DXB Integrate, said, "The strategy was written many years ago when Simon and I worked together before, and we always believed there was a large demand for a specialist, highly focused pump hire company that had no interest in a multiple depot strategy or standard pumps used in day-to-day applications."
The new range of pumps that will be available through DXB Integrate comprises 10 sizes, all of which are sound attenuated and fully bunded.
The majority of the new pumps are powered by Deutz engines, ranging from a 2.2 litres normally aspirated engine to the 225kw TCD7.8L6 six-cylinder engine.
Then there are DXB's recently launched 300mm and 450mm pumps, capable of flow rates in excess of 2,800m3/h. They are powered by 300kw 13 litre and 400kw 16 litre engines from Scania.
Finally, there are some highly specialised pumps in the fleet, powered by Caterpillar's 560kw C18 and 700kw C27 engines.
Managing water on site
One construction project where specialist pumps are currently required is at the UK's Hinkley Point C nuclear power station, where Sykes Pumps, a division of rental company Andrews Sykes, is providing pumping systems and services to manage the amount of water on site.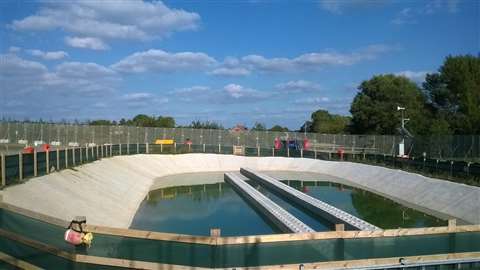 Hinkley Point C is located on the coast of Somerset and is subject to heavy rainfall and tidal surges. It is being built by the Bouygues and Laing O'Rourke joint venture company Bylor.
Due to the size and scope of the site, Sykes is supplying a range of equipment and systems to manage the differing water levels around the site.
A spokesperson for Bylor said, "This is much more than a pump hire agreement because of the size and complexity of the site.
"In addition to the right equipment, Sykes Pumps has provided us with a consultancy-based service that ensures we have the right solutions in place for different areas of the site and the varying pumping needs of different elements of the construction programme."
Water management zones
In order to manage the water levels effectively, Bylor has divided the site into water management zones (WMZs) and provided Sykes with the maximum flow rates for each WMZ, which were calculated from more than 100 years of storm level data.
For one of the WMZs, Sykes is using three PX30 heavy-duty electric submersible pumps to manage the in-flow of tidal surges during the construction of Hinkley Point's sea wall.
Bylor's spokesperson said, "At high tide, we needed to be able to pump 350 litres of water per second away from the site. The best approach for this was a submersible pump designed for high flow rates and high heads, which is exactly what Sykes Pumps provided."
The contractor is also renting Super Wispaset 100 10cm diesel pumps and Super Wispaset 150 15cm pumps from Sykes Pumps. These are being used at various locations around Hinkley Point C to pump groundwater and rainwater into 'dirty' water storage lagoons.
"Some of the excavations are as deep as 35m, which means a lot of water, silt and sediment. That's why water storage lagoons are a critical element of the water management strategy, allowing us to test the water before it's returned to natural water courses," said Bylor's spokesperson.
In addition, Sykes is supplying fourteen electric surface-mounted pumps and ultra-sonic control systems with control rooms for each WMZ.
Bob Lima, Sykes Pumps engineer, said, "The control systems mean they are extremely low maintenance and will respond rapidly to water conditions in real time."
Ecological restoration
The value of service support when renting specialist pumps is also illustrated on the other side of the Atlantic, in the US, where Tsurumi's pumps were recently used to help restore fish habitats in a tributary of the Columbia River.
Six KRS2-B6 submersible pumps worked 24/7 for almost three months at a time during the two summers when the work was being carried out in the area, in 2018 and 2019. Most of the work had to be done between June and September, when the juvenile fish population is low.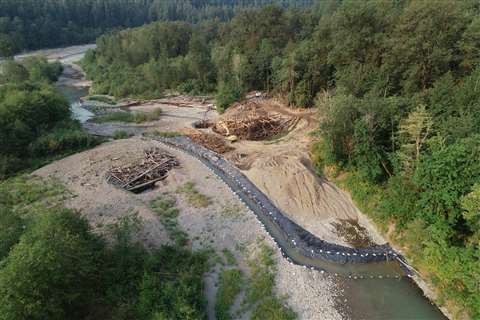 Ecological restoration organisation Biohabitats had to build environments for the mating of endangered salmon and trout species at two locations along the Sandy River. Known as engineered log jams, their purpose is to mitigate the negative impact of dams, roads and bridges along the river.
For the foundations, 12m-deep holes had to be dug and they needed to be kept dry during construction. This is where Tsurumi's pumps came into play.
Jacques Varvel, an ecological restoration specialist at Biohabitats, said, "We had to be able to count on the equipment we use, we had to be able to move large volumes of water reliably, consistently, and we had to have the support so when things went bad we could rectify the situation immediately."
Biohabitats commissioned CESSCO, an Oregon-based sales and rental house, to supply pumps for the project. CESSCO has been a Tsurumi partner since 1989 and has a reputation for providing pumps and power generators on similar rehabilitation projects in the Pacific Northwest.
Casey Perry, a pump and power sales and rentals specialist at CESSCO, said, "One of the project's goals was to keep impact at a minimum, and that's why we recommended the leasing of electric submersible pumps."
The KRS2-B6 model has a high-chrome impeller and a 1735rpm motor, ensuring slower tip speed on the impeller. This promotes longevity when pumping sand, rock particles, and other debris.
Wet winter
A particularly wet winter in the UK led to flooding and, as a result, a rise in demand for rented pumping equipment, according to UK-based manufacturer Morris Site Machinery.
The company's Managing Director Alan Binstead told IRN, "It appears that more and more rental companies are leaving pumps behind as something of a distress purchase at times of need, which of course we saw a lot of with last year and this year's flooding. As such we saw big spikes in demand during these periods when some rental businesses were caught short."
Morris Site Machinery saw particularly high demand for its Hilta range of centrifugal and diaphragm pumps.
For instance, the Hilta Proflow D5, a 7.6cm diesel diaphragm pump, available with a 24-hour running tank, proved its worth. Its compact design makes it easy to transport and manoeuvre.
The model is capable of pumping muddy water and sewage effluent, and it can pass solids in suspension of up to 40mm in diameter.
Also, since the pump is capable of running dry on 'snore' indefinitely, it can be run overnight for draining purposes.
David Chadwick of One Stop Hire said, "We've bought a number of Hilta Proflow D5 pumps from Morris Site Machinery and have been impressed with how effective they are. Our customers know these pumps can be relied on to get the job done."
Extra protection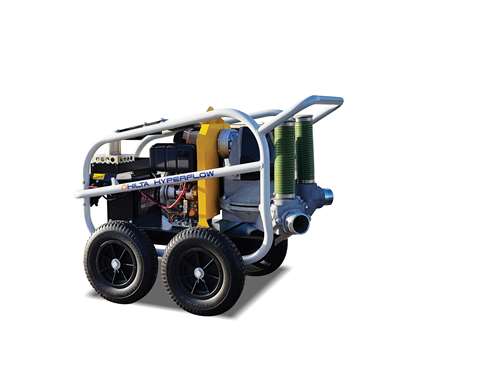 Also, earlier this year, at the Executive Hire Show, Morris Site Machinery displayed its new D5 Hyperflow pump.
Binstead said, "It was based on feedback from customers, which saw us place the pump in the protective roll cage. The modest price increase of this additional protection more than covers its cost within a short space of time as it dramatically reduces damage and increases uptime for the products in use within a rental fleet."
He added that digital technology should be more prevalent in the sector than it currently is; "The market is not ready yet to pay for this telemetry, but this will change in time, I have no doubt."
New developments
Another pump manufacturer with new developments in its range is Atlas Copco. The Sweden-based company has expanded its WEDA submersible dewatering pump range with the addition of the S50 Sludge pump, which was said to be ideal for rental.
Hrishikesh Kulkarni, Product Manager, Atlas Copco Power and Flow division, said, "The WEDA S50 is an ideal pump for rental companies and general contractors where they don't have to worry about what goes in the pump.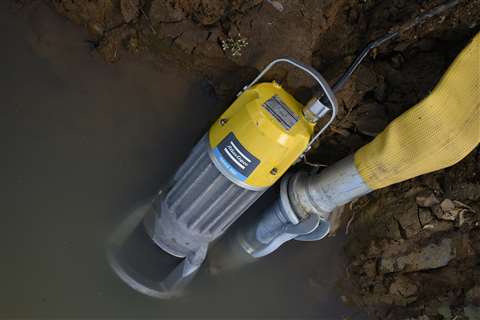 "Accordingly, these vortex designed pumps are ideal for abrasive media and handling solids up to 50mm. The S50 fits neatly into the existing range of Sludge pumps, making our S family portfolio complete with a range from 0.5-1-3-5 and 7.5kW."
The new model's technical specifications place it between the S30 and the S60 pumps in Atlas Copco's WEDA S range, which is designed for thick, soft, wet mud or other similar mixtures.
The new S50 model offers a maximum flow of 1,450 litres per minute while pumping sludge with a specific gravity of up to 1,400kg/m3.
Built to last
Of particular interest to rental companies will be the fact that the S50 is built for durability and reliability in harsh environments. It has hardened high-chrome impellers and volute for high-wear resistance, and the aluminium alloy construction offers high corrosion resistance.
In addition, the use of low-weight materials has the benefit of making handling and transportation easy.
For extra protection, the casing rib design offers external cooling to the motor in case of dry running, enhancing the S50's dry running capabilities.
Ease of operation and maintenance were also important in the unit's design. WEDA seal systems have a modular design, making them flexible and easy for service technicians to change seals at the job site.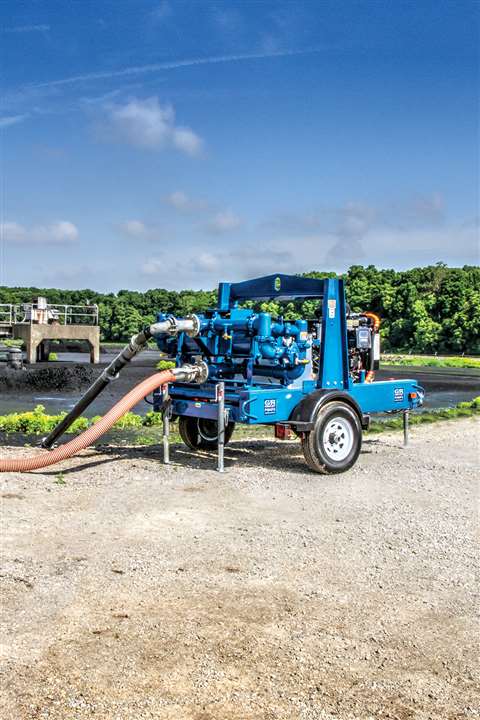 New sludge pump
US-based Gorman-Rupp has also introduced a new pump – the SludgeKat, which is a self-priming, positive displacement, hydraulic piston sludge pump.
Designed to handle heavy sludges and slurries, the SludgeKat has 100 mm suction and discharge ports. Depending on the material being pumped, the SludgeKat can pass up to 60mm diameter solids without damaging or clogging the pump.
Powered by a Tier IV compliant Kohler diesel engine, the new model is capable of flows up to 14.3 litres per second and heads up to 118.9m.
The pump end frame is mounted to a 197 litre fuel tank base and offers a full-load run time of 25.5 hours.
Each SludgeKat comes with a DOT–approved wheel kit as standard, and the pump end frame can be detached from the unit and connected to an optional 45m hose to provide greater portability around a jobsite.
Growing demand
In response to growing demand for its 15cm Aussie QP602 self-priming pump, Australian Pump (Aussie Pumps) has increased production of the model.
The heavy-duty pump can move liquids at up to 2,900 litres per minute, enabled by the size of the pump's volute and impeller cavity, and it can draw water through a vertical lift of 7.4m.
Product Manager, Brad Farrugia, said, "Even at 10m head, the pump produces around 2,000 litres per minute."
The pump's open impeller will pass small solids in suspension, allowing it to be used as a dewatering pump on construction or mine sites.
The diesel version of the pump, weighing in at 160kg, is powered by a 7.5kW Yanmar electric start air-cooled diesel engine. An optional 18 litre fuel tank allows the unit to run without refuelling for up to eight hours when running at 3,000rpm continuous engine speed.
The pump comes built into a heavy-duty, hot-dipped galvanised steel frame and is supplied with a battery pack as standard for easy starting.
Pump veteran Steve Leech passes on
The long-time Eekels Pumps project manager Steve Leech passed away on 3 April, 2020. He had been ill with cancer.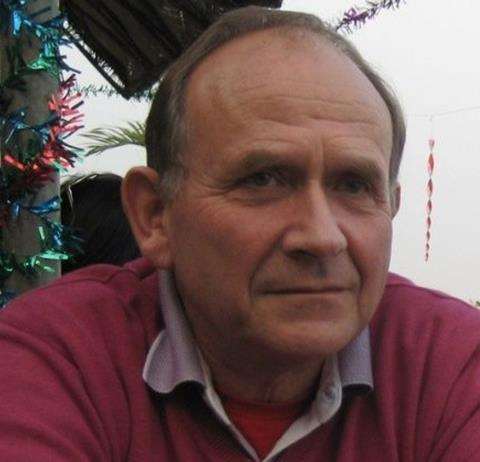 Steve was widely liked and respected in Europe's pump community. He joined Netherlands pump specialist Eekels in 1980 and worked there for more than 34 years, becoming project manager. He left Eekels to join pump manufacturer Hidrostal in 2014, and worked there for two years before establishing his own business, MPS (Mobile Pump System).
Pieter Molmans, Managing Director of Eekels Pompoen, told IRN; "It was a privilege that I could work with him for the last five years with Eekels, learning a lot from him. The man literally breathed pumps.
"But most of all he was a hell of a guy – charming, full of energy, and with a clear mind. He hated pretentious people, and always stood for what he thought was best for the company."
Among the other tributes, Simon Ruffles, founder and owner of DXB Pumps, said, "A wonderful family man, superb pump man, and will be greatly missed. Rest in peace Steve and condolences to all the family."
Holland Pump buys Alpha Pump
Towards the end of 2019, Holland Pump Company acquired Alpha Pump and Equipment, based in Louisiana, US.
The acquisition provides Holland Pump with enhanced product and engineering capabilities to service industrial facilities – specifically in the petrochemical, environmental, mining and marine sectors – and expands its footprint in the greater Gulf Coast region of the US.
Holland Pump, which specialises in pump rental and dewatering solutions, serves clients in the construction, municipal and agriculture sectors. With its headquarters in Florida, the firm operates out of eight branches across Florida, Louisiana and South Carolina.
Win Blodgett, President of Holland Pump, said, "This acquisition builds upon our ongoing commitment to provide the best customer service experience through our pump fleet, field and engineering support, while expanding our solution offering to new markets."
Alpha Pump is a specialty pump and accessory provider for industrial solutions that has been operating across the Gulf Coast out of one location for 16 years. As an industrial pumping specialist, Alpha Pump has experience dealing with highly technical applications such as pumping hydrochloric acid, phosphoric acid, sulphuric acid, sodium hydroxide and benzyne.
The company provides sales, service, rentals and engineering support on a 24-hour basis for its customers.