Pumps: Surging ahead
By Thomas Allen13 December 2017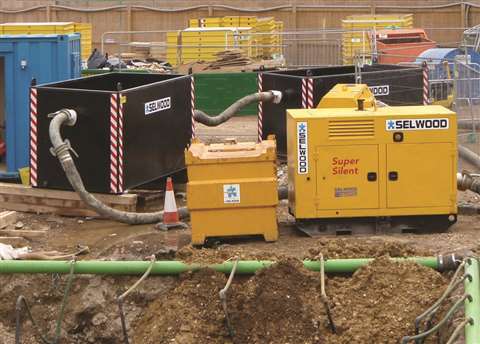 Construction sites are challenging environments that require sturdy equipment, and pumps are no exception. They need to be able to deal with a range of different – and often abrasive – materials, from various types of concrete to water that contains silt and other debris.
According to Japan-based Tsurumi, even supposedly rustproof pumps made of stainless steel are not completely immune to corrosion. All it takes is a sharp impact and the thin passive layer on the surface of the metal can perforate.
Tsurumi said that elements made from cast metal are most susceptible to corrosion.
As a result, the company now supplies sacrificial anodes that can be retrofitted by screwing the plates made of aluminium or zinc to the casing.
They start a bimetal corrosion process whereby the less noble metal of the anodes is corroded, while the more noble metals in the body of the pump remain almost unscathed. When the material of the sacrificial anode has been spent, it can be replaced.
In this way, the service life of the pump is prolonged.
However, this principle does not work on rotating parts such as the impeller on the intake opening of the pump. For this reason, Tsurumi has developed customised replacement impellers on which the corrosive wear was said to be reduced by about 90%.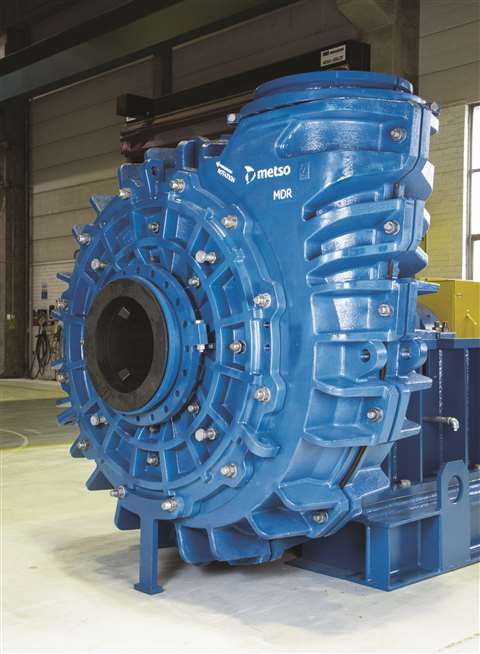 Reducing downtime
Also with the aim of reducing downtime, Finland-based manufacturer Metso supplied its Mill Discharge rubber-lined (MDR) 300 slurry pump for use in the Divrigi iron ore pelletising facility in Turkey.
Tamer Sahin, plant maintenance manager of Erdemir Group – the steelmaker that runs the plant – said, "Very high resistance to wear and lower power consumption results have decreased the labour required for maintenance."
Erdemir's engineers estimated that, since the pump's installation, its power consumption was between five and ten percent lower than that of the previous pump that was used.
The MDR pump is one of the latest additions to Metso's range of heavy-duty slurry pumps, and it was said to be made of abrasion- and corrosion-resistant materials. Also, the modular design is intended to provide flexibility.
Another difficult material to pump is asphalt.
As an extracted residue from the distillation of some crude oils, asphalt is a viscous and often chemically aggressive substance that needs to be kept at a temperature of between 150 and 180°C in order to be pumped.
Designed for purpose
Germany-based Netzsch's Multiple Screw Pumps (MSP) have been designed specifically for this purpose.
They are constructed with housing jackets to protect the mechanical steel so that when hot steam is added to maintain the asphalt media's temperatures in an idle pump, their steel base remains intact and functioning smoothly.
The company's 2NS is a two-screw pump that is suitable for light to heavy lubricating materials with medium to high viscosity. It has a maximum capacity of 10,000 litres per minute and a maximum pressure capability of 16.27 bar.
Its housing design is constructed of fabricated steel, and the entire outside diameter of the pump is heated. It was said that this allowed the full housing heating jacket to maintain a good flow of heat to the seal chamber, reducing opportunities for mechanical seal problems.
The 4NS four-screw model is a higher-capacity, externally-timed pump for larger assignments. Its design means that there is no contact between the flanks of the screws, or between the outside diameter of the screw and the inside diameter of
the liner.
High performance
Also developing new products, UK-based Selwood recently introduced a high-performance electric drive version of its solids handling S150 Super Silent pump.
Said to be suitable for applications where power is available, the pump is driven by a 30kW IE3 motor that operates at between 1,000 and 1,800rpm.
Chris Garrett, CEO of Selwood, said, "We are seeing the global market shift and grow in a way that reflects what we have seen in the UK – a general move to rental rather than capital purchase as the preferred option for companies driven by the need for operational efficiencies.
"We are particularly seeing this shift gather pace in Europe and North America."
The new S150 pump is currently being used in the Grand Paris Express project in France, where Selwood is working in partnership with French pump specialist DMTP.
The €22 billion (US$26 billion) project to expand the French capital's metro system to include four new lines,
68 station and 190km of track, is set to be completed in 2030.
The new S150 is designed to improve performance while meeting stringent new emissions regulations. It contains an Isuzu 4LE2X diesel engine and has been designed in accordance with the EU Stage IIIB emissions regulations, making it suitable for use in inner city areas.
Seltorque pumps use vortex technology to deliver solids handling for demanding bentonite applications. The units, which have a capacity of 310m3 per hour and solids handling capability of 100mm, have been supplied to contractors working on the piling work of the Paris scheme.
The new model runs at 1,800rpm and was said to offer a 26.7% increase in total head over previous versions, with improved build quality and sound attenuation.
The S100, which offers solids handling of 165m3 and solids size of 75mm, was also supplied for the project.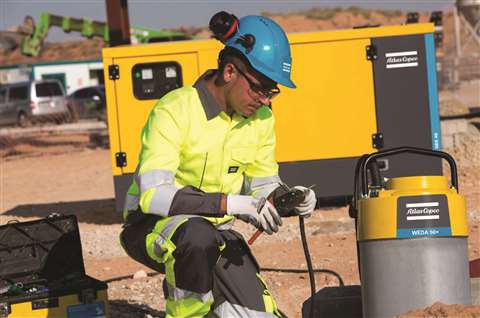 Dewatering pumps
Atlas Copco, headquartered in the UK, has also introduced new products with the launch of its new WEDA+ dewatering
pump range.
The five new plug-and-play models comprise the WEDA 50, which is available in normal- and high-head variants, and the WEDA 60+, which comes in normal-, high- and super high-head configurations.
While the new pumps still claim a number of proven features from the existing range, such as adjustable wear-resistant nitrile rubber diffusers and hardened high chrome clog-free impellers, they have undergone a full redesign. As a result, the latest pumps were said to offer a reduction in energy consumption of up to 20% compared to previous models, as well as easier maintenance and increased capacity.
Atlas Copco has introduced rotation control and phase failure protection across the new range, to overcome the risk of the impeller rotating in the wrong direction. In addition, the entry system can accommodate a wider range of cable configurations, with a motor design that offers greater efficiency and a reduced start current.
Meanwhile, the drive train features double row bearings for improved lifetime service, and the use of aluminium alloy in the pumps' construction provides higher corrosion resistance.
Increasing efficiency
US-based Danfoss Power Solutions has developed a new fan drive control feature for its Series 45 open-circuit axial piston pumps to increase efficiency and improve performance.
Available on K2, J and F frames, it was said to be an intelligent thermal management solution.
Jeff Brenner, director of open-circuit medium power sales, said, "The lower minimum system pressures allowed by the fan drive control result in slower minimum fan speeds, which improves fan drive system efficiency."
The Series 45 fan drive control can also improve machine performance when used in conjunction with a Danfoss Reverse Displacement Motor (RDM). The RDM uses less power and eliminates the heat generated by traditional reversing systems to help machines run more smoothly.
The RDM also uses fewer components, such as hoses, valves, and HIC blocks, leaving more space in the engine compartment and
reducing costs.