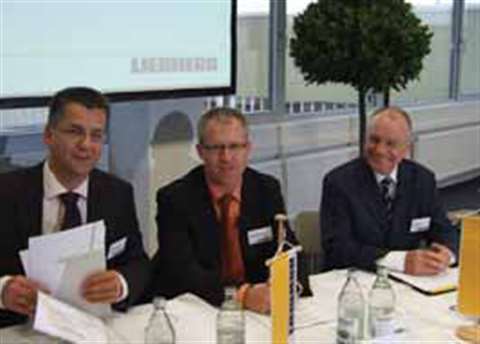 More than € 20 million (US$ 29 million) is being invested in a new production and assembly system at Liebherr's truck mixer plant in Bad Shussenried. Another € 50 million (US$ 73 million) has been ploughed into Liebherr's Kirchdorf an der Ille factory, where it builds wheeled excavators for earthmoving and materials handling.
The aim of investing in the truck mixer plant, according to Günther Hardock, general manager of Liebherr–Mischtechnik and Liebherr–Werk–Biberach, is to increase production capacity within the available space. He added the other task is to produce truck mixers for the core European markets.
Last year the company at Bad Schussenried, which employs 750 people, had sales of € 150 million (US$ 218 million) and delivered a total of 4700 truck mixers worldwide. Its goal is to increase this figure to 5000 units a year with the help of a new production and assembly line – known as Flo–Mo.
The final stages of the system, which include restructuring the top–coat painting line, final assembly and finishing area, have yet to be completed. Mr Hardock said once the project is finished the company aims to reduce the time it takes to produce truck mixers – from 33 to just five working days.
Matthias Herzog, general manager of Liebherr–Hydraulikbagger, said in addition to the new production building at the Kirchdorf plant, for the assembly of material handling machines, investments have also been made in internal processes in other production areas and modernising production technologies. He added, by relocating industrial machine production, assembly of standard wheeled excavators has been transferred to a separate building allowing for more space.
Currently more than 3000 wheeled and industrial excavators are produced at the plant. Mr Herzog said by 2012 Liebherr expects to be producing more than 4000 machines per year.
Joachim Strobel, general sales manager at Liebherr's wheeled excavator factory in Kirchdorf said developing the machines for other areas of operation such as material handling the company is able to expand into new markets. He said Liebherr expects the market for civil engineering excavators to grow in Eastern Europe in the next few years and particularly important in this region are the Russian, Polish and Romanian markets.
However, he added, "If you look more closely at the three Eastern European markets you will see that Liebherr has not grown at the same rate as the market as a whole. In other words we have lost market share. This is primarily the result of the delivery bottlenecks that occurred at various suppliers during these years on account of unexpectedly strong growth in Western European markets."
Meanwhile, turnover in the German, Dutch, Spanish, UK, and Swiss markets has increased, Mr Strobel said.
He added, "We regard it as essential both to maintain the positions we have reached in central Europe and to participate in growth occurring on other strongly expanding markets."
Mr Strobel said significant growth markets for material handling machines include the US, UK, Turkey, Canada and Asia.
General manager of Liebherr–International Deutschland, Henning Rapp, who is soon to retire from the company, said Liebherr is not only strengthening its presence in growth markets such as Russia, Brazil and China, but also investing considerable sums at traditional production sites in Europe.