Putin approves €1.2bn bridge across River Lena
By Joe Sargent25 November 2019
Russian President Vladimir Putin has given his approval for a new 3km bridge spanning the icy cold River Lena in Northern Siberia.
The bridge, which is to be constructed within a budget of 83 billion Rubles (€1.17 billion), will lead from the settlement of Nizhny Bestyakh to the city of Yakutsk – reported to be the coldest city in the world – with temperatures having been recorded as low as -64.4°C.
At these temperatures the surface of the river freezes over and the surrounding ground area is in a state of permafrost.
In this state, the river provides a surface for a temporary crossing for vehicles during the winter, when the ice is thick enough to bare the weight of traffic flowing over the cold water below.
Currently Yakutsk does not have year-round land transport links connecting it to Russia's system of approved transport routes.
As a result, the city has no stable transport links for 152 days a year.
When the ice has thawed out, ferries connect the two shores, but these are said to be slow and unproductive.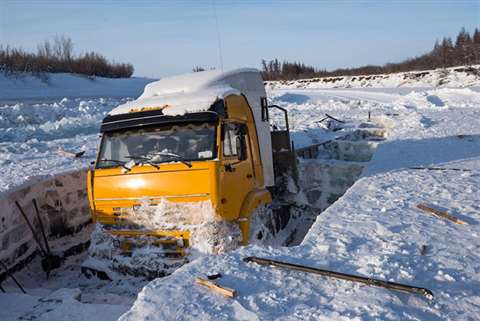 The new bridge will put an end to the dangerous ice crossing by providing a permanent transport link over the river and stamping Russia's diamond capital of Yakutsk – so called for its large diamond deposits – firmly on the country's transport map.
The bridge would also provide a vital shortcut through Eastern Siberia to the ports of the Sea of Okhotsk via the transport corridor from Irkutsk to Magadan.
Once constructed the plan is to facilitate the travel of cars over the bridge for free whilst larger commercial vehicles will pay a toll charge.
It is expected that around 54 billion Rubles (€767 million) for the bridge will come from state and republican budgets, with 29 billion Rubles to be funded by the private sector.
'A bridge across Lena is a dream of many generation of Yakut people, of Russian people because it is not just a link between right and left banks but a symbol of unifying West and East of the country; I would say is it a bridge into the future', the head of Yakutia Aisen Nikolayev told Komsomolskaya Pravda newspaper in 2018.
The bridge will have a cable-stayed design and is expected to facilitate around 1.5 million cars crossing the river in the first year of operation.
Currently, supplies are flown or shipped by rivers to the most remote corners of Yakutia – costing around four billion Rubles (€57 million).
The Lena bridge is forecast to significantly reduce the annual cost of this so-called 'Northern Delivery' after its construction.