Rental is an increasingly important business for Caterpillar and its dealer network. Since the first Cat Rental Store® opened 25 years ago, dealers around the world have collectively opened more than 1,300 branches.
Dan Flynn joined Caterpillar in September 2019 as director of Global Rental and Used Equipment Services, attracted by the impressive dealer network and the tremendous growth opportunity in the rental industry worldwide.
"I was really excited about the Cat® brand and the quality of the brand," said Flynn, who has more than 20 years of rental industry experience. "When you think about construction equipment, the Caterpillar name is really strong. That's part of what attracted me to the company, as well as the opportunity for us to advance and grow our rental business with our dealers."
Putting Customers First
Though Caterpillar and Cat dealers have historically focused on retail, the global shift in customer ownership to usership has put rental in the spotlight. At the Cat Rental Store, customers can rent the full line of Cat machines, work tools and power solutions, as well as products from more than 70 leading brands to meet every need at their job site.
"Getting to know our customers and their needs better is a cornerstone of Caterpillar's strategy to deliver profitable growth. In doing so, we've discovered that while growth in the construction industry is driving an increase in construction equipment use, it doesn't always equate to an equipment purchase," Flynn said. "Renting equipment lessens financial risk for our customers, which is particularly important during times of economic uncertainty. It also gives them the opportunity to test new technology and evaluate how a machine will fit into their current fleet if they are considering a future purchase."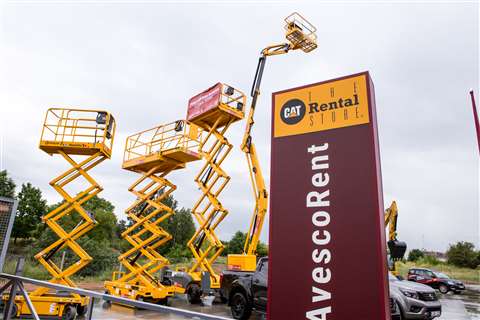 Helping Dealers Succeed
Since Caterpillar doesn't sell or rent equipment directly to customers, a strong relationship with dealers and their Cat Rental Store teams is critical. As part of communicating the rental strategy worldwide, Caterpillar hosts an annual rental summit in each region of the world. Attended by hundreds of dealer representatives, the summits are designed to inspire them with rental best practices and success stories and help the dealer community grow as a network.
"We're here to ensure that our dealers are aligned with our overall growth strategy and that we are providing them the tools and support to compete and profitably grow their rental businesses," Flynn said. "It's not a one-size-fits-all approach. Some dealers are already excelling at rental, so it's best if they continue doing what's working for them. In other cases, we're helping dealers find specific opportunities to improve and grow."
A Focus on Digital
As is true for the entire rental industry and most other industries, digital capabilities are forefront on customers' minds. They want to be able to do everything with a few taps on their smartphones or a few clicks on a computer. That's why Caterpillar is focused on making renting as easy as possible through CatRentalStore.com, a smartphone app and even rental kiosks in some locations.
In Switzerland, for example, customers can walk into a Hornbach store, touch a rental kiosk screen, select their equipment and tools, receive a ticket, then pick them up or book a delivery. Cat dealer Avesco Rent pioneered this shop-within-a-shop concept, and the new channel has given them more than 1,000 new customers, from landscapers to contractors to home DIYers.
"Innovative digital tools are key to customer growth and customer loyalty," Flynn said. "Customers want easy solutions at their fingertips for everything they're doing, including renting through the Cat Rental Store. We're making strides in how customers rent, and we're attracting new customers to our brand."