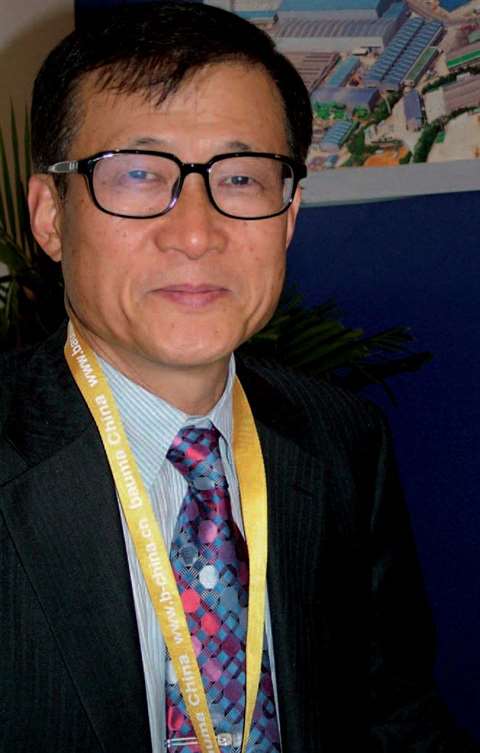 With a mere 20 years behind it, Hyundai Heavy Industries (HHI) is something of a newcomer to the construction equipment industry. Many of its competitors go back 100 years or more, and most of today's major players can boast a good 60 years experience.
But despite its relative youth, HHI commands a respectable position in the industry. It was placed 18th in this year's edition of The Yellow Table - iC's ranking of the major players in the construction equipment industry, and with sales for 2006 expected to come in just over US$ 1.5 billion, it could move higher in next year's league table.
Hyundai and its contemporaries in Korea have had a reputation in the past for pursuing a model based on high volumes, with keen pricing, but, it has to be said, not always very much profit. However, under the leadership of Kiu-Hyun Park, who was appointed to head-up HHI's construction equipment business in late 2005, the emphasis seems to be changing away from this 'lean and mean' model.
"We want to focus on quality," said Mr Park. "I don't want to increase our turnover greatly; first I want to improve the quality of our product support." Construction equipment is a relatively small slice of HHI's business. The company is the largest shipbuilder in the world, producing around 70 massive vessels per year from its city-sized shipyard in Ulsan, South Korea. But in this business too it is a relative newcomer, having established itself in 1972.
Mr Park, an executive vice president on the HHI Board, holds up the success of the shipbuilding division as an example of what can be achieved, and also points to the financial muscle this gives him access to in order to grow the construction equipment business.
"HHI is ready to support us, and they also recognise the key to our industry is quality and product support," he said.
Expanding on his ideas, Mr Park outlined plans to build up the company's infrastructure over the next two to three years. "We will build parts depots in China, the Middle
East, Africa and South America and we will expand our existing ones in the US and Europe."
In addition to improving the availability of parts, Mr Park said the company had also grown to a point where it would need to build more production facilities. At the moment it has just its main factory in Ulsan, plus joint-venture facilities in China dedicated to the Chinese market.
"The next target will be India. We also need a factory in Europe where we sell 3000 units per year at present," he said.
"We have now established a company in India. The factory will take about a year to build and we will start production in 2008. It will be a wholly Hyundai-owned venture. We will build a few machines to begin with - between 100 and 200 units per year of our 20 tonne excavator model.
"We entered the Chinese market in 1995 and the situation in India is similar today to what we saw back then. The growth won't be quite like we saw in China, but it will still be very good," elaborated Mr Park.
Product plans
Historically Hyundai has focused on the high volume, high value products in the construction equipment sector, which is to say tracked excavators and wheeled loaders. These account for in excess of 50% of the construction equipment market by value.
Recent years have seen the company branch out into the mini excavator sector, and it has also developed its own skid steer loaders for sale outside Europe and North America. Within these two regions it had established a supply agreement with specialist manufacturer Thomas Equipment, but this hit what looks like a fatal hurdle this year with the financial collapse of Thomas and the suspension of manufacturing.
"I don't want to increase our turnover greatly; first I want to improve the quality of our product support."
Given this experience, it is unsurprising that Mr Park talks about product development as an organic activity for Hyundai. They are ambitious plans, and the strategy is first to grow existing lines with the introduction of a 70 to 80 tonne class excavator and zero tail swing mini excavators next year.
After that larger zero tail swing tracked excavators will be added before the company branches out into new areas. "We are now developing a backhoe loader and a 50 tonne class hydraulic crane. We have plans to develop an articulated dump truck (ADT) and telescopic handlers, and road rollers are a possibility," said Mr Park.
Aiming high
These plans to grow the range and expand its infrastructure underpin Hyundai's overarching desire to be among the world's top five construction equipment manufacturers. It is an ambitious aim that would require it to at least double, and probably triple its market share.
Having said this, the company has ridden the latest up-turn in the industry pretty well, and the last four years have certainly seen it win sales away from its competitors. "We have grown +70% since 2003, while the world market has done around +26%," said Mr Park.
Like others in the industry, Hyundai expects the US market to slump next year, with Europe staying fairly flat. However, prospects elsewhere in the world are seen as good, particularly in China, where there has been a good recovery following the Government's 2004 credit squeeze.
This year will see Hyundai produce close to 7000 excavators in China through its joint venture with Changlin, maintaining its market share around the 20% mark. By 2010 the company thinks the excavator market (including mini excavators) could increase by two-thirds to 60000 units per year, which would put it on a par with demand in the US.
Hyundai is certainly well-placed to take advantage of growth in China, and similarly its new factory in India could also deliver good returns over time. However, if it is to achieve its aim of making it into the world top five it needs to crack mature markets like Europe and the US.
It has done well in Europe over the last year, capitalising on the weaknesses of others in the market to grow its sales by +35% in 2006. But the critical factor in its future growth will be, as Mr Park has identified, to compete with the same level of service and support as today's top five in the market.
"We entered the Chinese market in 1995 and the situation in India is similar today to what we saw back then. The growth won't be quite like we saw in China, but it will still be very good."