Quality service: Interview with Mike Fryer
By Alex Dahm02 September 2017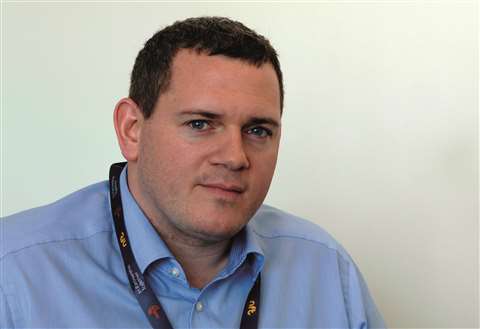 Radius Crane Management was started in the UK by Mike Fryer, managing director and driving force behind a business based on offering high quality in everything it does.
"We started in January 2008 with Radius," Fryer begins, but his involvement with cranes goes further back. "In January 2002 Bob King of King Lifting was kind enough to give me the opportunity of working in the crane industry. Six years later, pretty much to the day, we incorporated Radius."
Fryer continues, "My time at King Lifting really allowed me to learn my game. That's where I gained my initial understanding of what the crane industry was about." He saw that there was an opportunity for him to offer exceptional service. "The whole reason I started Radius was because I could see that there were situations in the wider industry where the quality of what customers were getting was not perhaps to the standard that they were expecting."
As an example, Fryer refers to job planning and the technology used, the quality of documentation, how well the lifting teams were briefed, and how well managed the customer was as things that lead to a job being a success. "Those were the things I was focused on; for the first two-and-a-half years, when I was on my own, that's all I did."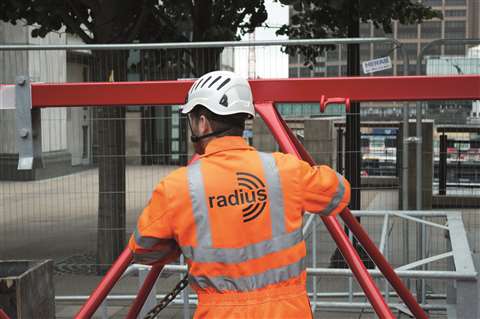 High quality in everything it does is the aim in all three Radius Crane Management divisions
Things have changed in the last ten years, as Fryer says, "It is fair to say that even when I first started what I thought was good and how we have developed since then are two different things. I thought I was very good at what I did; it was only when I really looked at what I was doing and what I was providing that I saw that it could be done even better."
As an example, Fryer talks about job planning. "When I first started I had no CAD experience. I used a pencil and a ruler. I made it my priority in year one to get up to speed with CAD. I went and got trained on it. Today we use Autocad and Cranimax." It is something that Fryer applies across the board in his company. He says he tries to upskill everybody who works there, for example, with the latest office business software, to make sure that everyone can use it to a high standard.
"Cranimax is a very important tool to our business. It has gained more widespread use but a lot of companies still only use it for selecting a crane and choosing its configuration, maybe checking some outrigger loads and the crane's capability. Fewer people manage to translate it all into quality drawings. We also use the three dimensional element of it, not so much for visual presentation but more as part of our planning process," Fryer explains.
The quality of the drawings and the level of detail includes, for example, where on site you will lay the crane jib down, Fryer explains. The drawings include co-ordinates for each of the outrigger points. "We take the customers' co-ordinated drawing, plot everything in, give it back to the site engineer, he goes out and sets out where the outriggers are and then you know that everything works. It is accurate to within a millimetre."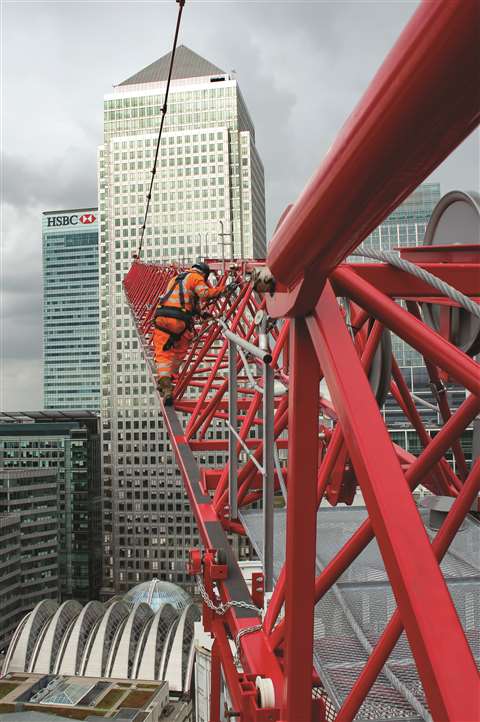 A Potain tower crane being erected at Canary Wharf in London, United Kingdom
Some crane rental companies in the UK produce this sort of documentation, at this level, for certain jobs, Fryer says, "but this is our standard - our normal."
Up to date
"In January 2008 we started, primarily as a contract lift business, also offering appointed person services and lifting assurance." Today Radius consists of three divisions: contract lifting, plant installation, and tower cranes. Total revenue contribution is divided up as 25 % each for contract lifting and plant installation, while tower cranes account for the remaining 50 %.
Radius grew steadily between 2008 and 2014 but has leapt in the last three years. Growth in the last three years has seen turnover go from £1.7 million in 2014 to £2.4 million in 2015 and then £7.8 million in 2016. The forecast for 2017 is expected to break into double figures with around £12.5 million in annual sales.
Turning to the tower crane division, Radius NFT was set up in 2014 as a partnership with AbuDhabi-based NFT, one of the world's largest tower crane companies (see the IC Tower Index). The cranes in the fleet are Manitowoc Potain.
Fryer continues, "We have around 30 tower cranes in the air working at the moment and we have orders for at least 20 more to go up. This time next year we see ourselves as having 50 or 60 units in the air working. We are working for most major contractors, including Berkeley, Bam, Wates, Vinci and Balfour Beatty."
A showcase for the tower division is the North West Cambridge development project where the company had four tower cranes. It also supplied four additional cranes for Wates on the adjoining site. Those cranes interacted with Bam's cranes in terms of oversailing, so the whole scheme was managed as one in terms of the zoning and so on.
"So we had eight cranes on one job. That was testament to NFT's capability to source large numbers of cranes at short notice. We have recently done the same thing for a project in Holland, providing eight cranes with a lifting team of 27 people. All were procured on a short timescale - within six weeks of getting the order we were erecting cranes."
Fryer continues, "For tower cranes, the way I describe it is that NFT acts as a crane bank for us. What you have is a worldwide tower crane player that has entered the UK market with a consultant-type project management-based business at the front end of it which means access to that crane fleet managed to our standards, in terms of erections, dismantling, service, and operations."
The tower crane division has gone from strength to strength. "With a view to continuing to expand on this, I don't see any reason why we can't become a 100 crane business," Fryer says.
Looking at the company as a whole, Fryer comments, "If you look at all three businesses we have here, what I would really like to see, which is tricky because people place certain parts of crane packages with different contractors, is for someone to come to Radius whenever they are bidding on a job and get it all from us because we can supply everything, including the tower crane, installation, supplementary mobile craneage, lifting teams, operators and so on."
Divisional focus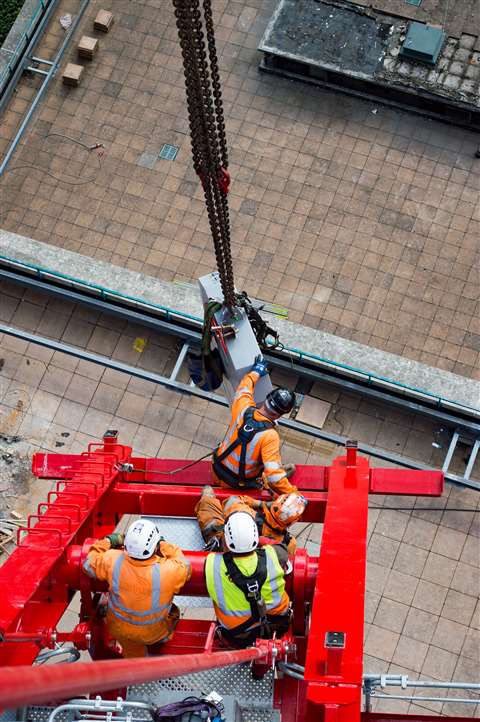 Working as a team is a key factor in the success of Radius Crane Management
The contract lift side of the business has remained stable with steady growth over the last year or two, Fryer says, because he has been busy with the other divisions, plant installation and tower cranes. "We have grown by gaining repeat business after doing a good job. Now we are actively focusing on growth and have brought on board a sales and marketing team."
Since the early days Radius has always maintained its ISO 9001 and 18001 certifications, which are audited quality standards. "As a business we always try to be as professional as possible," Fryer comments. In addition, the company is also certificated for RISQS (working on railway infrastructure in the UK) and holds the Building Confidence accreditation.
Newest of the three divisions, in its second year, is plant installation. Recent projects include the C610 and C650 packages. The latter is the lifting, unloading, positioning and installation of all switchgear and transformers for non-traction power at all stations on the Crossrail project. Another is ventilation schemes and associated works for London Underground.
"I still believe that in terms of service, this industry - whether it be wheeled mobile cranes, crawler cranes, or tower cranes - is still not where it should be." People continue to invest in their equipment but not their systems and processes or in their service, Fryer says.
Staffing is influencing growth, Fryer explains, "Our biggest challenge is finding good people. It is tough not having a team to support our growth. We are looking for key people all the time."
In the contract lifting division there are teams of two or three people working around the country. In the plant installation division the teams are of four people. For other work there are also sub-contractors because the company has started doing some different types of job.
"We always have Radius people there too, to make sure that everything is done the way that we want it," Fryer comments. The aim is to offer the flexibility to service small or large projects, Fryer adds.
Quality wins through
"We are very thorough with what we do. People even now still ask me, where is the added value in what you do? It is hard to explain but I guarantee that, having used us, you will see the difference. I believe in what we are doing and I am very passionate about it."