Quarrying: equipment manufacturers and operators focus on fuel
By Chris Sleight11 June 2008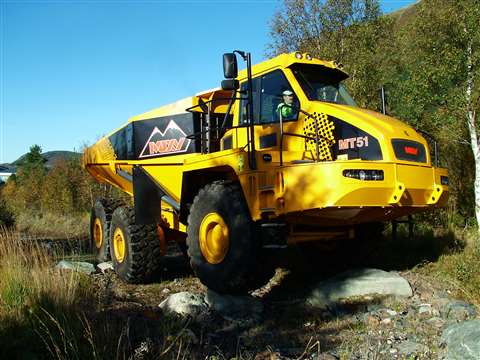 Operating a quarry has never been cheap, but with fuel costs sky-rocketing it is a more expensive business than ever. But the latest loaders, haulers and excavators on the market are also more fuel-efficient than ever and great strides are being taken to improve further. Chris Sleight reports.
If you're not directly involved in the equipment industry, consider this: how much does it cost you to refuel your car today compared to say five or six years ago? Now think about what that increase means not in terms of a family car with a 70 litre fuel tank, but for a dumptruck with a 700 litre tank.
Now think about that truck running for a full working day, which means it needs refilling a few times a week. Now think about the entire fleet of large trucks, loaders, dozers, graders and excavators used by quarries. It should be apparent that just a +1% rise in fuel costs translates to thousands of Euros over the course of the year.
Not surprising then that the quest for more efficient operating practices and more fuel efficient machines has been, and remains to be one of the dominant themes in the quarrying sector.
The flip-side of small changes in fuel costs meaning big rises in operating costs is that small improvements in fuel efficiency can equally mean big savings.
Idle hours
A good example of this is the Engine Idle management System (EIMS) on Caterpillar's H-series wheeled loaders. In quarrying applications wheeled loaders can spend 40% or more of their time idling, and all the time they are waiting around to start work they are burning fuel.
Cat's EIMS system has a self-explanatory 'hibernate' mode that activates when the loader is in neutral and the parking brake is on. There are also 'warm up' and 'battery' modes to override this if there is a need to charge the battery or prepare the machine's systems for a work cycle.
The company says this cuts a few percentage points off fuel consumption, which doesn't sound like a lot, but of course translates to a lot of money for large workhorse machines that are running all day, every day.
This year there has also been news of hybrid technology coming into the quarrying sector. The first machine likely to be available for the industry is a hybrid version of Volvo's L240F, a 260 kW machine weighing in just over 30 tonnes. March's ConExpo show in Las Vegas, US saw the company unveil a prototype of the hybrid, with commercial availability expected next year.
In fact Volvo describes the machine as a 'mild' hybrid, which is to say the electrical system that augments the diesel engine cannot run the machine under normal operating conditions. The electric motor in series with the diesel engine is there to lend a helping hand at low revs, when diesel engines are very inefficient.
Volvo's is also addressing the issue of idling that Cat identified, and is using the extra electrical energy generated by the hybrid system to run things like the in-cab climate control while the loader is stationary. This means the diesel engine can be turned off in breaks without the driver's comfort suffering.
All-in-all Volvo says this could add up to -10% less fuel consumption for the hybrid L220F compared to the standard model. For more information on this machine, see the Equipment pages in the April edition of CE.
Another ConExpo launch with major fuel saving possibilities was an diesel-electric version of Caterpillar's popular D7 dozer, the D7E. Built along the same lines as diesel-electric mining trucks, this unit has a diesel engine that is used as a generator rather than as a driver of a physical transmission. Variable speed AC motors are then used to drive the machine.
As well as boasting a +25% increase in fuel efficiency, cat says the D7E has -60% fewer moving parts than a standard machine, and, although it is early days, the company has made it clear it plans to extend the diesel electric concept to other lines.
First looks likely to be a one or two mining class dump trucks due to be launched at September's MINExpo trade show in Las Vegas. Although a departure for Cat and its traditional mechanical drive trucks, diesel-electric haulers are well-accepted in the mining industry. It will therefore be interesting to see where the company goes next with the diesel-electric concept. Quarrying, with its large, fuel-hungry machines would be a good choice.
Komatsu, another of the handful of major mobile equipment suppliers to the quarrying industry is also getting more serious about fuel efficiency. This month sees it launch the first commercially available hybrid construction machine in the world on Komatsu's home market of Japan.
The hybrid version of the 20 tonne PC200-8 crawler excavator uses an electric motor to slew, with capacitors that capture electrical energy when the motor decelerates. As well as capturing energy that would otherwise be wasted, Komatsu says its system allows the engine to idle at lower speeds, with an overall -25% cut in fuel consumption compared to a standard PC200-8.
Clearly Komatsu has gone for the volume end of the equipment market with this release. It is the biggest excavator manufacturer in the world, and 20 tonne machines are the most popular class of excavator in the world. The company has set a modest sounding target of selling 30 hybrids by the end of the current fiscal year on 31 March 2009 and is recommending a retail price of JPY 27 million (€ 165000) - quite a premium on the price of a standard 20 tonne machine.
More choice
In terms of loading and hauling equipment then, it looks like quarry companies will have the opportunity to try new technologies in the near future that could add up to big savings.
But even today there is more choice in the sector than was the case 10 years ago. The traditional suppliers of large quarry-class excavators, loaders and trucks was a pretty short list in the late 1990s - Caterpillar, Komatsu, Liebherr, Moxy, Terex and Volvo. It was only Caterpillar that had the full spectrum of excavators, loaders, rigid and articulated haulers, graders and dozers that a quarry could want, although Komatsu lacked only articulated dump trucks (ADTs).
The market is very different today. In addition to these Case, New Holland and Hyundai now offer 70 to 80 tonne class excavators. Below this benchmark, pretty much every manufacturer in the excavator sector builds machines up to the 45 to 50 tonne class, which would be suitable for smaller quarries.
Bell, Case and Komatsu now supply ADTs, and Bell in particular has shaken up the market. On the wheeled loader front Doosan and Hyundai both offer 250 kW/ 30 tonne class machines, and Hyundai is also supplying its largest model for sale by Case under its brand through an OEM supply agreement. As in excavators, most companies in the wheeled loader segment make machines suitable for smaller scale aggregate operations.
Another major change over the last 10 years has been Hitachi's break from the Fiat-Hitachi Joint venture following New Holland's acquisition of Case in 1999 to form CNH. Hitachi is now going it alone in Europe offering quarrying-class excavators, loaders and rigid haulers.
In another interesting twist, last year saw Norwegian ADT specialist Moxy acquire the Aveling Barford range of rigid haulers. These expensive machines, but it is a real niche market. According to Off-Highway Research European demand for rigid haulers last year was only 550 machines and the global market is only about 3000 trucks per year.
Of course adding rigid haulers to Moxy's ADT range makes good sense, but it is still a small market this niche hauler manufacturer is up against multi-nationals corporations like Caterpillar, Terex, Komatsu and Hitachi.
New machines
There is currently something of a (temporary) lull in the introduction of new engine emissions laws in Europe. The last part of the Stage IIIA requirements came into force at the start of this year, and impacted on small and medium-sized construction equipment.
As far as the quarrying industry is concerned, 2006 was the big year, when new requirements came into force for machines fitted with 130 to 560 kW engines, which encompassed more or less the entire mobile quarrying equipment industry, from excavators, loaders and haulers to drill rigs, crushers and screens.
Having said that, there have been plenty of quarrying machines launched following the introduction of the Stage IIIA laws over two years ago.
One of the most interesting innovations is Volvo's Full Suspension (FS) system, which is now available on its 35 and 40 ton (31,8 and 36,4 tonne) capacity ADTS, the A35E FS and A40 FS. It is an automatic levelling and stabilising control that works across all six wheels for a smoother ride and, in Volvo's words, "excellent off road performance."
There are three major advances to an ADT that "floats" over rough ground. First, there is less chance of material falling out of the truck body - something that is both wasteful and dangerous. Second, because there is a smother ride, travel speeds can be higher.
Finally, the operator is exposed to less whole body vibration (WBV) - an important occupational health and safety issue in Europe today. ADTs are recognised as one of the machine types with the potential for some of the highest WBV levels in the industry, and anyone who has driven will know just how much you can be bounced around in the seat when driving over rough ground.
Terex meanwhile is looking at systems that can cut fuel costs for owners of its trucks. Current areas of interest include dual torque controls and systems that would 'turn off' engine cylinders during idling to cut consumption.
Last year's Bauma exhibition saw Caterpillar unleash a huge number of machines for the quarrying industry, including the first of its K-series large wheeled loaders, M-series graders and some medium-sized D-series excavators.
In February this year it announced that its 'Equipmentmanager' and 'Product Link' remote asset management system will be standard features on all of its core new machines. These systems have been available as an option for 10 years, but it is significant that they are now included along with a three-year subscription to 'Asset Watch', the service that allows customers to monitor factors such as hours worked, temperatures and alerts. This makes it easier to schedule services and preventative maintenance at convenient times, making life easier for a quarry's fleet manager.
Moxy meanwhile has previously announced that it expects to start production of the 46 tonne capacity AB51 rigid hauler from the middle of this year. Based on designs it acquired from Aveling Barford, the truck was shown in prototype form at Bauma equipped with a Cummins engine and Allison transmission.
Komatsu's newest quarrying additions include three new wheeled loaders, the WA430-6, WA470-6 and WA480-6 with engines from 175 kW to 224 kW, and standard buckets from 3,3 m3 to 6,0 m3. A big selling point is the cab, which is spacious and air-conditioned with an adjustable seat and controls. It is also quiet, with noise at the operator's ear around 71 to 72 dB(A) - about the same as the noise experienced by someone driving a car along a motorway.
Last year also saw add the 91 tonne capacity HD785-7 rigid dump truck to its range, a model that was launched at Bauma.
More recently the company has upgraded its ADT range with Stage IIIA versions of the 27 tonne HM300-2, 32 tonne HM350-2 and 36 tonne HM400-2. The new engine provides more power and performance, offering a top speed of 59 km/h. Another key feature is Komatsu's K-Atomics automatic transmission, which features an electronically controlled clutch to prevent shocks when changing gear.
Braking performance has also been improved with a hydraulically controlled retarder and wet disc brakes, while hydro-pneumatic suspension on the front and rear axle makes for a smoother ride and better productivity.
Future savings
The issue of quarry operating costs has never been in sharper focus, with fuel prices at record highs. It's fair to say that new machines on the market are generally more productive and fuel efficient than their predecessors, so if the capital is available, renewing a fleet or a key machine might mean big savings.
But while all these year-on-year single-digit improvements in fuel efficiency make a difference, the real question is how new technologies such as hybrid machines will feature in the future. Fuel savings are one thing, but how will these weigh-up against the (inevitably) higher purchase price. Quarry owners may also be concerned, rightly or wrongly, about the reliability of such systems in the dust, vibration and temperature extremes that are so often a feature of aggregate extraction.