Queensferry towers for Bernard Hunter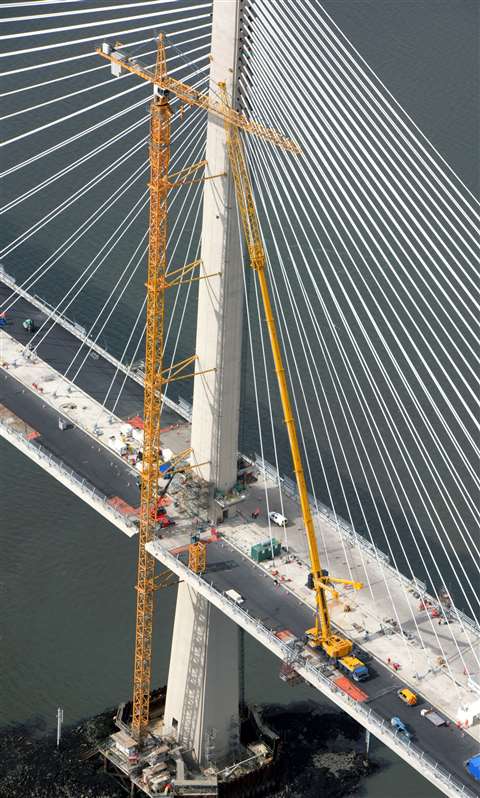 Mobile crane rental company Bernard Hunter won the job of dismantling three tower cranes used to build the new Queensferry bridge crossing the Firth of Forth in Scotland, UK.
The 2.7 km Queensferry Crossing is the world's longest cable-stayed bridge Forth Crossing Bridge Constructors (FCBC) awarded Bernard Hunter the contract to dismantle three 40 tonne capacity Liebherr 630 EC-H 40 top slewing saddle jib tower cranes used to build the bridge's three 207 metre support towers.
A 500 tonne capacity Liebherr LTM 1500-8.1 wheeled mobile telescopic crane rigged with 35 m fixed jib was used to remove the tie bars between the tower crane masts and the bridge towers. The load was 5 tonnes at a 57 m radius on a 90 m hook height. After that the tower crane's jib sections were removed, followed by the tower head and the cabin and slew ring assembly.
A 300 tonne capacity LTM 1300-6.1 wheeled mobile crane was used to remove the counter jib, hoist unit frame and counterweight blocks. It lifted 22.2 tonnes at a 22 m radius and a hook height of 55 m.
Edinburgh-based Bernhard Hunter has an 18-crane fleet, 11 of which are Liebherrs. Its most recent investment, of £6.00 million (US$ 7.65 million), included a 40 tonne capacity LTM 1040-2.1, two LTM 1050-3.1s, an LTM 1060-3.1, an LTM 1100-4.2, an LTM 1300-6.2 and the company's largest telescopic mobile crane, a 500 tonne capacity LTM 1500-8.1. The family business, now run by the third generation, was started in 1946.
Supporting documents
Click links below to download and view individual files.