Radiolink plus helps weigh up air transport needs
By Ian Vallely06 January 2017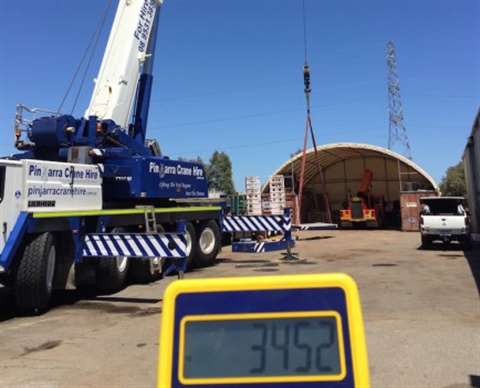 Western Australia-based end user Allplant Inspections uses load cells to complete inspections on mobile cranes often located at mines across the sprawling Golden State which covers almost a million square miles.
Covering such distances would be impossible without air travel, where weight has to be kept to a minimum.
Allplant has five load cells in its inventory, including a 25 tonne and two 12 tonne Radiolink plus units from Straightpoint, which can be employed close to the coastal, Silver Sands company headquarters or more than 2,000 miles away in a remote mining town, which are commonplace in the state's northern region. Allplant is also a regular visitor to numerous construction sites in the region.
Mitchell White, classified plant inspector, said, "The Straightpoint load cells' light weight, accuracy and ability to remain in calibration are standout features. The low weight is hugely advantageous given how frequently they have to be transported by plane. We have five load cells in total, but the non-Straightpoint products rarely see the light of day."
The Radiolink plus's internal design structure allows the use of a separate internal sealed enclosure providing the load cell's electronic components with IP67 environmental protection even with the battery cover plate missing, making it suitable for use in harsh environments.
Allplant uses the Radiolink plus load cells, including its newest 12 tonne wireless version, on mobile cranes with capacities up to 1,250 tonnes. It also inspects pressure vessels, elevated platforms, hoists, concrete boom pumps, telehandlers and other plant equipment.
Mitchell White, classified plant inspector, said, "We use the load cells for different work, including full boom capacity tests to 100 percent WLL [working load limit] of the crane and also line pull tests to 100 % WLL winch capacity. Such load tests need to be accurate and most sites do not have known test weights so a load cell is critical. The newest 12 tonne load cell is the only wireless one we have and it has already proved its worth in a number of applications."
Allplant recently supplied a wireless load cell to rental firm Pinjarra Crane & Access Hire when it required tests on a Liebherr LTM 1100 wheeled mobile telescopic crane at its depot in Pinjarra, Western Australia.