Rail link build for Liebherr towers
By Laura Hatton03 September 2014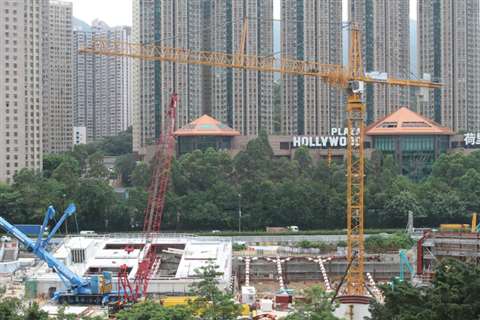 Two Liebherr 630 EC-H 40 Litronic tower cranes have been put to work on the Hong Kong Shatin to Central MTR rail link.
The cranes are being used by contractor Vinci Construction Grands Projets. Tasks for the company include cutting the tunnels between Hin Keng and Diamond Hill stations together with the Fung Tak Public Transport Interchange, a company spokesperson said.
Thibaut Costet, Vinci senior plant engineer, said, "We are using the cranes for lifting the tunnelling equipment, including some TBM parts, down the 26 metre deep shaft, and also for the reinforced concrete tunnel lining segments, the signalling and monitoring equipment, the ventilation equipment, and all the tools. The spoil and the slurry will however be removed with a slurry line."
The two 40 tonne capacity 630 EC-H 40 tower cranes were erected at two access shafts alongside the tunnels. Both cranes were configured with 51.5 m jibs and mounted on 60 m long sets of rails to work around the site. They were erected by Shriro Machinery, Liebherr distributor in Hong Kong.
Once work for the TBM is complete, it will be dismantled. The 630 EC-H 40 will then be used to lift the components out of the access shaft.
Three more Liebherr tower cranes, two 280 EC-H and a 200 EC-H, will join the 630 EC-H 40 tower cranes at a later stage of the project.