Raimondi tower cranes on Swiss job site
By Christian Shelton15 December 2017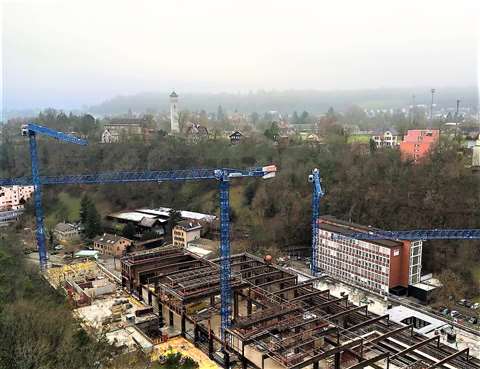 Swiss developer and builder, Klaiber Bau, will use five Raimondi tower cranes on a job site in Schaffhausen, Switzerland, for approximately the next two years. The cranes were erected by Swiss crane rental and sales company Interkran AG, an official Raimondi Cranes agent that has been operating in the industry for over 15 years.
The Raimondi tower cranes erected comprise: three MRT189s; and two MRT223s. The MRT189s are being used with jib lengths of 65 m, 60 m and 42.5 m, while the MRT223s are being used with jib lengths of 70 m and 66 m.
The cranes will be used to build a mixed-use project in Schaffhausen's old steelworks, which will include residential, commercial and office space.
According to Interkran's founder and managing director, Antonio Teixeira, the company has previously successfully collaborated with Klaiber Bau on smaller projects, which led to the latest work between the two companies. "Our work with Klaiber Bau has been mutually rewarding, and we have put our full strength behind servicing our client on this demanding jobsite. We're pleased to put five of our Raimondi fleet at their disposal for use in this important project."