Ramin Younessi opens first Diesel Progress Summit
By Murray Pollok30 September 2019
The first Diesel Progress Summit has opened in Louisville, Kentucky, with more than 290 delegates hearing keynote speaker Ramin Younessi of Caterpillar discuss the changing face of off-highway power systems.
Younessi, who is Group President, Construction Industries at Cat, said battery storage systems would become increasingly cost competitive over the next decade, and act as an enabler for hybrid and electric powertrains in the future.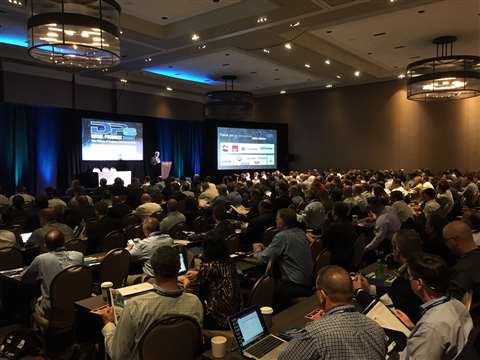 The cost of ownership of traditional diesel powertrains will rise slowly over time, with ownership costs associated with electric and hybrid solutions decreasing. Cat forecasts that alternative energy powertrains will be cheaper to own, possibly by the mid 2030s; "When exactly the lines will cross I don't know," said Younessi.
Younessi's presentation was the first of a day-long conference looking at trends on powertrains, with speakers from Deutz, Dana, Volvo CE, JLG Industries, John Deere Power Systems and Danfoss. The afternoon keynote will be given by Jennifer Rumsey, VP and Chief Technology Officer at Cummins.
The day will end with an awards dinner, with winners in seven awards to be announced.
Full reports on the awards and the conference will be published on the Diesel Progress website and at www.khl.com.
The Summit has been organised by Diesel Progress and KHL Group, and is taking place the day before the ICUEE show in Louisville.