Ramirent launches 'TwinSite' virtual training aid
Ramirent has introduced what it calls Ramirent TwinSite, a virtual reality construction site to be used as a training and communication tool to promote safety, sustainability and efficiency.
TwinSite gives users virtual reality (VR) guides on issues such as product choices, safe handling of equipment and health risks, including quartz dust. Ramirent said the system improves the understanding and recall of information and increases the motivation to ensure effective prevention measures are taken.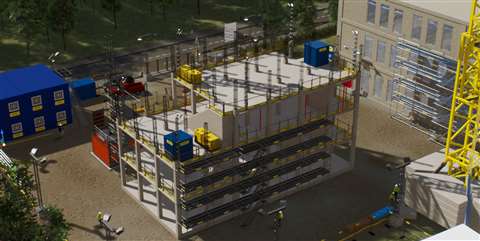 A virtual reality image from Ramirent's TwinSite platform.
"Our mission is to make construction sites safe, sustainable and more efficient", said Anders Vikmyr, Design Manager at Ramirent, "We have several digital innovations in progress, which make it possible to take work to the next level. Ramirent TwinSite is first out.
"For our customers, our solutions mean that they get the benefit of Ramirent's expertise at an early stage in their planning processes and thus receive help with solutions for the safest, most sustainable and effective ways to build,"
The company said the aim is for TwinSite to will be available globally. "The platform can also be used for effective product training and marketing communications, and not only for our own products. All partners will be able to use our platform wherever they are in the world or wherever their base is located," said Vikmyr.
"Research shows that experience-based learning and communication is superior to other methods. With VR we simplify and strengthen this further," he added.