Ranger passes tunnel test
By Alex Dahm31 October 2018
Specialist rigging and lifting equipment supplier chose ratchet lever hoists for a major infrastructure project in Sydney, Australia. The Yale Ergo 360 ratchet lever hoists are suited to pulling, securing and lifting.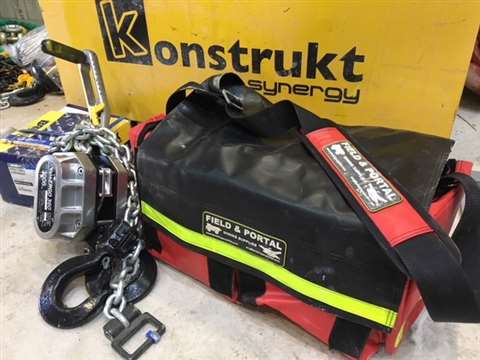 Four units were put to work on this project for a wide range of tasks, from levering components into place when building machines to holding chains when shortening them. The hoists have manufacturer Columbus McKinnon's crank handle, allowing for operation both in lifting and pulling applications. CM said the design allows an operator to work up to 12 times faster and with as much as 30 per cent less pull force than with conventional ratchet lever hoists.
Commenting on the handle, Marc Fielding, director at Field & Portal Mining Supplies, which supplies products to the underground mining, tunnelling, and coal industries, said, "The handle enables the user to get into a position that feels much safer; it's more like a rowing action. You can grasp the crank handle with a good, secure grip without it slipping from your fingers. This also prevents your hand hitting against components when ratcheting the handle. The hoist will be the only product of its type we'll consider using in future."
The handle is designed to keep the operator's body aligned with the load chain which reduces risk associated with twisting the hoist around the chain. There is a grooved, non-slip handle and it makes a distinctive clicking sound when the handle is locked into position. A Weston-type brake is fitted and other features include a lightweight aluminium housing, corrosion protection and forged swivel hooks.