Ravenscroft opens TCNA 2022 with "electrifying" address
By Hannah Sundermeyer22 June 2022
With more than 240 attendees registered for the 2022 Tower Cranes North America conference, Aaron Ravenscroft, president and CEO of The Manitowoc Company, delievered the opening keynote address to a packed house in Miami, Florida.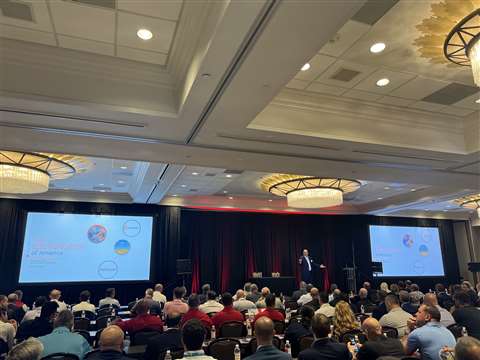 Throughout his presentation titled Electrification of America, Ravenscroft said tower cranes, particularly self erectors, are a sustainable alternative to diesel-powered mobile construction equipment.
Tower cranes are a common sight on jobsites across Europe and Asia. From stadiums to semi-conductor plants, airports and even residential construction, tower cranes are replacing costly crawlers and wheeled mobile cranes. Ravenscroft said there are only 2,000 total tower cranes working in the United States. In Europe, there's two times the population of the USA and 37 times the number of tower cranes.
Customers are looking for a safer, electric solution. As the CEO of a publicly traded company, Ravenscroft contended that every day there is a challenge to improve your environmental impact.
Self erecting tower cranes offer a sustainable, quieter and safer alternative to telehandlers and forklifts. A telehandler will produce 4.4 metric tons of carbon dioxide a year. To offset that footprint, it takes 6 acres of trees for one telehandler to operate in a year, he said.
In addition, a telehandler burns three US gallons of diesel per hour. The use of self-erecting tower cranes can aid in reducing carbon footprint while simultaneously reducing costs. As a result, one self erector can replace two or three telehandlers.
Using the Starbucks store roll out from the early 1980s, Ravenscroft said it's about "marketing, scale and adoption" to see further tower crane use in the USA. Are tower cranes the next latte?
"There's never been a better opportunity than today to drive tower cranes in the United States," he concluded. "Your customers are looking for electric solutions."