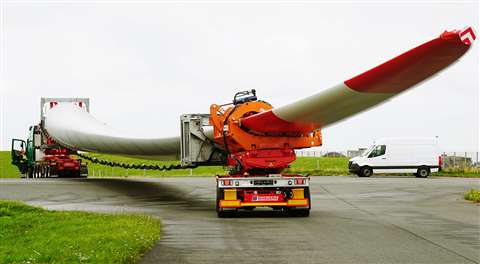 Scheuerle's Rotor Blade Transport System proved its worth for P. Schwandner Logistik + Transport on a 680 km journey through Germany.
"The length of rotor blade transports is always a challenge. Everything went very smoothly during the complete assignment", said Peter Schwandner, managing director at P. Schwandner Logistik + Transport. He used his Scheuerle Rotor Blade Transport System (RBTS) to transport wind turbine rotor blades. Overall length of the vehicle combination was 86 metres.
A number of bottlenecks had to be dealt with on the route from the port of Cuxhaven to a wind farm near Erfurt. Features of the RBTS meant less work along the way, saving time and money.
"Normally, we would use a telescopic semi-trailer for such transport assignments. In order to get through the various bottlenecks using this, we would have had to dismantle crash barriers", reported Peter Schwandner.
RBTS can also compensate for height differences between the dolly and the trailing unit. Lifting height is 2 metres at the front and 1 metre at the rear.
Hubert Drechsel, the driver of the four-axle tractor unit used on the job said the system was relatively easy to use. Without it, Schwandner added, "We would not have been able to move the new V 162 blade type from Vestas at all."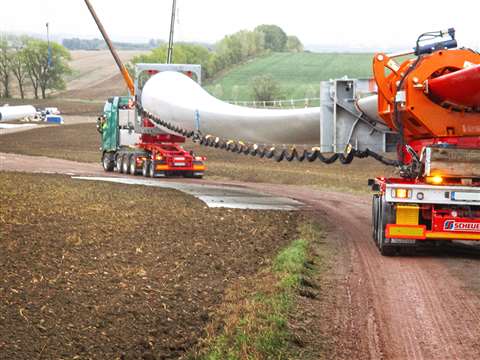 With the longer blades comes a larger diameter root at one end. A conventional telescopic trailer combination can quickly reach a height of 4.5 metres or more, Scheuerle said. This trailing unit concept uses the rotor blade as a link between the mounting on the tractor and the trailing unit, keeping the total height to about four metres.
Looking ahead, Schwandner said, "We expect to see an increasing number of rotor blades with lengths of more than 80 metres." The RBTS should future-proof the company's capability for some time.
RBTS is a joint development between specialized transport equipment manufacturer Scheuerle and leading wind turbine manufacturer Vestas. It is a 2-axle jeep dolly with turntable and a 4-axle trailing unit.
A special lifting device which is part of the RBTS, picks the blade off the ground by its root. A quick coupling device comprises the free-turning device, root adapter and root frame connector. At the other end of the blade a clamp on the dolly fixes the tip in place. It is designed to be a torsion-free mounting.
For empty return runs RBTS can be shortened to a 16.5 metre tractor-trailer combination at 2.55 metres wide, less than four metres high and weighing in under 40 tonnes. No special permit is required for an empty run, Scheuerle said. Blades from other turbine manufacturers can also be carried.