ReachMaster and NACH Marketing end sales agreement
By Lindsey Anderson06 November 2019
Changing market conditions are the driving force behind ReachMaster ending its 15-year relationship with NACH Marketing, Inc. NACH Marketing had served as ReachMaster's exclusive sales representation group in California, Arizona, New Mexico and Hawaii.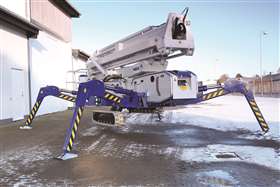 Ebbe Christensen, president of ReachMaster, said changes in the market and company strategies prompted the decision.
"We have had a great run with NACH Marketing, its president Craig Yuhas and his team for many years, however, as a combination of many factors, it was not possible to continue the relationship at a level that made good business sense to either party," Christensen said. "I want to thank NACH Marketing for all their great efforts over the years, and we wish them good luck with their other product lines."
As for the future sales representation in western U.S., ReachMaster said that due to in particular the changes in the rental industry, with the company already being directly involved in the market for several years, there will be no day-to-day changes for customers.
Christensen concluded, "What I can say at this point is, that we intend to strengthen our sales representation on a more direct basis as we see some great opportunities in the market areas."