ReachMaster debuts B85
By Lindsey Anderson07 December 2015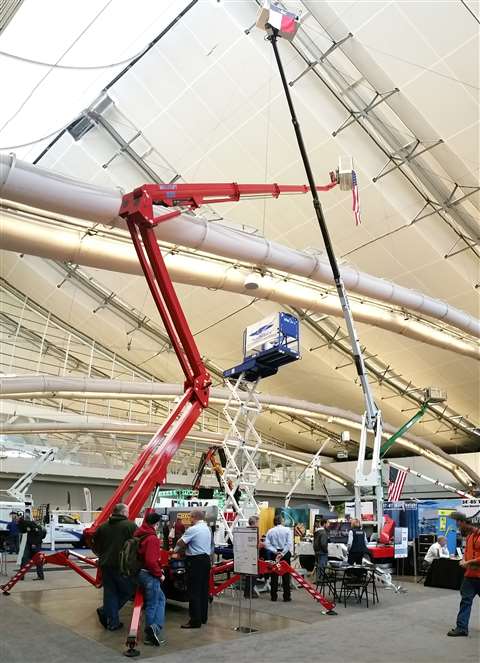 The first Bluelift B85 has hit U.S. soil. Distributed by Texas-based ReachMaster, the lithium battery and gas-engine-powered unit has an 85-foot working height with a double-stacked articulating, four-section telescopic boom and articulated jib.
With an overall weight of 7,600 pounds, the B85 offers 47 feet and 10 inches of maximum outreach. The basket capacity is 550 pounds, overall width is 3 feet, 2 inches and the unit has an overall length of less than 17 feet when the basket is removed. Features include: multi-position outriggers, auto-leveling, auto center position of turret and a double-speed drive system. The standard B85 is powered by a Honda 15 hp engine and electric motor, giving unlimited use of the platform both indoor and outdoor. Alternatively the lift can be powered by a single cylinder diesel engine and/or lithium ion-battery pack or the hybrid between batteries and combustion engine.
The B85 shares the same new technology introduced this year on all the Bluelift line products including an electro-hydraulic system which gives the user the ability to operate two independent functions at the same time. This provides simplified and reduced control circuits, increased power and the ability to dial in functions with full proportional control.
The first unit was sold to Pinnacle Tree Company at the 2015 Tree Care Association Tradeshow in November. The latest delivery joins the successful B72 that Pinnacle has been running since the beginning of the year.
"We have been working with the ReachMaster team for a long time," said Pinnacle Tree Care owner Greg Templeman. "We are very happy with our Bluelift B72 and now we are really impressed with the new B85. It has the superb performance and build quality we have come to expect from a Bluelift product. This is a great addition to our range. It will be welcomed by our operators, many of whom are already familiar with Bluelift booms and confident in their operation. The new B85 has great performance, excellent stability and a really robust design - plus it's very easy and intuitive to use."