Reactec wearable to reduce workplace health risks
By Catrin Jones06 January 2023
Launched in July 2022, Reactec says that its third-generation workplace wearable, R-Link, monitors hand-arm vibration exposure and provides real-time alerts to notify workers when they are in dangerous proximity to heavy equipment.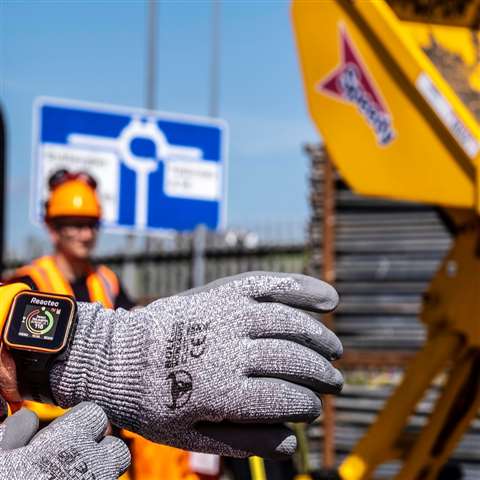 The company adds that its analytical platform provides cloud-based reporting which allows dynamic risk assessment and exposure reduction. For example, the team will be able to identify if a piece of equipment is faulty and if it emits more or fewer vibrations than the manufacturer states, enhancing the operatives' safety while ensuring a quality product for clients.
In addition to HAV monitoring, Reactec has developed R-Link with the latest ultrawideband (UWB) technology to detect dangerous proximity. R-Link alerts the wearer when they are too close to hazardous equipment and vehicles in real-time, while the data collected on near-misses, enables employers to identify hotspots and refine controls.
Reactec's third-generation wearable will release remote firmware upgrades to offer the wearer even more protection from workplace health risks in the near future, including an ability to ingest risk data from other IoT enabled sensors such as noise and dust. 
Operatives in three of Howard Civil Engineering's sites across the north of England are said to have had their risk of Hand Arm Vibration Syndrome (HAVS) significantly reduced after the business introduced HAVS monitoring smart watches from the company.
Howard Civil Engineering's SHEQ manager Andy Rafton commented, "Although legislation states we don't need to continually monitor our operatives' hand arm vibration, Howard Civil Engineering recognises it has a duty of care to our employees. We have initially introduced these watches across three of our largest sites, but we are hoping to use these across every site in the near future.
"Not only will these watches significantly reduce the risk of our operatives developing HAVS, the cloud-based software means the entire system is completely online – meaning it is in accordance with our long-term goal of becoming a paperless company."