Rebuilding a brand
By Euan Youdale25 September 2015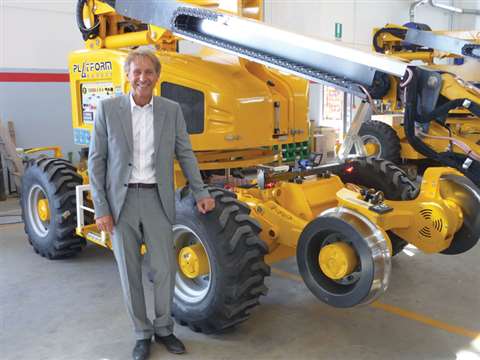 Carlo Molesini, managing director and partner at Italy-based Platform Basket, tells AI about the company and its experiences leading up to its 10th Anniversary year.
Patform Basket is celebrating its 10 anniversary this year following a decade of challenges as it sought to rebuild itself and battled the long financial crises in Europe.
Why did you join the company?
How has the company changed and grown over the years?
Tell us about your range of platforms.
How has the market for tracked platforms grown?
What developments in tracked platforms will we see in the years ahead?
I believe most of the manufacturers' attention is today focused on green power. That is to say, offering products powered by batteries rather than by engines to reduce pollution and noise.
The car industry is leading these technical developments worldwide. Products like Lithium batteries adopted today in hybrid cars are very expensive now. But in a few years' time most of the manufacturers of tracked platforms will offer Lithium battery power. This is just the beginning.
Another important area is telematics. Today, the internet is available everywhere and these devices allow the manufacturer to offer better after sales service by monitoring equipment remotely. We would like to better promote this in the near future since it offers a worthwhile added service.
Please describe market conditions in Italy and how they have affected your company?
Italy has never been the most important market for Platform Basket, however the country is one of the most interesting in Europe in terms of sales of tracked access platforms.
For Platform Basket domestic sales represent around 15% to 25% of global turnover and it is has been like that for some years. At the very beginning we were affected by a mistrust of us, mainly due to the former company we took over. It took us many years to demonstrate to Italian customers our seriousness and manufacturing and service capabilities. This is one of the areas that makes us very proud; having reliable and efficient a products that are well assisted.
How do you see exports developing in the future?
Since day one I have repeatedly said, 'We need to invest in exporting products worldwide and consider the domestic market just a small part of the business'. In fact, I see that some Italian manufacturers that were oriented to the domestic market are today focusing on overseas markets.
We recently employed another area manager and he's started to explore new markets; South America is one of them. Having a wide and complete range of products, as we do today, we can afford to invest more in our export department by adding fresh and young guys to explore and start up in new areas.
What are your biggest export markets and which markets are growing?
The USA has been the biggest market for a couple of years thanks to a very good job by our importer Tracked Lifts. We need to thank many of our dealers for their belief in us. Australia deserves particular attention with which we've been co-operating since 2007 with a lot of success. England is an historical dealer that helped us very much with long experience in the tracked and railway field. China is always very active and we have a trading office Platform Basket Far East. For the near future we believe Saudi Arabia, where we started up recently, and some other areas nearby, need to be educated but once they become familiar they will buy more and more.
Tell us about your new factory.
We started production in our new 2500 square metre factory in January 2015, which we recently bought along with 13000 square metres of land on which we've been adding the new 700 square metre headquarters and another smaller 1000 square meter factory. We plan to celebrate the new headquarters, based in Poviglio, near Reggio Emilia, at the beginning of 2016. It is an ambitious project begun after 10 years to offer a better manufacturing lead time to our network. We're already producing more units than before.
Platform Basket has a speciality railway equipment segment. Please explain the products involved.
Railway equipment is a small segment of our global turnover, but I want to thank our British dealer Promax Access for guiding me in this field. At the beginning I was a little sceptical regarding the capability of Platform Basket doing business in this unknown field. Today we offer a single model, the RR14 EVO-II/400, that differs from our competitors and is the most suitable to maintain overhead electric lines. The latest development was the basket capacity which was increased from 300 kg for two people to 400 kg for three people. The maximum working height is 14 m, which is more than sufficient for this railway purpose. We have equipment working in Australia, Sweden, France, Germany, Panama, other than in England where most of the units have been delivered.
What are the challenges over the next 10 years?
I feel the challenge won't change in the years ahead. I consider it is essential for all manufacturers to pay attention to manufacturing costs by offering good quality and reliability together with a market price in line with the main competitors. After that, assuring a first class after sales service makes the difference compared to any further sale challenge. Platform Basket adopted this formula successfully by grow the business year-by-year.
I would like to add a few words about our 10th anniversary. We have proudly spent these 10 years together with the Scillia family, who never stopped being very positive about this project and consequently enabled us to establish a well known brand worldwide. We're excited to have the headquarters ready and to celebrate our 10th anniversary together with our sales network, to show the effort spent and the target achieved.