Record lift for Jumbo Kinetic
By Laura Hatton20 May 2015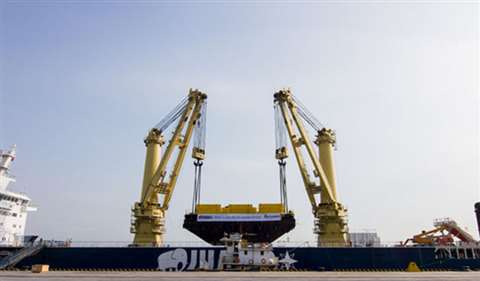 Heavy lift vessel Jumbo Kinetic has set a new record after lifting 3,000 tonnes during the test lift at the Huisman production facility in Zhangzhou, China.
Jumbo Kinetic is operated by heavy lift shipping and offshore transportation and installation contractor Jumbo and was manufactured by Huisman. It has undergone several tests, including 250 tonne and 1,650 tonne lifts, before lifting 3,000 tonnes in tandem.
Jumbo Kinetic is the first of two K3000 vessels in Jumbo's fleet and is certified Ice Class 1A Swedish/Finnish. The other K3000 vessel, Fairmaster, is due to enter service during the third quarter of 2015.
Jumbo Kinetic's next commercial voyage starts in Zhangzhou and consists of two consecutive trips to Samsung Heavy Industries facility at Geoje Island in Korea, a spokesperson said.