Record lift for Kalmar Super Gloria
By Laura Hatton25 September 2014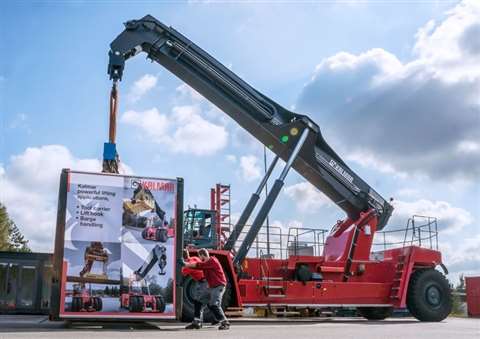 A Kalmar DRG1000-92-ZXS Super Gloria reach stacker has completed a 103 tonne lift at the company's headquarters in Lidhult, Sweden.
The Super Gloria is fitted with a Volvo Penta TAD1172VE 11 litre diesel engine. It is the largest in Kalmar's range and was built to have a lift capacity of 100 tonnes. The record was made after the reach stacker lifted 103 tonnes of steel components.
Stefan Johansson, Kalmar director of sales and marketing, said, "Lidhult is the home of the Kalmar reachstacker. Given the local involvement in developing this world record-breaking machine, it is fitting that the team shared in making history."
Johan Burgren, Volvo Penta account manager, added, "A Volvo Penta TAD1172VE is at the heart of the Super Gloria. It's a compact engine, but it's also incredibly powerful. In any machine, whether it's a record breaker or not, the engine is the most vital part.
"A powerful engine that is small but reliable offers customers exceptional fuel consumption while still being able to perform incredible lift challenges. Kalmar's latest achievement with the Super Gloria proves Volvo Penta's reliability – you can trust it to be a piece of equipment that will not buckle under pressure."