Recycling Aktiv: Reworking the technology
Between September 5 and 7, more than 200 exhibitors will be presenting their latest products at the Recycling Aktiv and Tiefbau Live trade fairs at Karlsruhe in Germany.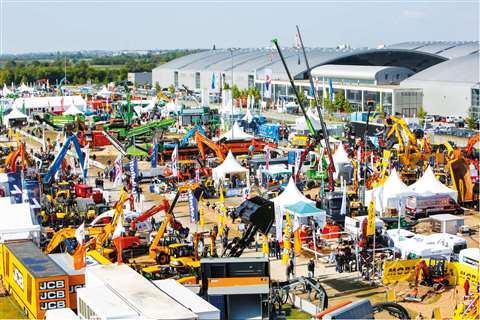 These events feature many live demonstrations of machines and equipment – either at exhibitors' own stands or in one of the two special recycling theme areas. At the Mobile Scrap & Metal Yard, live demonstrations of devices such as scrap
shears, metal saws, metal balers and two mobile metal plants are given twice a day. At the Wood & Biomass special theme area, exhibitors present their crushers, granulating lines, loading/unloading and dust binding equipment in action three times a day.
The demolition industry will be well represented in Karlsruhe.
Attachment producer Hydraram will be presenting its completely reworked range of demolition technology, including shears, concrete pulverisers and demolition and sorting grabs. The company has increased the performance of its add-on parts by using hydraulic cylinders with higher working pressure levels. In addition, cycle times are shortened by the optimised speed valves – as these are installed outside on the hydraulic cylinder, they can be accessed easily for service and maintenance.
With the HCC demolition shears, a new kind of exchangeable teeth is said to ensure better concrete penetration, thus optimising the crushing force of the shears. Another tool is the series HFP pulveriser, which has an integrated magnet that works with the excavator's 24 V system and does not need an additional generator. The magnet function can be switched on by the excavator operator to collect the reinforcing steel remaining on the construction site when the concrete is being crushed.
Furukawa Rock Drill demolition tools
The German subsidiary of Japanese high-technology group Furukawa Rock Drill (FRD) will also be presenting its demolition tools and hydraulic hammers in Karlsruhe. All shears models are fitted with speed valves as standard for faster work cycles. Trapezoidal blades improve the cutting line, while the innovative setting kit on the jaws makes it possible to adjust the play without manual intervention. The VXB7ER powered demolition tongs will be demonstrated live fitted to a 5 t excavator. These are used for dismantling and gutting industrial buildings.
With highly productive processing technology, waste wood can be put to good use for thermal recovery. One specialist in this field is Austrian company Komptech which, as well as having its own stand at Recycling Aktiv, will be presenting one of its single-shaft pre-shredders and a universal shredder at the Wood & Biomass special theme area. Shredder specialist Lindner Recyclingtechnik will also be showing mobile system solutions for recycling waste wood.
The newly developed and patented cutting system from the Urraco 75 and Miura series makes a mobile Lindner shredder into an integral system solution for the very first time. With the optimised geometric design of the two shafts and a special secondary crushing beam, the shredder can process waste wood into P100 particles with less than four percent fines in a single step. The combination of Urraco 75 or Miura 1500 with the Lindner Zeta Star 75 F2 screen allows clean P63 final grain to be produced at a throughput rate of up to 25 t/hr.
Proemion produces connectivity solutions for machines and provides the infrastructure for networking machines with the cloud (IoT), other local machines (M2M) and with humans (HMI). At Recycling Aktiv, the Fulda-based company will be showcasing its latest telematics unit CANlink mobile 3000, with which users can call up all CAN data for their machines. With its robust and compact IP67 plastic housing, it is especially suitable for construction machinery. The hardware configuration is very simple: plug and play. The integrated eSIM card with global roaming allows the equipment to be used almost anywhere in the world. Some product variants also provide WLAN and Bluetooth connectivity, allowing CAN data to be exchanged locally. The hardware works optimally together with the Proemion data platform.
The latest machinery and equipment for all areas associated with recycling valuable materials will be on show.
These materials include scrap and metals, which are also the subject of one of the event's special theme areas in recycling. Equipment such as scrap shears and metal saws will be demonstrated here twice per day, along with metal processing systems.
Lefort mobile scrap shears
Lefort is known for its mobile scrap shears in the intermediate shearing force range of 600 to 1,000 t. A new addition to this segment is the Trax series. These are self-propelled diesel or electrically powered units on caterpillar tracks that enable much better and more flexible logistics in modern scrap yards.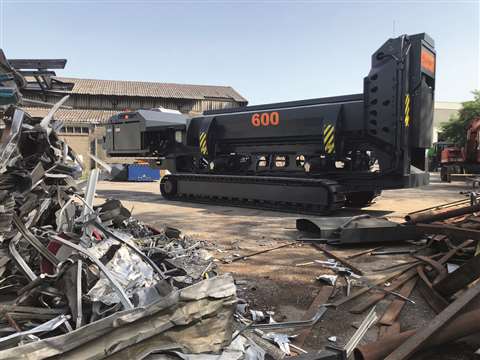 The machine travels to pre-sorted material piles, therefore saving operators the expensive process of repeatedly moving material from the collection point to the machine as usual. As a special highlight for Recycling Aktiv, Lefort will present its Trax 600 tracked scrap shears.
ATM Recyclingsystems is another company that will present its latest innovation in Karlsruhe, namely the Arno Press D 500-3 baler. The recycling industry is also affected by the broader trends towards digitalisation and automation. In response to this, the renowned Austrian manufacturer now offers its products with machine or process data recording as a service package, for example. This system continuously captures and evaluates machine data, making it transparent for both the user and the service team. It monitors factors such as cycle times, oil pressure, temperature and machine output.
Goudsmit Magnetics, from the Netherlands, will present its mobile separator. The company describes the system as capable of separating both ferrous and non-ferrous metals from the material flow. The Goudsmit Mobile MetalXpert magnetic separator is easy to position at the right point and is designed for course material flows like chipped wood. This results in three separate material flows: ferrous, non-ferrous and clean (inert) bulk goods that are ready to be recycled. The metal separator has a capacity of 100 cu m/hr (3,500 cu ft/hr). It is installed on a single-axle trailer that is suitable for road transport.
THM Recycling Solutions will present its TQZ1200 turbo-crusher and demonstrate its ability to crush electronic devices. The machine uses chains to smash items like electronic waste, refrigerators or washing machines into their components, or to separate material composites.
Other applications include the crushing, separation and cleaning of metals, PVC window profiles or ferrous materials in waste flows. Another product on show will be the newly developed granulator XG2400. This universal all-rounder is suited for single-stage shredding of various materials, including metals and cable waste. It can also handle household, commercial and industrial waste, along with plastics, textiles, paper, cardboard and old wood.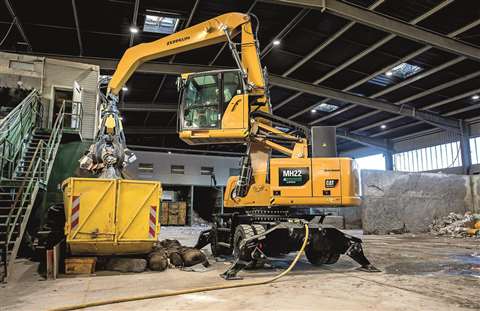 The processing systems at the mobile scrap and metal yard special theme area will be fed with material by products from Zeppelin. At its stand, the company will also showcase a range of its loading and material handling machines in all relevant sizes and designs, with special equipment for the recycling industry. These vehicles are also available second hand. Among the highlights will be the cable-powered MH22 material handling excavator, as well as countless services related to these vehicles, from finance and insurance to part exchange. For companies in the process of digitalising their business, Zeppelin will also present the open fleet management system from Caterpillar.
Eight leading industry associations are showing their continued commitment to the event. Association partners include the German engineering association, the VDMA, which represents more than 3,000 primarily small and medium-sized companies in the capital goods sector, making it one of the largest industrial associations in Europe.