Redesign for three Cat trucks
By Andy Brown13 April 2018
Three new Caterpillar articulated trucks – 730, 730 EJ (Ejector), and 735 – have been extensively redesigned, enhancing the features and performance of their C-Series predecessors (730C2, 730C2 EJ, and 735C) with new operator stations.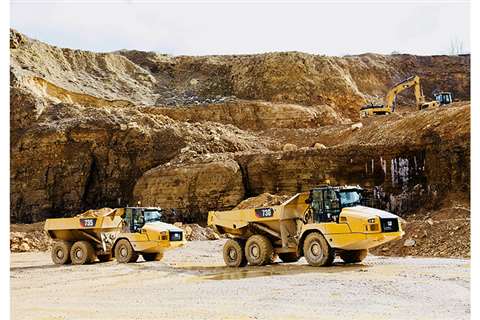 Changes include new controls, transmission-protection features, new hoist-assist system, advanced traction control system, new stability-assist system, and a fuel saving ECO operating mode.
In addition, the design of the 730 and 730 EJ is enhanced with automatic retarder control and a hill-start feature. The 735 retains these features from its C-Series predecessor and further incorporates significant design refinements that include a new Cat C13 ACERT engine, Cat CX31 transmission (also on the 730 and 730 EJ) and structural and dimensional modifications that reduce empty weight by 22%. The company says that these features combine for an up to 19% gain in fuel efficiency.
The cab's new external 'spinal-ROPS' design incorporates a rear-quarter glass that eliminates a structural pillar in the C-Series design, for enhanced rear visibility. The door is of a lighter, stronger design with a shut-assist feature for improved sealing against dust infiltration. The overall cab design results in lower inside sound levels at 72 dB(A), a reduction from previous models.
Optional new infrared glass reduces solar heating inside the cab, and left- and right-hand sliding windows increase ventilation and facilitate communication with workers and the loading-vehicle operator. A new, automatic climate-control (HVAC) system positions more vents above and behind the operator for increased heating and cooling efficiency. A new heated/cooled seat is designed to give operators increased adjustments.
For added safety, a new lighting system, controlled via a ground-level switch, illuminates the cab's entry steps and hitch area. Optional integrated payload lights provide an external indication of payload levels for the loader operator. Optional long range, LED work lights improve visibility at night or in situations of lower visibility. New cab-mounted mirrors, including a front-visibility mirror, enhance all-around visibility for the operator.
The new 735 replaces the Cat C15 ACERT engine, rated at 441 net horsepower, with the Cat C13 ACERT, rated at 428 net horsepower. The new 730 and 730 EJ continue to use the Cat C13 ACERT engine, rated at 367 net horsepower. The C13 engine used in all the new trucks is available in configurations to meet emissions standards of both highly-regulated and lesser-regulated countries.