Regional Report: Asia-Pacific
By Chris Sleight11 June 2008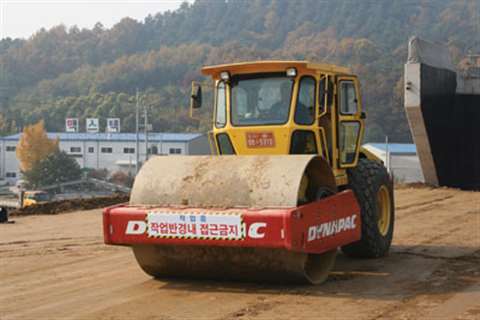 Despite some impact from the economic problems in the US, construction growth in the emerging Asian economies remains strong. However, labour shortages and soaring materials costs are a growing threat. Chris Sleight reports.
There's little doubt that the slowdown and possible recession in the US will have an impact on east Asia's export-oriented economies, and construction growth is sure to slow as a result.
But it is all relative. Despite a slowdown, Asia is still expected to enjoy the highest economic growth anywhere in the world this year. According to the Asian Development Bank (ADB), GDP growth increased a massive +8.7% in Asia last year, and it was the third consecutive year that the continent's economy grew at more than +8%.
So even with a slowdown this year, growth is still expected to hit +7.6%, and the speed of economic expansion is forecast to pick up again in 2009 to +7.8%. Commenting on the situation, the ADB's chief economist Ifzal Ali said, "Asia will not be immune to the global slowdown, neither will it be hostage to it. It remains tied to global activity through traditional trade channels, and increasingly, through its closer integration in international financial markets."
Across Asia as a whole, some of the highest growth is in central Asia and the former CIS, where oil- and mineral-rich countries are continuing to benefit high global commodity prices.
Things are a little more subdued in the Asia-Pacific region, but the 'tigers' of the 1990s are still roaring quietly. The cluster of countries around the Mekong River in Southeast Asia are forecast for a +5.7% rise in GDP this year, with Cambodia and Vietnam leading the way with +7.5% and +7.0% growth respectively.
In fact it is difficult to find an economy on Asia's eastern rim that will grow at less than +5% this year. It is not just small, relatively poor economies such as Cambodia and Vietnam that are growing at this ferocious pace. Bigger and more mature countries like Thailand and South Korea are also rising fast, with the ADB predicting +5.0% growth for each this year.
But while growth is strong, inflation due to rising fuel and materials costs is becoming a bigger area of concern. For example, the ADB expects inflation to hit a 10-year high of +5.1% across the continent this year and an above-average +5.7% in South-East Asia.
The effects of rising materials prices are being felt particularly acutely in the construction industry. According to Thailand's Bureau of Trade, construction materials prices were an average of +18.1% higher in April compared to a year ago. Particularly striking was the rise in the cost of ferrous construction products - up +44.4% in the 12 months to April.
According to the bureau, the rise in prices has accelerated significantly since the start of the year. Inflation for construction products in 2007 was much lower at +6.8%, although still well up on the country's broad headline inflation figure of +2.3%.
Other statistics from the Bureau indicate these price hikes are slowing the construction industry, with benchmarks such as cement sales and production indexes for the industry falling this year.
It is not just materials that are in short supply. Countries around the region are also reporting difficulties in finding enough workers for construction projects. In Singapore for example, the city-state's Building and Construction Authority has taken steps to alleviate what it calls the "capacity crunch."
Among the steps it is taking is the delaying of several public sector projects that were due to start this year and next until 2010. According to the Bureau, Government projects worth around SG$ 2 billion (US$ 1.46 billion) could be delayed, which would make a considerable impact in the construction market, which it values at between SG$ 19 billion and SG$ 22 billion (US$ 13.9 billion to US$ 16.1 billion) per year. By doing this, it expects to increase the manpower available for other schemes in Singapore by +20% to +40%.
Infrastructure focus
But despite the current problems and potential threats, the construction industry is enjoying buoyant times in South-East Asia. Unlike the boom of the late 1990s, when there was a big focus on real estate development - some of it highly speculative - the current up-swing has a much stronger emphasis on infrastructure, be it water, waste, power, road, rail or other transport schemes
Apart from anything else, this focus on infrastructure has unlocked new sources of funding. There is growth in the number of Public Private Partnerships (PPPs) in South-East Asia, which is seeing more and more private sector capital invested in infrastructure in return for concessionaire rights. In addition, development banks such as the ADB and World Bank often support infrastructure projects with loans, particularly if they are of strategic importance.
A good example is Vietnam's US$ 1.2 billion Giap Bat-Gia Lam elevated railway, which is being supported with a US$ 905 million loan from the Japan Bank for International Cooperation (JBIC). Ground was broken in February on the 19.7 km line which is expected to transport 0.53 million people per day around Hanoi, following its completion in 2014.
The scheme includes nine new stations, and is also notable for the fact that 10.5 km of the line will be elevated, making it the country's first elevated railway. Making way for the line will involve the relocation of some 1100 households, which will put the cost of site clearance and preparation at US$ 188 million.
The involvement of major international non-governmental organisations (NGOs) like the World Bank also means that projects are coming under more scrutiny for their sustainability, and a stronger stance is being taken on corruption.
In December the World Bank withheld US$ 232 million in loans to the Philippines' National Roads Improvement and Management Program 2 (NRIMP 2) because of fears of a repeat of Phase 1 of the scheme when funds were allegedly misappropriated through bid-rigging and bribes.
"It takes as long as it is necessary for us as an institution to be satisfied that this project is going to fulfill the requirements and will stay and conform with the highest standards of integrity that are expected of us," Bank Spokesman Peter Stephens said at the time.
The funds were subsequently released in mid-May following assurances of transparency and accountability from the Philippines Government.
The total value of NRIMP 2 is US$ 576 million, and it will see the improvement of some 450 km of national arterial roads, followed by the setting-uup of a preventative maintenance programme. In addition to the World Bank Loan, a a grant of US$ 10.5 million has been made by the Australian Agency for International Development, with the Philippines Government providing the remaining US$ 333.5 million.
Prospects
A further advantage of the increased use of development bank funds in South-East Asia is that it should help insulate construction schemes from any economic slowdown. It of course remains to be seen what impact the double-whammy of a slowing global economy and rising materials prices has on the construction industry, but for the time being prospects still look good.