Regional Report: Europe
By Neill Barston09 March 2015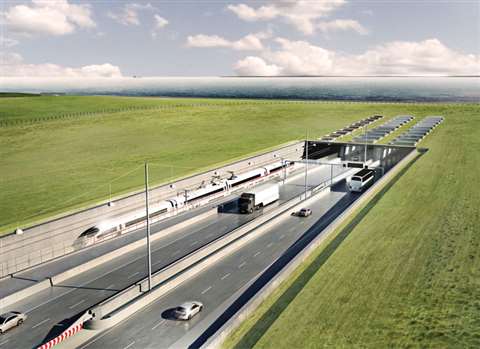 Following more than five years of economic downturn in Europe, 2014 was heralded as the year that saw a return to growth in its construction sector.
According to Euroconstruct, the group of European forecasting bodies, there was a +2.7% overall increase in construction output across a group of 19 major EU countries last year. This took the value of the region's construction market to € 1.3 trillion (US$ 1.5 trillion) in 2014.
This was up +1% against 2013 figures, with a forecast of further improvement of around +2.1% for 2015. While these are modest increases, any growth is good in the region which has been slowest to recover from the global economic crisis - last year marked the first expansion in the Euroepan construciton market for seven years.
The positive findings were supported by figures from research group Timetric, which showed the construction sector across Europe was on course for an upturn of around +1.5% this year.
It had placed 2014's results against global GDP growth forecasts of around +4% growth a year until 2020. This improved position was also reported by EU statistics body, Eurostat, which said construction output in the 28 countries of the EU increased +3% overall last year.
Estimates from Euroconstruct revealed the three main industry segments are set for further gains over the next two years.
The organisation said residential development was one of the main sources of growth, which would be close to +4% on average in the three year period covering 2015 to 2017. It also forecast commercial construction to rise by an average of +2% over the next two years across Europe.
An upward trend is also expected for civil engineering projects, which are predicted to grow at a rate of +2.5% per year to 2017. Growth in the building renovation segment is another factor of an improved outlook.
While there has been cause for optimism, market uncertainty has been an issue due to factors such as the debt crisis affecting Greece. But Athens' agreement with the EU over terms for the repayment of its € 240 billion (US$ 273 billion) borrowing should stabilise confidence. Perhaps more destabilising are the tensions between the EU and Russia over the latter's annexation of Ukraine's Cimmerian peninsula.
But on the positive side, the European Central Bank's (ECB's) announcement of a € 1.1 trillion (US$ 1.4 trillion) quantitative easing package should stimulate the Euro zone's economy, as will the sharp drop in oil prices seen at the end of last year. This should in turn translate to strengthening construction markets.
One of the key drivers of growth within Europe has been the development of transport infrastructure. Last November, the European Commission President Jean-Claude Juncker launched the European Fund for Strategic Investment (EFSI) supported by the European Investment Bank (EIB).
The president said the € 315 billion (US$ 359 billion) investment had been designed "to get Europe growing again and get more people back to work" through supporting key schemes in energy, transport, research and innovation. He added, "If Europe invests more, it will be more prosperous and create more jobs – it's as simple as that."
With the drivers and rates of growth continuing to differ across Europe, both Euroconstruct and Timetric's analysis has shown that in general, the Northern countries have remained financially stronger than those in the South.
The buoyant UK is the third largest market in Europe, with Timetric's figures construction output to be worth € 177 billion (US$ 201 billion) per year, with a +5.2% increase last year.
Much of its improvement has been around a revived housing market, which has been particularly strong in London. The capital's property prices have increased nearly +20% in the last year. This city's commercial property sector has also been strong.
Another boost for Londond's construction market is the
UK£ 15 billion (US$ 23 billion) east-west Crossrail project, which is set for completion in 2017. Its emergence has led to proposals for a further scheme running north-south across the city.
Another government-backed UK project gaining momentum is the UK£ 50 billion (US$ 77 billion) HS2 rail scheme, promising greater connectivity between London, Birmingham and Manchester. The final decision on whether to go ahead with this will not come before the UK's May general election, but it has the broad backing of the mainstream political parties.
Meanwhile, France has seen a slowdown in its € 200 billion (US$ 228 billion) per year construction market.
This was confirmed by European Architectural Barometer, which is produced by Arch-Vision. Its findings from 1,600 architects surveyed across 8 countries revealed that both France and Italy were experiencing challenges.
In France, around 50% of respondents said that they had seen a decline in their order book last year. It predicated the market would fall -2% this year, before stabilising in 2016. Despite this, the study's results forecast around +2% wider growth in Europe's construction sector as a whole.
Largest market
According to Euroconstruct, Germany's remains the largest construction market in Europe, with a value of € 285 billion (US$ 324 billion). Growth was put at +2.3% last year.
Underlining present growth trends, the Construction Equipment & Building Material Machinery Association of the German Engineering Federation (VDMA), has said revenues for construction equipment manufacturers rose +8% last year.
A key upcoming project is the Fehmarnbelt Fixed Link, which will connect Rødbyhavn in Denmark to Puttgarden in Germany. According to Pat Cox, the EU Commission's representative and coordinator of the TEN-T (Trans-European Transport Network) Scandinavian-Mediterranean Corridor, the project will prove of wider significance for Europe.
The € 6.2 billion (US$ 7.1 billion) scheme is a key part of the European transport network which runs from Finland through Sweden, Denmark, Germany, Austria and Italy to Malta. Once complete, the link will be the world's longest immersed tunnel.
Elsewhere in Scandinavia, there were encouraging signs in Sweden. In Stockholm, the US$ 2.2 billion Stockholm City Line double track commuter railway line beneath the city's central district is said to be progressing well. It also includes an immersed tunnel at the bay of Riddarfjarden, known as Söderströmstunneln.
In Uppsala the European Investment Bank (EIB) has agreed a loan of € 200 million (US$ 227 million) for major infrastructure development projects. It follows € 1.4 billion (US$ 1.59 billion) of EIB infrastructure loans made in Sweden last year.
Weakness
As the fourth largest market in Europe, Italy's output was down -2.2% to € 163 billion (US$ 185 billion) against a backdrop of a weak economy.
Meanwhile Spain's € 63 billion (US$ 72 billion) construction market was down -2.4%, last year though there are signs the country is on the way back up. According to the Arch-Vision research, there had been four positive quarters of growth.
A boost to Spain's road network is on the horizon, following a € 350 million (US$ 396 million) EIB loan for a series of new projects. It will pave the way for a dozen new roads and upgrade seven highway schemes totalling 350 km and part of the trans-European transport network (TEN-T) across the continent.
The project has been assigned a total budget of € 26 billion (US$ 30 billion) up to 2020, in order to drive major road infrastructure improvements connecting the East, West, North and South of Europe.
Nations in Eastern Europe countries have been among the key beneficiaries of EU infrastructure funding, including Hungary.
According to Eurostat figures, the country's +14% growth was among the most rapid in Europe last year.
It was boosted by a European Commission's agreement in August that committed € 21.9 billion (US$ 24.9 billion) to Hungary between 2014 and 2020. This is to be put towards improving its overall economy, including infrastructure development.
There have also been positive trends in Poland, which has seen the continued development of a number of key motorway projects.
The road network around Warsaw is among these schemes – with the city also experiencing positive growth in commercial construction. This includes work on the Spire tower, which at 220 m high, will be the capital's tallest building.
Manufacturer confidence
With major infrastructure schemes gaining traction across Europe, equipment manufacturers have expressed optimism for growth.
Pierre-Nicolas Selenne, sales manager for Caterpillar in Europe, Africa and the Middle East (EAME), said sales had been buoyant over the past year.
He said, "The market for 2014 was pretty robust and up +14% to +15%. This wasn't something that had been forecast as being so high. The growth has been fuelled by places such as the UK – which has been extremely dynamic in terms of the economy and the housing sector and larger projects that are happening."
He added that the Netherlands has also picked up, while Germany and France have seen some moderate growth, particularly in the first quarter.
As he explained, after a period of decline, areas of Southern Europe such as Spain and Italy had "hit the bottom of the trough" and were starting to recover.
In his opinion, low interest rates across much of Europe had played a part in the positive economic outlook. This was bolstered by a situation of lower productivity in recent years meaning that many of its customers had made moves to replace of ageing machinery.
There was similar optimism from Niclas Wahlstrom, Volvo's vice president for the EMEA Hub West region.He said, "During 2014, the market grew for us, as did the total market across Europe at a level that was better than expected. We found that a lot of that growth was driven by rental fleets.
"While our forecasts for this year have been revised downwards, I don't think that is something we should overplay, as the whole continent has been affected by the situation in Russia.
"But we are confident we have good solutions including the truck side of the business, and we have been developing more features and improving engine technology."
Overall, the market for 2014 had produced a number of encouraging developments within Europe, which have shown signs of being carried forward into 2015.
While the pace of growth has been uneven across the continent, the forecasts of around +2% upturn for the year have at least offered some genuine forward momentum.