Regional report: South Africa
By Chris Sleight29 November 2019
A new study by specialist market research and forecasting company Off-Highway Research (OHR) has revealed the huge role played by the rental sector in mining and construction in South Africa.
According to OHR, demand for construction and surface mining equipment in South Africa totalled nearly 6,000 machines last year. Although there has been some growth in the last two years, demand is not regarded as strong at this level.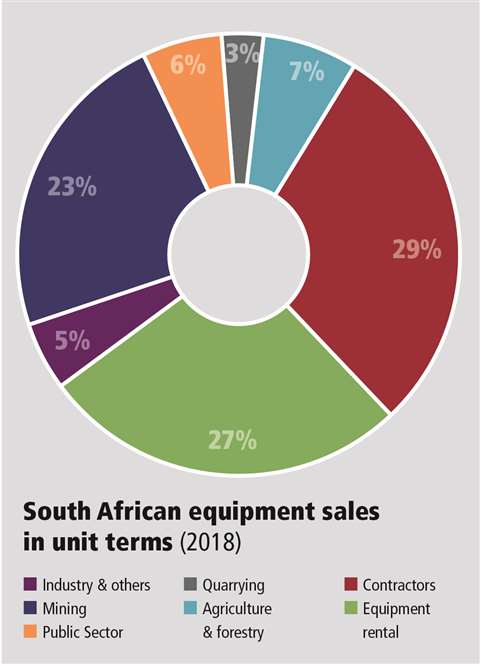 Positive trend
The positive trend seen over the last two years has been in the mining segment, particularly coal mining, which has increased sharply to address the chronic power shortages experienced in South Africa. The weakness has come from the construction sector, where a lack of public works contracts and the corporate distress among the 'big five' contractors (Aveng Grinaker LTA, Basil Read, Group Five, Murray & Roberts and WBHO) has had a huge impact on demand.
Both of these factors have led to increased investment by the rental industry. In mining, rental companies tend to fill a gap in providing equipment where the mining companies themselves are unable or unwilling to invest. In construction, the lack of financially stable contractors means rental companies provide a fleet to those unable to make large capital investments.
In unit terms, rental accounted for 27% of equipment sales in South Africa last year, or 1,500 machines – more than mining and only slightly less than construction contractors themselves.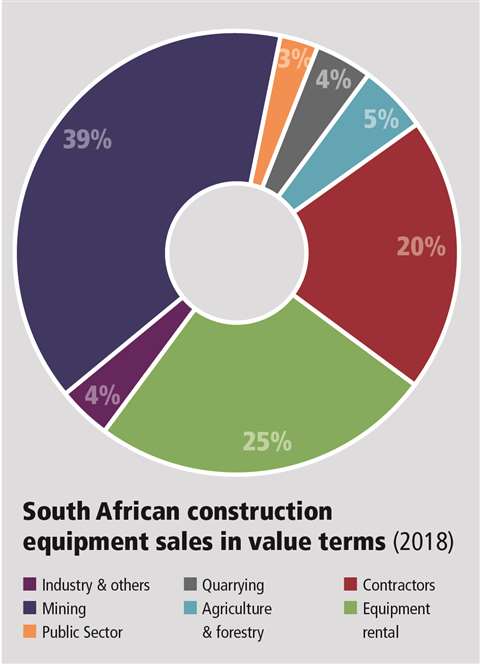 However, in terms of value, the mining segment with its need for large excavators, loaders and dump trucks was much more significant, accounting for 38% of sales, worth ZAR5.5 billion (€325 million). Rental was the next largest sector, accounting for 25% of sales by value or ZAR3.5 billion (€205 million). Rental companies out-spent contractors last year, which bought equipment worth ZAR2.8 billion (€164 million), or 20% of sales in value terms.
As the rental industry serves both the construction and mining industries in South Africa, the blend of equipment bought is different to many other markets. The major item in volume terms is the backhoe loader, which remains a workhorse for South African construction projects.
Other high volume equipment types include compactors, excavators, skid steer loaders and wheeled loaders.
Serving miners
However, the need to serve miners meant that a quarter of the 200 unit dozer market in South Africa resided with rental companies last year, as did over 20% of dump truck sales.
As an aside, South Africa is one of the largest dump truck markets in the world, with 840 rigid and articulated haulers sold last year – equivalent to about 10% of world demand for this type of machine.
OHR's new 220-page report, The Construction Equipment Industry in South Africa is available from www.offhighway-store.com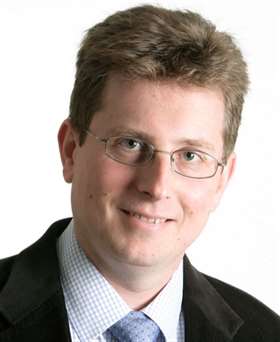 About the author
Chris Sleight has been the Managing Director of Off-Highway Research (OHR) since the beginning of 2018, prior to which he had been a Senior Consultant for the company. OHR is a management consultancy specialising in the research and analysis of international construction and agricultural equipment markets. The consultancy was formed in 1981 as part of The Economist Intelligence Unit (EIU).