Regional Report: South African hope
By Gavin du Venage25 July 2014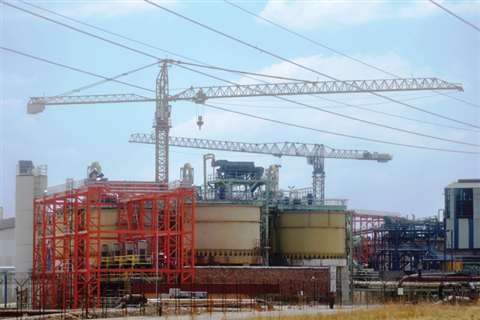 An illustration of how gloomy the South African construction environment has become was given by contractor Basil Read's warning to warn shareholders that it expected headline earnings per share for the six months to June to fall some 270%. Other construction companies such as WG Wearne and Esor have also reported weak results.
"There is still overcapacity in the market, capacity was built leading up to the World Cup 2010," said Stanlib Industrials Analyst Anashrin Pillay. "There's a lack of major projects coming to the market, making the operating environment more competitive - no new power stations, road projects etcetera.
This, he says, left firms with limited pricing power as they jostled for thin-on-the ground projects.
It doesn't help that the biggest client of the South African construction industry is collectively the government, and thanks to the collusion scandal, the relationship between the public and private sector is at an all-time low. Last year the country's Competition Commission found that construction contractors had colluded on prices for the World Cup and levied a hefty fine on 15 of the largest firms of ZAR 1.46-billion (US$ 136 million).
The biggest spenders are national power utility Eskom, state logistics company Transnet, and the country's road authority SANRAL. Cheating your largest customer is not the wisest strategy and construction companies are struggling to mend the rift.
They have a strong incentive to do so. Last year the Treasury approved a ZAR 845 billion (US$ 79 billion) package for public-sector projects over the next three years, with ZAR 296 billion (US$ 28 billion) in the energy sector and ZAR 262 billion (US$ 24 billion) allocated to transport and logistics projects.
These investment plans have been dangled in front of the industry for some time now, but little actual cash has been spent. However, the signs are that by the end of this year the first spending packages will be released.
Eskom for instance is considering another mega-coal generator as well as up to five nuclear plants. It has commissioned dozens of solar, wind and renewable generation projects, with more to come. Energy is probably the one bright spot on an otherwise bleak horizon. By the end of this year 400 wind turbines will have been installed in South Africa.
Development driver
In other sectors however, movement has been slow. The bright spot is that the government is now just as desperate as the construction industry to unblock the project pipeline. It will need annual economic growth of +5%, twice what it is now, if the country is to tackle unemployment effectively and maintain its development plans. With youth unemployment running at more than 35%, the ruling African National Congress is anxiously aware that this represents a sizeable constituency it will have to answer to in future elections.
Figures released by Statistics South Africa (StatsSA) in March show the construction sector shed 8,000 jobs in 2013, 7,000 of which came in the final quarter. StatsSA said that while many of the job losses were the result of project completion, the flow of new work had failed to soak up excess labour. It does now appear that government and the industry are beginning to work together to get those numbers turned around.
"The willingness of the private sector to engage with government around speeding up infrastructure delivery is very clear; there are many initiatives," said Ketso Gordhan, the CEO of PPC, the country's largest cement maker. "The business leadership of South Africa has created a working group that is interacting with government. Everybody is very excited, it is clear everybody needs a new way in which infrastructure can be delivered."
In the meantime the industry has other issues to contend with. Heavy rains and flooding caused delays on building sites across the country in February and March. According to the South African Forum of Civil Engineering Contractors, the weather led to daily losses of between ZAR 50 million (US$ 5 million) and ZAR 100 million (US$ 10 million), with the provinces of Limpopo, Gauteng, North West, Mpumalanga, KwaZulu Natal and parts of the Free State being the worst affected areas.
More broadly the construction sector has watched as one of its main private sector clients, the mining industry, has had to contend with troubles of its own.
Labour unrest, including the longest mining strike in the country's history, and the global slowdown in demand for commodities has hit miners hard.
"It's a bad picture, and not many mining CEOs are brave enough to be laying down new projects," said Peter Major, mining consultant at Cadiz Corporate Solutions in Johannesburg. "People are talking of shutting mines not building them."
An example of this is Aquarius Platinum's cancellation of a ZAR 7.5 billion (US$ 700 million) order to Murray & Roberts, negatively impacting the order book. The reassessment of capital projects by mining companies is also bound to influence future demand.
Areas of optimism
Given the sorry picture it would be understandable if construction executives took extended gardening leave. There are however areas of optimism.
Regionally and beyond into sub-Saharan Africa opportunities are becoming available, thanks to large-scale investment in energy, mining and infrastructure.
Hatch Goba for instance says it is actively researching all the projects currently under way in Africa and, to date, has identified more than 900 projects in the mining and infrastructure sectors.
Murray & Roberts is another company with its sites aimed northwards. Already well-established in the Middle East and Australia, the group is now conducting a study to evaluate the mining potential in countries outside South Africa to understand the risks, logistical constraints and potential clients. It has already opened offices in West Africa and one in Zambia.
They won't have the field to themselves. Fierce Chinese competition that often comes tied to alluring finance packages make it difficult for the South Africans to win out government issued tenders in their own back yard.
Recently Stefanutti Stocks said it had scaled down its operations in Botswana because its order book in that country has been dented by intense competition from Chinese contractors. Some relief from Chinese competition may be in sight though.
Last year Botswana fired Sinohydro, the primary contractor on the capital Gaborone's Sir Seretse Khama International Airport Expansion Project Phase 2. It also ditched the China National Electric Equipment Corporation (CNEEC) after it repeatedly missed deadlines upgrading the Morupule coal power plant. German company STEAG Energy Services has now been given the job.
In April the governments of Namibia and Botswana said the two would commence a long cherished project to build a 900 mile (1,450 km) rail line, the Trans-Kalahari. The line will link landlocked Botswana to the port of Walvis Bay on Namibia's Atlantic coastline – ideally placed to export to Europe.
The route will cost an estimated US$ 10 billion to build making it one of the largest civil construction projects either nation has ever contemplated.
"Such a project often depends on a major sponsor, or group of sponsors, with a strong balance sheet and who has a large commitment in the Botswana coal fields," said Alan Sproule, director of project finance, advisory and infrastructure finance at Standard Chartered merchant bank. "This sponsor would need to drive the development of the rail network and be prepared to develop much of this at risk as a debt solution can take a long time to put together."
Another tantalising prospect is Mozambique, which enjoys one of the world's fastest growing economies as a result of its vast coal and gas reserves. Development of its resources is still in the early stage and is hampered by a lack of rail, port and power infrastructure. This is slowly being addressed.
The Nacala Rail corridor is a significant advance that will span 584 km and link Vale's Moatize coal mine with the export Port of Nacala, located in the north-east of Mozambique. Other rail links are expected to follow.
Further north, the continent is about to see some of its largest capital infrastructure investments yet. Australian miner Rio Tinto will spend around US$ 20 billion developing its Simandou iron ore deposit in Guinea. This will entail building one of the world's biggest iron ore mines, a 650 km railway to Guinea's Atlantic coast, as well as building a deepwater port to ship the iron ore to China and Europe.
Unusually for these kinds of projects, the rail line will be open access.
Mostly mines prefer to build and use a line exclusively for their own purposes, as is the case in Australia, practise critics say stymies the development of smaller secondary projects in the area. The significance is that other potential mining projects in the region could come into being creating a global mining hub to rival Canada, Australia and South Africa.
Staying in central Africa, Australian miner Sundance Resources is to go ahead with its US$ 3.5 billion iron ore project in Cameroon.
Much of the spending will be on a 510 km railway, 70 km rail spur line and port upgrades on the west coast. Portuguese contractor Mota-Engil fought of fierce Chinese competition to secure the contract, with South Africa's Standard Bank doing the financing.
Projects such as these are still relatively rare however. It will take an upswing in commodity prices – and China's appetite for more raw materials – to bring a sustainable flow of new build projects. Overall, for those willing to establish themselves in a tough market the future is fairly rosy.